AUM course ignites passion for firefighting

In a span of two semesters, Auburn University at Montgomery senior HeavenLee Pagan went from learning about wildland firefighting in an online AUM course to helping contain an actual wildland fire in New Mexico this summer.
In May, Pagan traveled to Ocate, New Mexico, to work as a subcontractor with a burn crew helping to contain Cooks Peak Fire, a wildland fire that burned more than 59,000 acres. She spent two weeks onsite helping to contain the wildfire.
"This was my first fire season," Pagan said. "When I arrived, the fire was already at the high point of containment so the engine I was on was a lot of patrol work. There were phases to the whole operation. It was a lot of smoke watching, watching out for hot spot activity and monitoring the really high winds and low humidity, which encourage flare ups."
Pagan was introduced to wildland firefighting through the AUM course "Wildland Firefighter Training" offered in February 2022 as part of an educational partnership between AUM's Department of Biology and Environmental Science and Tall Timbers, a research station for studying fire ecology and promoting conservation and fire education. The one-time, 30-hour course, which was supported by a National Fish & Wildlife & Foundation grant, included a field day component with students from several Alabama universities.
AUM hosted 34 students from other state universities – including Auburn University and the University of West Alabama — for the all-day field course on how to fight wildland fires, said Chelsea Ward, professor and chair of AUM's Department of Biology and Environmental Science. Students spent eight hours on campus learning about fire safety, firefighting equipment, personal protection equipment (PPE), the basics of setting and managing controlled burns, and how to fight wildland fires, she said.
"After successful completion of the course, students have the potential to be employed on burn crews in the state and, with the completion of a pack test, fighting fires for the Nature Conservancy and out West," she said.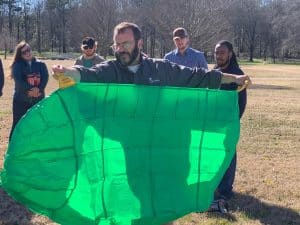 AUM was proud to serve as the host institution and provide this first-time opportunity to teach students about wildland firefighting, said Ward, who served as AUM's representative for the grant.
"It was wildly successful," she said. "The training was offered free to students who received hands-on experience that has opened them to have opportunities like the one AUM senior HeavenLee Pagan experienced this summer."
Pagan said she made new connections with wildland firefighting experts during the course. The course was proctored by John Kush, a retired Auburn University School of Forestry and Wildlife Sciences faculty member and outreach and education coordinator at Tall Timbers, and John McGuire, director of Tall Timbers Private Lands Fire Initiative.
After taking the course, Pagan said McGuire helped to connect her with the right people to take her pack test, a physical fitness test required for working on burn crews.
"There are three different physical fitness exams that you can take when it comes to wildland firefighting," said Pagan, who took her pack test with Attack One Fire Management in Tallahassee, Florida. "The pack test is the one required for the position on the engine, which is considered an arduous level job position."
For the test, Pagan had to perform and pass fitness exams including a three-mile walk with a 45-pound pack in under 45 minutes.
"The pack test is important because you can find yourself in situations in which both physical and mental endurance is required," she said. "As far as the mental endurance aspect, the days are long, at least 12 hours, in wildland firefighting so there is a requirement to stay sharp and flexible even after a period of time and fatigue."
Pagan credits the wildland firefighter training she received at AUM and the connections she made during the training for inspiring her to later pursue the wildland firefighting job in New Mexico.
"I just think gaining knowledge and experience about wildland fire behavior is useful in moving me towards my goal of working with state and national parks," she said. "I have always had a love for nature."
During the course, Pagan and students were exposed to information on fire safety and procedures for working with engine crews, as well as understanding the command hierarchy of wildland firefighting positions and specific job tools.
"I believe the strongest advantage that the course gave me was the ability to understand the vocabulary that is being used onsite at a wildland fire," she said. "For example, with the Cooks Peak Fire, we started every day with a briefing lead by the incident commander. It was really helpful to know enough to be able to ask appropriate and helpful questions to my engine boss."
Pagan said she also gained experience researching and assessing property and ecological resources as part of her experience working the Cooks Peak Fire.
"My engine spent a day escorting a research crew through consumed areas," she said.
Pagan, who is currently enrolled in summer classes at AUM, said she hopes to explore more opportunities in the fall to work again in wildland firefighting.
"It really will just depend on if there is an order for an engine at that time," she said. "As far as what's next, I don't really know. I have a lot of moving parts in my life right now. So, I'm just kind of moving forward and absorbing what I can."
As a double major in environmental science and kinesiology, Pagan sees her future working as a yoga instructor and in state or national parks across the country.
"I am greatly interested in studying how different ecological factors effect human health, so I'm hoping to do that in the future," she said. "This firefighting certification works well with that because the work can be seasonal. I'm really open to various outcomes."