Auburn University at Montgomery honors student veterans with week of events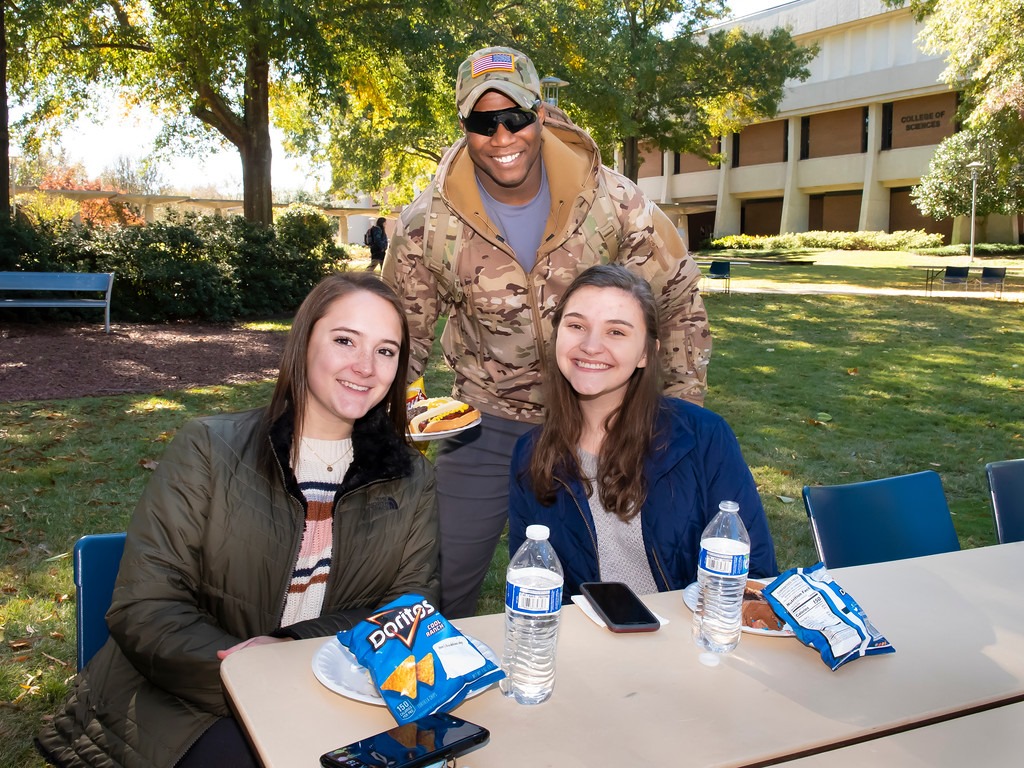 Auburn University at Montgomery will celebrate military-affiliated students with a week of activities for the university's 2021 Veterans Appreciation Week.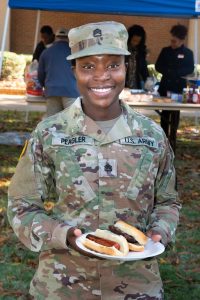 Organized by AUM's Veteran & Military Resource Center (VMRC) and Student Veterans of America (SVA), Veterans Appreciation Week at AUM will be held November 8-12 to recognize the approximately 828 military-affiliated students on campus.
AUM has a long history of serving active duty military members and veterans, as well as their spouses and dependents, said Assistant Director for Veterans Services Rudy Tobias. AUM is recognized as both a 2021-22 Military Friendly School and Military Spouse Friendly School by Viqtory Media.
AUM's tradition of serving military members and their families is also due to the university's close proximity to Maxwell Air Force Base, Gunter Annex, the Alabama National Guard Headquarters and Dannelly Field Air National Guard Base, Tobias added.
"Our military-affiliated students are such an integral part of who we are as a university that it's only proper to have a week of activities to recognize and honor them," he said. "We will celebrate not only our veterans and military members, but the family members that support them."
AUM will offer a variety of events, from a fitness challenge, scavenger hunt and basketball tournament to trivia, free food, movies and games throughout the week. Veterans Appreciation Week events will be open to students, faculty and staff and include festivities on Veterans Day.
"There will be something for everyone," Tobias said. "We want to honor our veterans and their families, but we also want our students to enjoy a week of military-themed events to raise awareness and to show our appreciation."
AUM will proudly celebrate the dedication and service of student veterans with the following scheduled events:
November 8
SVA Scavenger Hunt & VMRC Navigation Challenge | 8 a.m. – 5p.m. | Taylor Center
Master this scavenger hunt by going through check points on campus and taking down information on your navigation sheet to turn into the Veteran & Military Resource Center for a prize for those with the fastest time and most correct answers.
Military Service Fitness Challenge | 8 a.m. – 5 p.m. | Wellness Center
This challenge was organized in collaboration with the AUM Wellness Center to create a fitness challenge focused on various military branches' fitness requirements. Participants will complete the challenge at the Wellness Center and receive a completion certificate.
November 9
Hot Dogs for Heroes | 10:30 a.m. – 1 p.m. | Quad
Stop by the Quad for the annual Hot Dogs for Heroes event! Grab a brown bag lunch that includes a hot dog, bag of chips and drink. There will be tables set up for information about military service and benefits, as well as music and games.
Rock Wall & Inflatable Games | 11 a.m. – 1 p.m. | Quad
There will have a 26′ rock wall and several sports themed inflatables to challenge yourself!
SVA Vets Week Victory Basketball Challenge | 6:30 p.m. – 9:30 p.m. | Wellness Center
Get a team together and challenge our student veterans and military students to a 3-on-3 basketball tournament in the AUM Wellness Center. There will be a DJ, snacks and drinks.
November 10
VMRC &SVA Marine Corps Birthday Recognition | 10 a.m. – 11 a.m. | Taylor Center
The staff at the Veterans and Military Resource Center would like to welcome all our students to join us in celebrating the U.S. Marine Corps Birthday! Grab some milk and a piece of birthday cake from to celebrate the Marines turning 246!
VMRC & SVA Military-Theme Movie and Game Night | 5:30 p.m. – 7:30 p.m. | Taylor Center 230
Join us for Military-Theme Movie Night with free popcorn and drinks in the Taylor Center. Guests are invited to watch a military movie in the Taylor center with games and free popcorn and drinks.
November 11 – Veterans Day
VMRC Coins and Coffee | 8:30 a.m. – 10:30 a.m. | Taylor Center 325
In observance of Veterans Day, the Veteran and Military Resource Center will be hosting Coins and Coffee. VMRC would like veterans and military students to stop by the Veteran Military Resource Center to show their previously given challenge token to receive a voucher for a free coffee at AUMazing Bean. Those that don't have a token will be given one.
SVA Troop Trivia | 5 p.m. – 6 p.m. | Taylor Center 230
Hybrid military trivia and prizes! Tune in or show up and participate in our military themed trivia to win cool prizes.
November 12
Green Zone Training | 1 – 3 p.m. | Taylor Center 221
Virtual Green Zone Training, a military awareness exercise, will be offered for faculty and staff.