AUM partnership creates new opportunities for Enterprise State, Central Alabama Community College students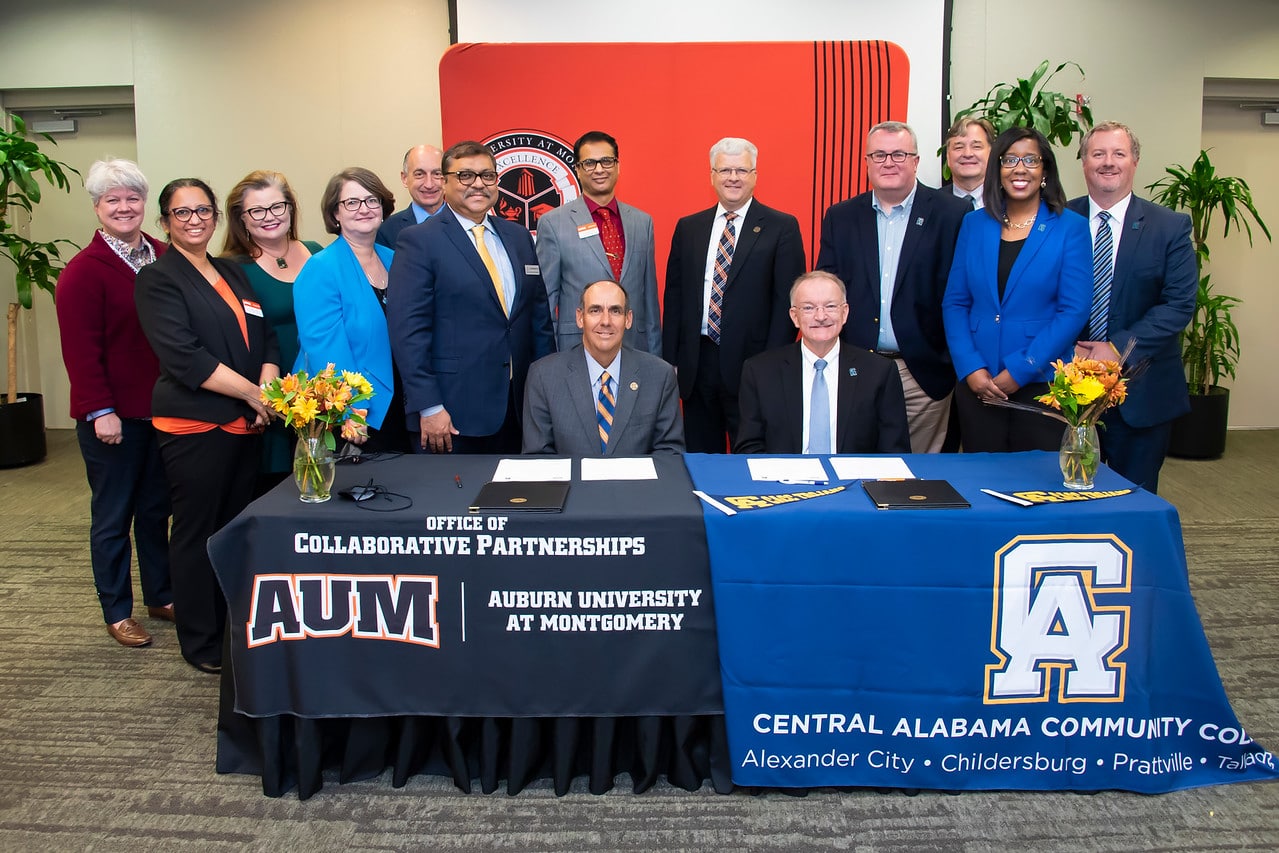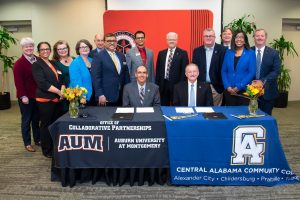 Students at Enterprise State and Central Alabama Community Colleges now have new opportunities to save time and money in pursuit of four-year degrees through Auburn University at Montgomery (AUM).
AUM signed partnership agreements with both members of the Alabama Community College System on Wednesday, Nov. 10, that outlines concurrent enrollment and transfer scholarship opportunities for students on both campuses.
AUM will offer an unlimited number of transfer scholarships to Enterprise State and Central Alabama students who complete their associate in arts or associate in science degrees and earn admittance to AUM by August 1 each year. The annual scholarships will be $500 for students with grade point averages between 2.75 and 2.99 (on a 4.0 scale), $1,500 for GPAs between 3.0 and 3.49 and $2,500 year for students with a minimum GPA of 3.5.
"We look forward to welcoming more students from Central Alabama Community College and Enterprise State Community College to Auburn University at Montgomery," AUM Chancellor Carl A. Stockton said. "Alabama has a vibrant community college system that positions students for success. These new partnerships help address two of the primary concerns students have in their pursuit of bachelor's degrees – time and cost.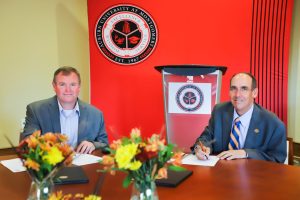 "Concurrent enrollment will help students enrolled at Enterprise State and Central Alabama accelerate their pursuit of a bachelor's degree. Students at each community college who plan to transfer to AUM can potentially complete their bachelor's degree within four years. That, along with the transfer scholarships we are offering, can help students realize significant cost savings."
AUM will also present one Presidential Scholarship covering full tuition and fees to an Enterprise State and Central Alabama Community College transfer student with a minimum GPA of 3.5.
The concurrent enrollment program offers qualified students a seamless process for completing their associate and bachelor's degrees. All concurrent AUM courses will be taught live on the respective community college campuses and/or AUM's campus and on the web while students are completing their associate degree programs. Enterprise State students will have 13 concurrent enrollment pathways through AUM, while Central Alabama students will have 15 options ranging within business, education, liberal arts and science disciplines.
Established in 1967, Auburn University at Montgomery is a four-year regional institution accredited by the Commission on Colleges of the Southern Association of Colleges and Schools. Located in Alabama's vibrant state capital, AUM offers more than 90 undergraduate and graduate-level degree programs and certifications. Get an overview of AUM Transfer Scholarships and submit your application at aum.edu/transfer.