Warhawk Weekly 6–2: CARES Act funding; ROTC commissions cadets; COVID-19 implications on economy
NEWS
CARES Act funds to be distributed
Army ROTC commissions eight cadets
COVID-19: Implications on Alabama's economy
Wright earns competitive accounting scholarship
Thanking healthcare workers
Zoom your way to improved fitness
CARES Act funds to be distributed soon
Auburn University at Montgomery students who have submitted applications for Coronavirus, Relief and Economic Security (CARES) Act emergency funding can expect to begin receiving payments as early as Monday, June 8.
Signed into law by Congress, the CARES Act will provide higher education emergency relief funding to AUM students affected by disruptions during the Spring 2020 semester due to the COVID-19 pandemic.
Grants may be used to offset expenses related to the disruption of campus operations during the spring semester, including housing, tuition, course materials, fees, technology, food, health care, or child care. Eligible students can complete the online application process until all CARES Act funds are exhausted.
Students can only apply one time. If approved, students will receive funds via direct deposit. Students are asked to verify their bank account and routing number. Because payments are processed manually, there may be some delay between application approval and receipt of funds.
In order to qualify for CARES Act grant funding, students must meet the following criteria in accordance with federal guidelines:
A student must have been enrolled during the Spring 2020 semester when the university made the transition from face-to-face instruction to remote course delivery on March 23, 2020.
A student must have a completed 2019-2020 FAFSA on file with AUM and meet all federal aid eligibility guidelines. If you have not yet filed FAFSA for 2019-2020, but are eligible to do so, please complete the form by June 30, 2020.
Students who withdrew from all spring classes are not eligible to receive funding. The CARES Act does not allow funds to be used for international or DACA students or U.S. citizens who were enrolled exclusively online at the beginning of the Spring 2020 semester.
For more information on the CARES Act, eligibility requirements and the application process, please visit our FAQ page.
AUM Army ROTC commissions eight cadets in spring Class of 2020
Auburn University at Montgomery Army Reserve Officer Training Corp (ROTC) — Mustang Battalion — has commissioned eight cadets in the spring graduating Class of 2020.
During a May commissioning ceremony, the following cadets were recognized and commissioned as Army officers, achieving the rank of second lieutenant:
2nd Lt. Michael Adams
2nd Lt. Wyatt Davis
2nd Lt. James Forrester
2nd Lt. Thomas Lovett
2nd Lt. Cameron Monday
2nd Lt. Joshua Onadeko
2nd Lt. Christopher Washington
2nd Lt. Jamicha Williams-Petty
Watch a video of the AUM Army ROTC's Spring 2020 Commission Ceremony online.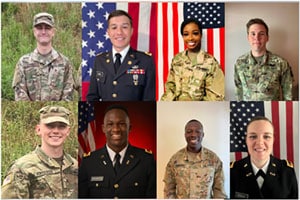 About AUM Army ROTC
Auburn University at Montgomery's (AUM) Army ROTC program promotes a physically fit lifestyle and prepares cadets for leadership roles in the U.S. Army. The AUM Army ROTC is also a host institution for cadets attending AUM and Troy University, as well as an extension unit for six other universities: Alabama A&M University, Auburn University, The University of Alabama, University of Alabama-Birmingham, University of North Alabama, and the University of South Alabama.
COVID-19: Implications on Alabama's economy
As the state emerges from near closure because of the COVID-19 pandemic, what will Alabama's post-lockdown economic recovery look like? In a recent Q & A, Assistant Professor of Economics Agnitra Roy Choudhury offers some answers and more insight into Alabama's recovery efforts.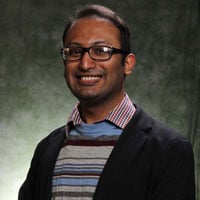 "The answer truly lies with whether the average Alabamian has a high or low tolerance for risk," he said.
A successful reboot of the economy could also depend on such factors as the availability of small business loans, relaxation of certain regulatory requirements, and how soon a vaccine is developed, Roy Choudhury said.
"The number of COVID-19 cases will rise as things open up, and this is expected," he said. "If the numbers grow exponentially, there will be no other choice but to close things down again.
Wright earns competitive accounting scholarship
Accounting sophomore Jack Wright was recently awarded a $10,000 scholarship from the Public Company Accounting Oversight Board (PCAOB) Scholars Program for the 2020-21 academic year. The merit-based scholarship is awarded to a select number of high-achieving college students from across the U.S.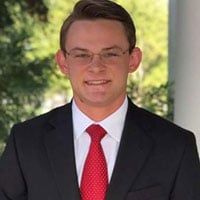 "I cannot express how honored and grateful I am to receive this scholarship," said Wright, who is president of the AUM Accounting Club. "However, I am more grateful to have so many outstanding professors who have put so much effort into making me the best student and future accountant I can possibly be."
The PCAOB Scholars Program was established to benefit college students who are likely to become auditors or who might have otherwise chosen a different career path. Wright said he plans to use his $10,000 scholarship award to help cover tuition and related expenses next year.
Learn how AUM helped Wright secure the competitive scholarship.
Thanking healthcare workers
During the spring semester, students in AUM's UNIV 1000 class created a video of students and community members supporting front-line healthcare workers who are serving patients affected by the COVID-19 pandemic. AUM student Angelina LeClair created and edited the piece.
Zoom your way to improved fitness
AUM's Wellness Center continues to offer virtual group fitness classes via Zoom. Work up a sweat without leaving your home. Email [email protected] to register for your choice of classes and you'll receive a Zoom link with your confirmation.
This week's offerings include:
Wednesday
10 a.m. – Yoga with Rebecca
12:30 p.m. – Body Barre with Angel
5:30 p.m. – R.I.P.P.E.D. with Erin
Thursday
9 a.m. – 30 HIIT/30 Strength with Erin
11 a.m. – Stretch & Stability with Mel
3 p.m. – Zumba with Monette
Friday
11 am. – Jungle Body Konga with Angel
12:30 p.m. – Pilates with Angel