AUM freshman UNIV class project supports COVID-19 frontline health care workers
When Auburn University at Montgomery (AUM) first-year pre-nursing major Phronza Hedden learned about the service-learning theme of her freshman UNIV course, she seized the opportunity to lead a class project to donate food and sanitizer to COVID-19 health care workers.
"I worked as an LPN at [Julia] Tutwiler Prison for Women for 10 years," said Hedden, who took the UNIV 1000 course during the spring semester. "Due to health issues, I had to leave a couple of years ago. I now work as a health coach and go to school to further my career. While I'm saddened that I'm not working as a nurse during this pandemic, I wanted to show support to local health care workers."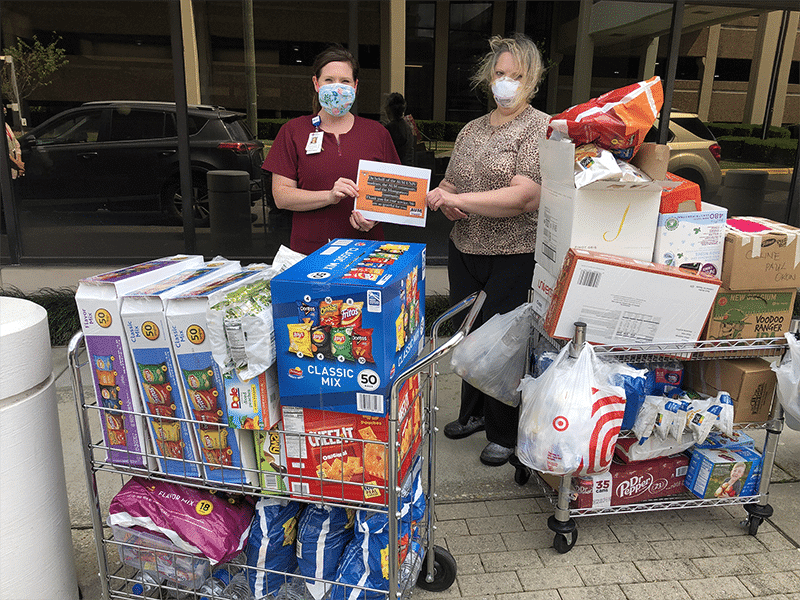 Freshman Phronza Hedden (right) with a Baptist Health worker
Hedden's classmates were equally supportive of the project because many are also pre-nursing majors or have connections to health care employees working during the COVID-19 pandemic. The group initially turned to friends, community members, and students for donations of snacks, coffee, soaps and sanitizers. The retailer Whole Foods also eventually stepped in to donate items.
Angelina LeClair, a freshman communications major, said she reached out to Montgomery's military community to help with donations. A military spouse, LeClair said she received donated items from other military spouses at both Maxwell and Gunter Air Force bases.
"Participating in this project taught me so much about our community and also the daily struggle of health care workers," she said. "It was so nice working with a team and getting to give back to those who are working so hard."
In all, students collected around $700 in donated items that all went to support Baptist Health System employees in Montgomery who are working during the COVID-19 pandemic, Hedden said.
"Being a student at AUM, I knew Baptist East is in close proximity so that seemed a good place to start," she said. "We received so many donations that Baptist South was included as well."
Students also sent thank you cards to Baptist Health System workers, and LeClair created a video of thanks and encouragement from the class and members of the community to COVID-19 health care workers.
"I think seeing how many people are supporting them will boost health care workers' moods," LeClair said. "In times like these, I'm sure it's comforting to know that there are people rooting for them."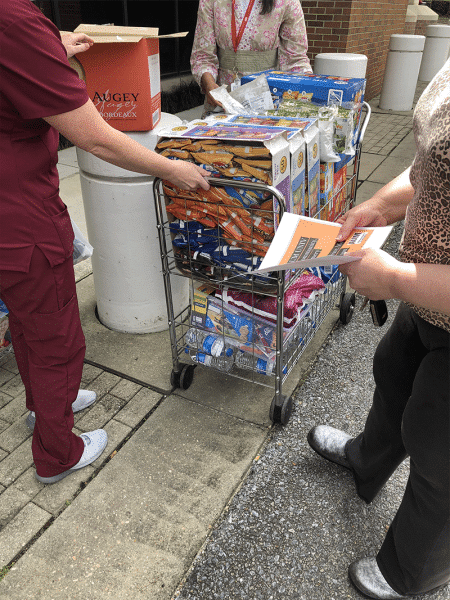 Student-led projects such as this help our students to be completely engaged in every aspect of their education, UNIV Lecturer and Student Success Mentor Heather Adams said. AUM also designed its freshman UNIV courses to help students understand the development of society, foster critical thinking skills and become academically and civically engaged, she said.
"Through this project, students learned how to work together to complete a task, not just get a grade," she said. "It has become increasingly clear that students in today's world need more than a theoretical framework for how to start or have a career."
Hands-on learning is also the most engaging kind of learning, Adams said.
"Students list this project as one of the most impactful components of the course, and it has been rewarding to see their joy and pride both in contributing to their community and completing something that they created," she said.