Warhawk Weekly 3-29: Acting athletic director; COVID symposium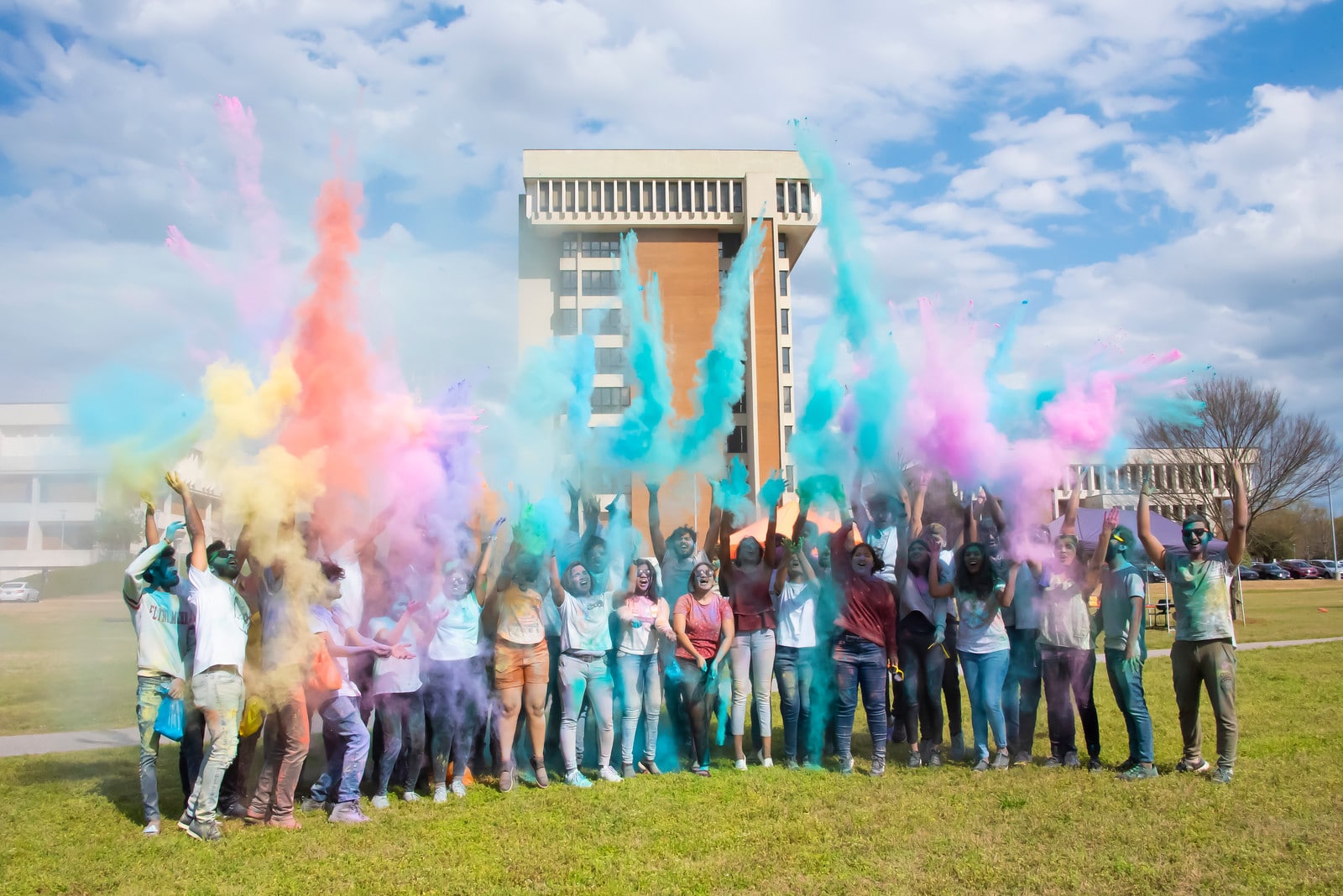 Childers appointed acting athletic director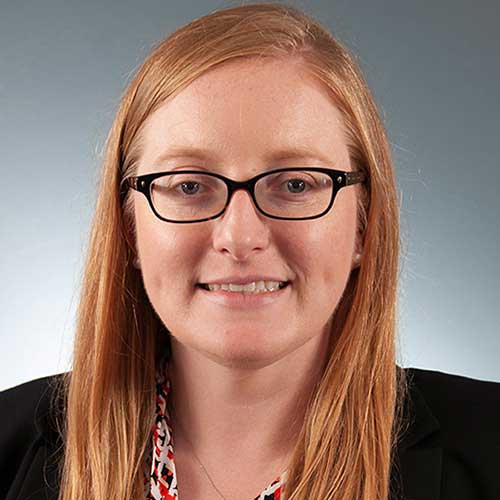 AUM Chancellor Carl A. Stockton has announced that Amber Rae Childers has been appointed acting athletic director, effective immediately.
Childers, who has served as AUM's associate director of athletics for internal operations and senior women's administrator since September 2019, will lead the department until AUM completes a national search for a permanent athletic director.
"I appreciate Amber Rae's willingness to serve in this role, and look forward to working with her in this capacity," Stockton said. "We look forward to building on the positive momentum we have generated since becoming a full-fledged NCAA Division II and Gulf South Conference member. I am proud of the manner in which our coaches and student-athletes have pursued excellence on the field and court, and in the classroom."
Before coming to AUM, Childers served as an assistant athletic director for student-athlete services at Utah State. She began her career at Utah State in 2010, serving as an academic/life skills coordinator before becoming an assistant director in 2014. She earned a promotion to assistant athletic director in 2016 and oversaw the Student-Athlete Academic Services Unit.
A 2008 graduate of Carroll College, Childers earned a master's degree from the University of Washington. She is a member of Women's Leaders in College Sports, the National Association of Collegiate Directors of Athletics, the National Assessment and Accreditation Council and N4A. Childers serves on the Gulf South Conference's COVID task force and as a conference liaison for compliance and tennis.
Symposium to tackle COVID, vaccines
Auburn University at Montgomery's 8th annual Clinical Laboratory Science Symposium, set for April 1 and hosted by the Department of Medical & Clinical Laboratory Sciences, will feature an interdisciplinary group of educators and medical professionals that includes multiple AUM graduates.
Rick Bright, a 1997 biology graduate who will serve as the symposium's keynote speaker, is CEO of the Rockefeller Foundation Pandemic Prevention Institute.
The free symposium, offered in a virtual and in-person format, will focus on the progression of COVID-19 and the use of vaccines to combat the virus. The speaker lineup will also include AUM alumni Eric Standford (Diagnostic Laboratories Supervisor, Vanderbilt Medical Center), Michael Esco (Professor, University of Alabama) and Whitney Jerkins (Licensed Professional Counselor).
The group will present on pandemic-related topics, including vaccines, laboratory testing, physical activity, and mental health.
"This year completes two years since COVID appeared," said Kyle Taylor, program director and department head for AUM's Department of Medical & Clinical Laboratory Sciences in the College of Nursing & Health Sciences. "This is a perfect time to reflect on COVID and the struggles that have been encountered and will continue to be encountered."
Register to attend the symposium via Zoom or to attend in person, RSVP to Peyton Guri at [email protected]. The event begins at 9 a.m. and will be held in Taylor Center 221-223.
Finalize your Summer and Fall class schedules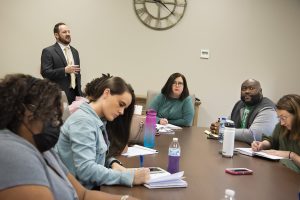 Need help finalizing your schedule for the Summer and Fall semesters?
Make plans to attend the Advising & Registration Fair Wednesday and Thursday, March 30-31, from 10 a.m. to 3 p.m. in Taylor Center 230.
Academic advisors will be ready to help:
College of Sciences majors with 0-58 credit hours completed
College of Liberal Arts & Social Sciences majors with 0-58 credit hours completed
All pre-Nursing students
Any student who has met with an advisor, but needs help completing the registration process
Political Film Series continues with 'Women of Troy'
AUM's Political Film Series will continue tonight, with a Women's History Month screening of "Women of Troy" at 7 p.m. in Goodwyn Hall 109.
College of Liberal Arts & Social Sciences Associate Dean and Professor Kim Brackett will introduce the film, which explores how the Cheryl Miller-led University of Southern California Trojans changed women's basketball forever with superior athleticism and a cutting-edge style of play.
Connect with potential employers
Students and soon-to-be graduates seeking job and internship opportunities should update their resumes and prepare to network with potential employers next week.
The Career Development Center will host the AUM Career Fair April 5-6, with on-campus and virtual components. Students and alumni can meet with recruiters from corporate, non-profit, and government organizations to discuss a broad range of job and internship opportunities
The on-campus Career Fair will take place on Tuesday, April 5, from 11 a.m. to 2 p.m. in Taylor Center 221-223. The virtual Career Fair will take place on Wednesday, April 6, from 11 a.m. to 2 p.m. on the AUM Handshake platform.  Students will need to log in to Handshake to register for the virtual fair and select employer sessions to attend.
Professional dress is required for both the on-campus and virtual Career Fairs.  Please bring copies of your resume and cover letter.  For questions about the in-person or virtual fairs, contact the CDC at [email protected], or visit the CDC office in 323 Taylor Center.
Wood completes 'HER Story' speaker series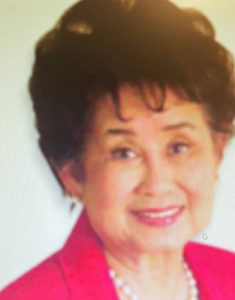 Auburn University at Montgomery's "HER Story" virtual speaker series will continue Thursday, March 31, with a presentation from local business leader Sieu Tang Wood.
Wood, founder and owner of Tang's Alterations in Montgomery, will share her story of triumph, family and love for her community from 1-2 p.m. Her session will be held on Zoom.
Developed as a university Diversity, Equity and Inclusion initiative, Wood's talk will conclude the speaker series. The series aligns with national Women's History Month and seeks to inspire, empower and educate students and community and campus stakeholders.
Catch Theatre AUM performances
Theatre AUM will present performances of "On the Verge or The Geography of Yearning" by Eric Overmyer Thursday-Saturday, from 7-9 p.m., and Sunday, April 10, at 2 p.m.
Theatre AUM is located in Taylor Center. AUM students, alumni, faculty and staff receive free admission, but masks are required.
The play focuses on three female explorers and the diverse beings they encounter during their travels, which take them to different time periods and locations.
Learn more about graduate degree options

If you're nearing completion on a bachelor's degree and want to enhance your professional credentials or an AUM employee seeking advancement, you'll want to attend Graduate Studies Preview Night on Tuesday, April 12, from 5-7 p.m.
AUM offers more than 50 different graduate programs. Faculty and staff will be available to answer questions about accelerated degrees (degrees achievable in three semesters), admissions requirements, coursework, scholarships and more.
Bozeman, Carter earn honors
AUM basketball student-athletes Jeremiah Bozeman and Catlin Carter have both been named to the Gulf South Conference All-Academic Teams, while 16 total Warhawks landed on the GSC Fall Academic Honor Roll.
Bozeman (Alva., Okla) earned CoSIDA Academic All-District honors for the 2021-22 season. The senior guard ranked in the top 15 in the GSC in both points per game (13.6) and rebounding (6.5) this past season while also leading the league in both total steals (73) and steals per game (2.6). A kinesiology major, Bozeman holds a 3.88 GPA.
Carter (Bessemer, Ala.) was also recently named to the CoSIDA Academic All-District team for her efforts in the classroom and on the court. Carter was the leading scorer for AUM during the 2021-22 season, scoring 15.9 points per contest while grabbing 4.5 rebounds a game. In the classroom, Carter boasts a perfect 4.0 GPA as a kinesiology major.
AUM's full list of 2021-2022 Winter Academic Honor Roll student-athletes can be found here.
Controlled burn tentatively scheduled for campus
If weather conditions permit, the Alabama Forestry Commission will conduct a controlled burn on Wednesday to remove kudzu and adjacent pines.
The controlled burn would take place in the forested areas to the west of the Library Tower. The Alabama Forestry Commission will control access to the area and set up a fire break.
Build your resume while helping fellow students
AUM's Experiential Education & Engagement Center (EEEC) is seeking students interested in becoming Peer Mentors for the 2022-23 school year. Peer Mentors are needed for all courses and subject areas, and will receive $10-per-hour as part-time student workers.
Peer Mentors work in the classrooms of courses they have successfully completed and help current students navigate the subject matter through advice and support. Think of it as being a teaching assistant without the responsibility of grading assignments.
If you're interested in helping others while building your resume, contact the Experiential Education & Engagement Center at [email protected]
Pre-order your commencement medallion
Graduating this spring? If you make a gift of $20.22 to an AUM college or academic program of your choice, you'll receive a commemorative medallion to wear during the Spring 2022 commencement ceremony.
For more information, email [email protected] or call 334-244-3369.
Keep up with campus events
Have you been missing out on some of the fun events that happen on our campus daily?
We can fix that. Enroll in AUM365 and get the 4-1-1 from Curtiss The Warhawk himself. Text curti$$ to 334-398-6025 to receive reminders about upcoming happenings.