Warhawk Weekly 2-7: Homecoming 2023; All-In 4 AUM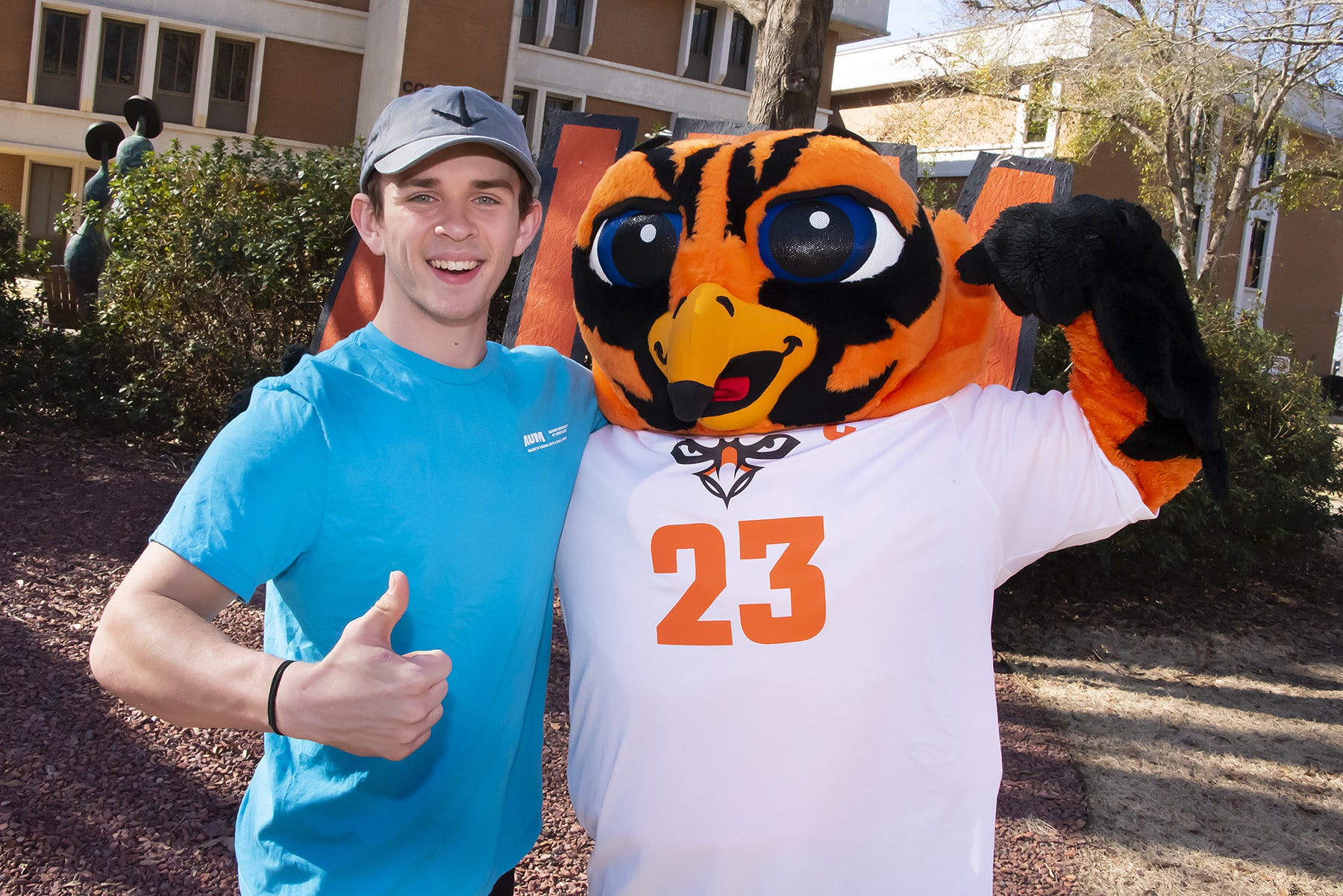 Fireworks, tent party highlight Homecoming 2023
Homecoming 2023 will feature a full calendar of events each day through Saturday's home basketball doubleheader against Christian Brothers University.
Drop by The Quad Wednesday for lunch with SGA and Campus Activities Board at noon and stick around to watch teams compete in the Chancellor's Cup's AUMazing Race competition.
Other highlights of the week include Silent Disco Wednesday night at 7 p.m. in Taylor Center 230, CAB's Homecoming Tent Party Thursday night at 10 p.m. behind the Library Tower and the SGA Pep Rally, Homecoming Bonfire and fireworks show Friday, from 7-9 p.m., behind the Library Tower.
Give the Warhawks a lift in the All-In 4 AUM campaign
Are you "All In" for AUM Athletics? Here's your chance to show it. Make a gift in support of your favorite AUM team during the All-In 4 AUM Campaign, which ends Saturday, Feb. 11, at midnight.
In this campaign, the number of participating donors matters more than the dollars. Every gift is meaningful and supports AUM's efforts to become one of the best all-around athletic programs in NCAA Division II.
Explore Black history through Montgomery's Museums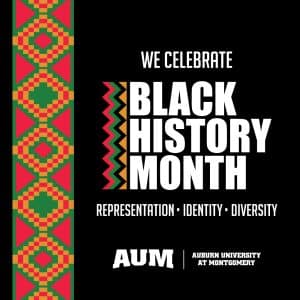 Did you know that USA Today ranked two of Montgomery's museums among the nation's Top 10?
AUM's Chancellor's Office is sponsoring an opportunity for members of the campus community to experience Black History Month through the city's outstanding museums. The Museums of Montgomery calendar will begin on Monday, Feb. 13, with trips to the Legacy Museum (9 a.m.-noon) and the Alabama Department of Archives & History (1 p.m.-3 p.m.). Additional destinations during the month include the Freedom Riders Museum, Rosa Parks Museum and Civil Rights Museum.
AUM will provide bus transportation for each date. Departure will be 15 minutes before event start times outside Taylor Center.
New CLASS Film Series spotlights human conditions
The College of Liberal Arts and Social Sciences' new "CLASS Film Series" will highlight the variety of human conditions that impact our societies.
The new series will debut Thursday, February 16 at 7 p.m. in Goodwyn Hall 109, with the film documentary "13th," which provides an in-depth look at the prison system in the United States and how it reveals the nation's history of racial inequality. The series will feature three films each semester and will be open to students, faculty, and community members.
Learn more about the new series and the films in the AUM Newsroom.
Avant to discuss Montgomery's 'promise'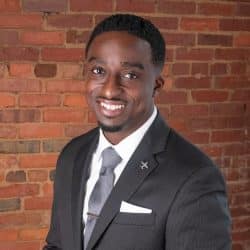 AUM will welcome 2011 alum and community hero Jonathan Avant to campus Wednesday as its special guest for the Civil Rights & Civic Virtue Society's Speaker Series.
Avant will discuss "America's Trauma and Montgomery's Promise" during the 8 a.m. breakfast event in Taylor Center 222-223. The event is free and open to all.
An accounting graduate of AUM, Avant was recognized in 2022 by the Montgomery Advertiser as a "Community Hero." He possesses extensive experience in commercial lending, business development, banking, and accounting. Since April 2021, Avant has served as an accountant with the Montgomery-based firm of Aldridge, Borden & Co. As a member of the firm's OneSource department, he focuses on providing accounting services to small and minority-owned businesses.
Avant has been actively involved in the Montgomery community, serving as president of the city's Downtown Business Association and as vice president of the Montgomery County Community Cooperative District. He also serves on the Board of Directors of the River Region Trails Project and the Central Alabama Community Foundation, as well as on the Finance Committee of the Montgomery Museum of Fine Arts. Avant also serves on the Auburn University at Montgomery College of Business Advisory Board and is also a board member of Valiant Cross Academy.
Basketball home games highlight athletics calendar
AUM's men's and women's basketball teams will host a pair of Gulf South Conference opponents during Homecoming Week,
The Warhawks will face Union Thursday night, with the women tipping off at 6 p.m. and the men following at 8 p.m. AUM's Saturday Homecoming matchups against Christian Brothers will tip off at 2 p.m. and 4 p.m., respectively.
While the softball and baseball teams will be on the road this week, AUM's men's and women's tennis teams will host Columbus State on Saturday at 10 a.m. The AUM women are ranked 13th nationally, while the men are receiving Top 25 votes.
AUM hosts high school JROTC cadets for Career Technical Education Month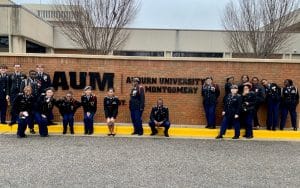 AUM recently hosted a campus tour for Junior Reserve Officer Training Corps (JROTC) student cadets from Murphy High School and Blount High School in celebration of Alabama Career Technical Education Month.
Students were educated about AUM's ROTC programs, which focus on preparing young men and women for careers in the Army and Air Force.
"Conducting campus tours is a unique privilege," said Dee Long, senior program administrator for AUM ROTC. "I hear about what the students are currently doing in high school and what they would like to do after graduation. It is great to hear about their hopes and dreams for their future."
The U.S. Army Cadet Command partners with high schools to offer JROTC programs to develop students into citizens of character. Universities such as AUM also offer ROTC programs to recruit, educate, develop, and inspire senior ROTC cadets to become commission officers of character to later pursue military careers.
Continuing Merit Scholarship application window open
If you are a currently enrolled AUM student who is in good academic standing with a minimum grade point average of 2.5, you might be eligible for the Continuing Merit Scholarship.
Submit your application by the March 1 deadline. The scholarship is available to:
Undergraduate students who have completed a minimum of 12 hours of undergraduate coursework with a minimum cumulative institutional GPA of a 2.5 or higher.
Graduate students who have completed a minimum of 6 hours of graduate coursework with a minimum cumulative institutional GPA of a 3.0 or higher.
Submitting an application will help you receive consideration for a variety of general scholarships, need-based scholarships and scholarship endowments offered by the university.
Each of these scholarships varies in amount as well as in requirements outlined by the donors who support them. To be considered, a student must have an updated Federal Student Aid (FAFSA) on record.
Some of AUM's colleges, schools and departments may require separate scholarship applications. Be sure to check with your academic advisor to explore all scholarship opportunities. Continuing Merit Scholarships are competitive and limited in number. Scholarships will be awarded to the most qualified candidates who apply by the deadline. Applicants will be notified of their scholarship decision around the beginning of the summer semester.
Apply for the Graduate Merit Scholarship
The AUM Alumni Association invites eligible graduate students to apply for the Graduate Merit Scholarship for the Fall 2023 and Spring 2024 semesters.
The application deadline is March 15. In order to qualify, a student must have completed at least nine AUM course hours of graduate work and have a minimum grade point average of 3.4.
The application packet must include a transcript, letters of support, a 250-word essay and resume.
Get the full requirements and submit an application with AUM Alumni Association.
Get updates on campus events
Don't get left out of important campus events. There's an easy way to keep up with what's happening each day. Enroll in AUM365 and get the 4-1-1 from Curtiss The Warhawk himself. Text curti$$ to 334-398-6025 to receive reminders about upcoming happening.