Three AUM seniors earn top awards at university-wide student research symposium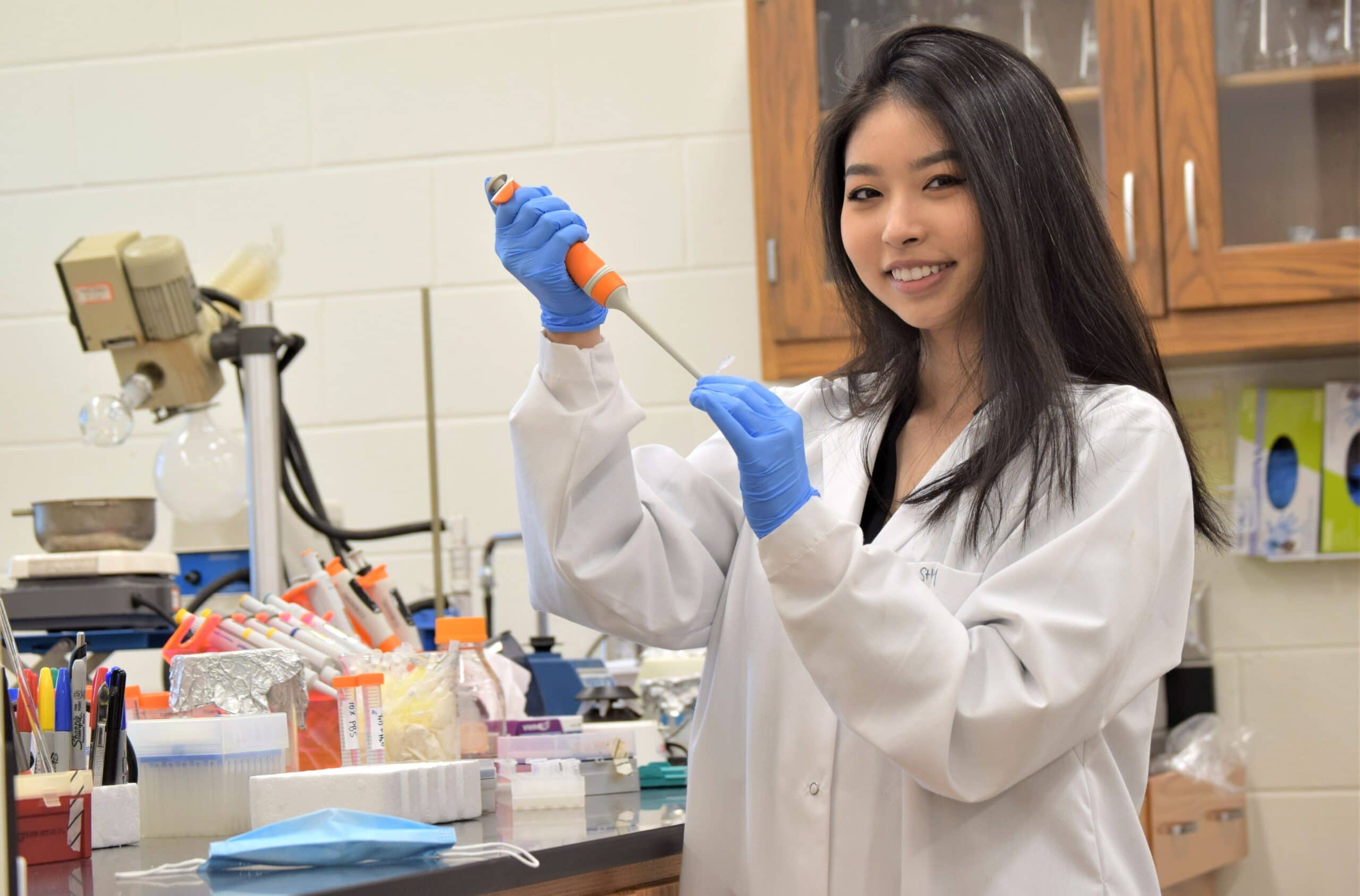 Auburn University at Montgomery seniors Shalom Kim, Haley Hobbs and Tovah Hickman earned top honors at the "Auburn Research: 2021 Student Symposium." The annual university-wide event hosted by Auburn University spotlights the work of student researchers and their faculty mentors.
Kim took first place in the undergraduate STEM (Science, Technology, Engineering, Mathematics) oral presentation category for her research project titled "Remdesivir Triphosphate blocks DNA synthesis and promotes exonucleolytic activity of mitochondria DNA polymerase gamma."
"I was so happy to represent AUM in a positive way," said Kim, a biology pre-health sciences major who is set to graduate May 8. "It feels extremely exciting to win the research symposium and have my research spotlighted. I am truly humbled by this experience."
Hobbs and Hickman received a "Best Undergraduate Student Poster" award for their research titled "Does snail preference to nonnative plant species play a role in shaping plant communities in Alabama."
"We are so happy that something we care about and have been working on for so long was recognized for an award," Hobbs said. "It has been an amazing and gratifying experience and it makes us excited to get other students involved in the future."
The annual student research symposium — held virtually March 29 – April 2 — gives students an opportunity to showcase their work university-wide and with the general public. Nearly 350 undergraduate and graduate students from Auburn University and AUM participated in this year's event. In all, 63 students earned awards for their research and creative scholarship posters and oral presentations.
Kim's COVID-19 research
Kim's first-place win helped subside her curiosity on how fellow scientists would receive her winning research on the COVID-19 treatment Remdesivir.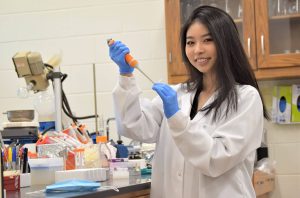 "Since it concerns the COVID-19 pandemic, I was curious to see how my research would be received," she said of sharing her work. "I also wanted to gain the experience of publicly presenting my research, which will likely be useful in the next steps of my future career."
Kim explored the long-term effects of Remdesivir, the first antiviral drug approved by the FDA for the treatment of COVID-19, with AUM student Cody Grier in the Department of Chemistry. Kim and Grier were mentored by Assistant Professor of Chemistry Greg Ciesielski and his research associate Elena Ciesielska.
Antivirals are known to elicit mitochondrial toxicity, which could go as far as an induction of heritable mutations in the mitochondrial genome, Kim said.
"We found that although we did observe negative effects of the active form of Remdesivir on the key enzyme of mitochondria known as mitochondrial DNA polymerase, we did not observe any harmful effects on human cells," she said. "Overall, our study suggests that the probability of developing mitochondrial toxicity in Remdesivir-treated patients is low."
Kim said her interest in studying Remdesivir grew from a desire to contribute to the global effort of fighting COVID-19 and assessing the long-term consequences of the pandemic.
"I feel quite lucky that I had a chance to be engaged in such a relevant project, which for me as an undergrad was a serious motivator in considering a career in science," she said. "A lot of hard work went into this research project, and I am so grateful and blessed to have been able to address important questions through our project in the research symposium."
Kim's interest in research at AUM was sparked by her faculty mentor Distinguished Research Professor of Industrial and Environmental Microbiology Ben Okeke. After graduation, she plans to apply to dental school and continue her research work by pursuing a doctorate degree.
"I have found that research is extremely interesting to me," she said.
Researching snails and plants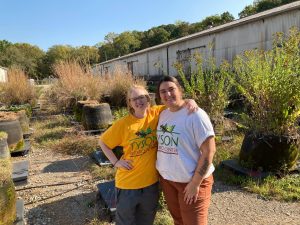 Hobbs and Hickman and their faculty mentor, Assistant Professor of Biology Claudia Stein, researched how the feeding preferences of snails impact different nonnative herbaceous plant species in Alabama. Their research is based on Stein's work linking snail preferences to how the distribution of tree species in the Ozarks, a forestry region in Missouri, are shaped.
"Our essential hypothesis is that if snails display preferences for certain plant species, they will feed more on those seedlings, reducing the establishment of that species within a plant community and therefore shaping how different plant species are distributed throughout an ecosystem," said Hickman, an environmental science major.
Hobbs, a biology major, and Hickman found that snails do display feeding preferences towards certain plant species despite their generalist herbivore nature. They are currently exploring their findings further.
"We are now in the process of growing tree seedlings — using seeds found in AUM's forest — in a controlled environment to use in a field experiment that will analyze generalist herbivores' preferences on a larger scale," Hobbs said. "We hope to find whether the same trend with snails and herbaceous plants applies in a forest setting and whether generalist herbivores play a larger role in the distribution of tree species than previously thought."
Both Hobbs and Hickman will graduate May 8. Hobbs said she plans to pursue a career in an environmental, GIS, or conservation field and, perhaps, pursue a master's in landscape architecture from Auburn University.
Hickman plans to work in interpretive services in a state or national park.
"It is my dream to help organize inclusive programs for visitors, guide guests on educational hikes and help people gain a deeper connection and respect for the outdoors wherever they are," she said.