Theatre AUM students earn 2023 KCACTF regional honors
Auburn University at Montgomery theatre students recently received top honors at the 2023 Region IV Kennedy Center American College Theatre Festival (KCACTF).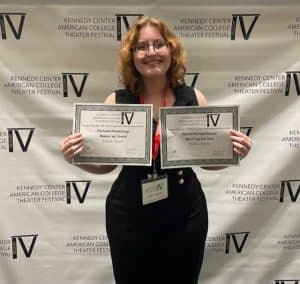 KCACTF's annual festival recognizes top performing students in college and university theatre programs.
AUM students were honored for their work on various classroom projects and Theatre AUM's production of "Three Days of Rain" by playwright Richard Greenburg. The play explores the passing of a famous architect who leaves behind a mysterious will, resulting in a complex relationship developing between parents and children.
Theatre AUM students recognized at the 2023 KCACTF Region IV festival:
Tikyra Caldwell – Regional First Place Theatre Design and Technology
Tabitha Neyerlin – National Runner Up Dramaturgy
Tabitha Neyerlin – Special Recognition for Best Program Note
Yahzane Palmer – Honorable Mention Costume Design
Jalan Pedonesi – Stage Management Team Awards Gala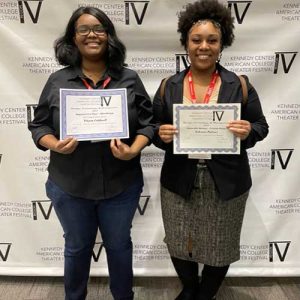 As part of the festival, AUM students are involved in stage management and performance events that allow them to showcase their research and creative works, receive external feedback and experience experiential opportunities. Students also participate in auditions, interviews, round table conversations, performances, new play readings and masterclasses in every discipline.
Additionally, students have the opportunity to network with guest artists and other students from participating universities during the festival.
This year's festival was held February 7-11 in Statesboro, Georgia, with students representing universities and colleges in Alabama, Florida, Georgia, Kentucky, Mississippi, North Carolina, Puerto Rico, South Carolina, Tennessee, Virginia and the U.S. Virgin Islands.