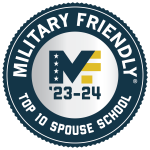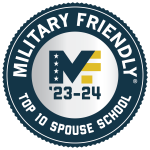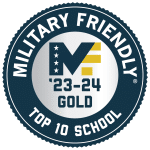 Armed Forces Tuition Assistance is a benefit paid to eligible members of the Army, Navy, Marines, Air Force, and Coast Guard. Depending on your branch, you may be eligible to receive up to 100% Federal Tuition Assistance from military service, with a $250 cap per semester hour and limits that can reach up to $4,500 per fiscal year.
Each branch has its own criteria for eligibility, obligated service, application processes and restrictions. Funds are transferred directly to the educational institution by the applicable branch of the military. Claimants receiving the Montgomery GI Bill® – Active Duty (MGIB-AD / Chapter 30) benefit may elect to use VA Top Up "top-up" to cover the out of pocket cost for courses partially paid by Tuition Assistance.
Service Branch Assistance
Learn More About Tuition Assistance eligibility
Steps to apply for Tuition Assistance:
Gain approval from your unit commander to attend classes at Auburn University at Montgomery prior to enrollment.
See your base Education Services Officer (ESO) prior to enrolling for classes at Auburn  University at Montgomery.
Follow the military service branch and component-specific instructions on how to request Tuition Assistance for your course(s).
Email your approved Tuition Assistance request to the Office of Student Accounts for processing.
The Office of Student Accounts will post the Tuition Assistance credit to your student account.
Prior to your course enrollment, you may be required to develop an education plan or complete Tuition Assistance orientation. Military tuition assistance may only be used to pursue degree programs at colleges and universities in the United States that are regionally or nationally accredited by an accrediting body recognized by the U.S Department of Education.
Academic Plan of Study: If you are receiving VA benefits, you are required to provide the Veteran Services Office with an Academic Plan of Study checksheet. Your academic advisor will provide this form and work with you in developing your plan. Once you have completed all necessary forms, it takes 6-8 weeks for the Veterans Administration's Regional Office (VARO) to finish processing your claim.
Satisfactory Academic Progress Policy: As a VA benefit recipient, you are required to make satisfactory academic progress by maintaining a minimum overall 2.0 GPA on hours attempted at AUM. This measure generally becomes effective when you have attempted 24 hours at AUM. If you fail to maintain the required GPA, you will have your VA benefits terminated.
Registration Cancellation Policy: The AUM Registration Cancellation Policy requires that you pay tuition and fees by the registration cancellation deadline. We will permit re-registration only if you make payments or payment arrangements at the time of registration. If you are awarded financial aid for the semester at issue, you will not be subject to cancellation for that portion of fees covered by financial aid. However, veteran benefits, other than Chapter 31 VA Vocational Rehabilitation and Post 9/11 Chapter 33, are not considered financial aid for this payment policy, so you are encouraged to make payments or payment arrangements to prevent course cancellation.