Identical twin basketball players focus on first year at AUM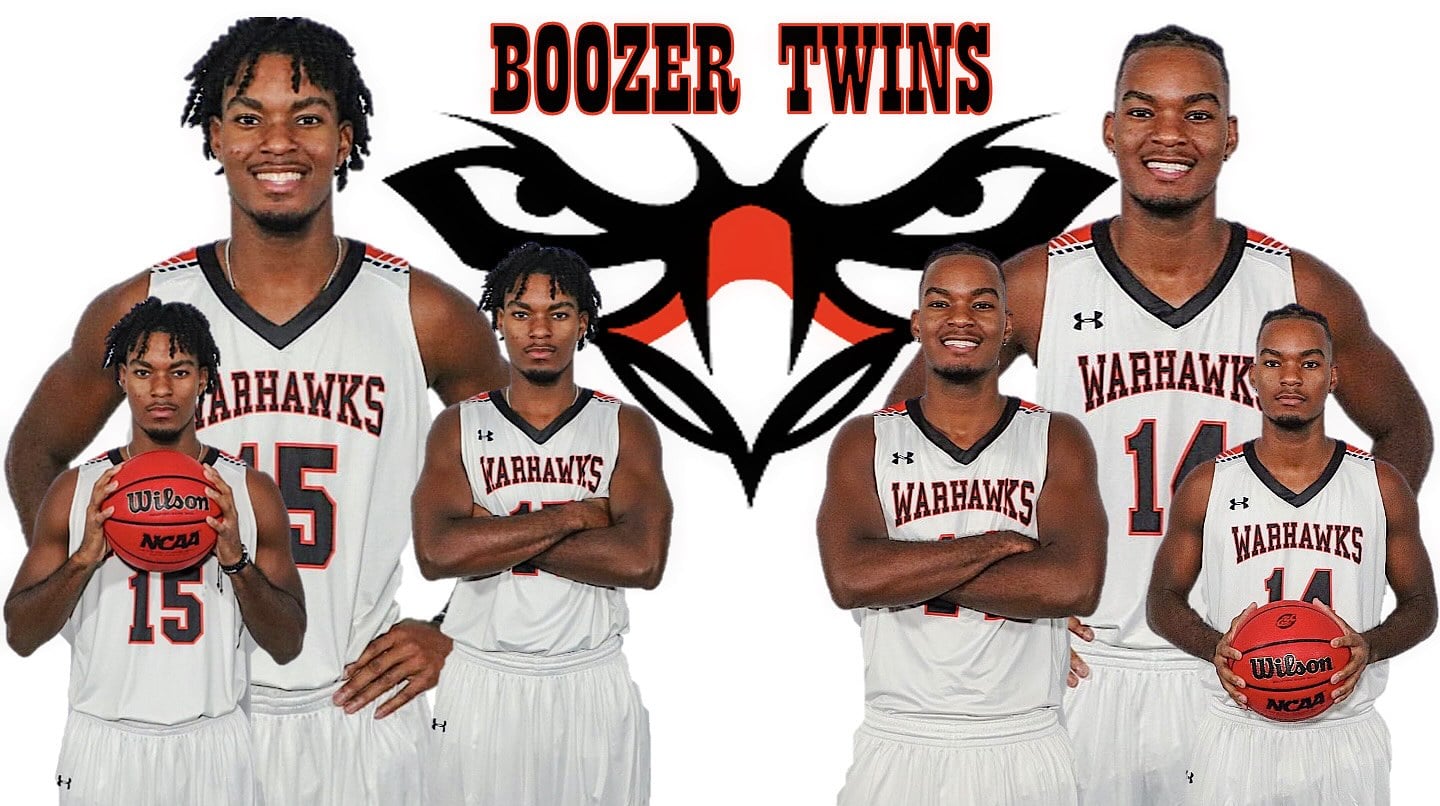 Choosing Auburn University at Montgomery as a new college home came down to three things for identical twins and first-year students Cameron and Zameron Boozer — basketball scholarships, feeling wanted and family.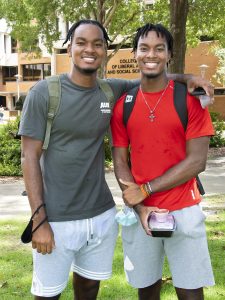 Arriving on campus for their first semester this fall, the Boozer twins said they searched out a university that would allow them to pursue their college and basketball dreams together. As twins who share many similarities and likes — from the same food allergies to choice in major — being together throughout college is important to brothers, Cameron said.
"When we graduated high school, we decided we wanted to go to college together so we made sure that every school that came our way wasn't just offering one scholarship," said Cameron, who transferred from NCAA Division I Jacksonville University in Florida with his brother Zameron on basketball scholarships. "A few universities offered scholarships to both of us, and AUM was one of them."
AUM also checked off other things the duo wanted in a college. AUM and its basketball program offered a welcoming environment from their first visit, and the campus location is close to their hometown of Lanett, Alabama, Cameron said.
"The drive to see our family is shorter, which is important because we both have kids," Cameron said. But, "one of the main reasons that we came here is because we felt like the basketball coaches and program really wanted us here. We wanted to make sure that we were somewhere we were wanted. The coaches did a really good job of presenting this to us."
Future in communication
A career in basketball isn't the only aspiration the Boozer twins share. They both are majoring in communication at AUM with the hope of one day working in the entertainment field.
"We started off in marketing, but we found ourselves leaning toward communication classes," Cameron said. "With the exception of one class Zameron has in person, we're taking all our classes together at AUM. We purposely scheduled our classes the same. Our main focus is to go into broadcasting together as a team. We really just want to be on the TV screen entertaining. It's our overall goal."
In addition to taking the same communication classes, the Boozer twins are preparing for a career in broadcasting by hosting roundtable discussions on their YouTube show "BroTalk."
"Aside from basketball, we do a lot of things on our YouTube channel, Boozer Twins," Zameron said. "We make videos, pranks, and music and share it. We bring different people on the show as guests to educate people on different topics and to get different perspectives on issues. We've had the channel since 2014. It's a way we show our personalities outside of basketball and sports."
Playing with a vision 
When the Boozer twins are on the court together, they compare it to playing a game of backyard hoops together.
"It's crazy," Zameron said. "There are a lot of different things we can do with each other when we're on the court together that can impact a game tremendously."
The camaraderie the brothers share on the court comes from years on playing together. They began playing basketball together at age 9, Zameron said. Their father, Cameron Boozer, Sr., played college basketball for Auburn University and Troy University.
While attending Lanett High School, the brothers also played basketball together. Cameron was named to the 2019-2020 Small School All-Area First Team and Zameron received 2019-2020 Small School All-Area Honorable Mention honors. Both Boozer twins helped Lanett reach the school's state championship for the fourth time in five seasons.
"Most of things we've done together growing up have been sports," Cameron said. "The only difference is that in high school Zameron won a state championship in high jump and track and I didn't. Anything else, we both got state championships in basketball in high school."
At Jacksonville University, the brothers played basketball during the 2020-2021 season, with Zameron appearing in nine games and starting in at least one. Cameron appeared in 17 games with four starts, scoring four points in his college debut against Coastal Georgia.
The duo hopes to show how they create magic together on the basketball court their first season with the Warhawks.
"We haven't played together at the same time since high school," Zameron said. "Coaches have told us they keep one monster in the game so if one of us gets tired, they can put the same monster back out there. This year, we're hoping our new coach will put us out there together."
The brothers are looking forward to being assets to AUM's basketball program, Zameron said.
"When we visited AUM, the coaches showed us their vision for the team and how we fit into that vision," he said. "This was important to us. Now, we are just looking forward to getting started with the team. We're excited to continue moving forward in our academics, meeting new people and building new relationships while we are at AUM."