Auburn University at Montgomery
Staff Council
The mission of the Auburn University at Montgomery Staff Council is to support the vision, mission, and values of the University. We provide a voice for staff on staff-related issues. We assess, prioritize, and communicate staff ideas to the University Administration, promoting a positive collaborative work environment that incorporates understanding, cooperation, and communication among all constituent groups of Auburn University at Montgomery. We promote initiatives that enhance personal and professional well-being of staff, and encourage vocational and educational development. Through various forms of engagement, we aim to promote positive morale and strengthen the sense of community among Auburn University at Montgomery staff.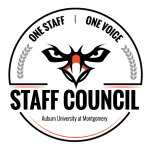 Representatives Duties
The Staff Council represents all employees at Auburn University at Montgomery below the rank of Vice Chancellor who do not hold an academic appointment.
Provide a channel of communication between staff and the Staff Council.
Communicate information on Council activities to staff in their units.
Present concerns of the staff to the Council.
Attend meetings regularly or provide a substitute if unable to attend.
Encouraged to participate in committee work.
Staff Council

Unit Representatives