AUM to launch new Bachelor of Social Work degree in Fall 2021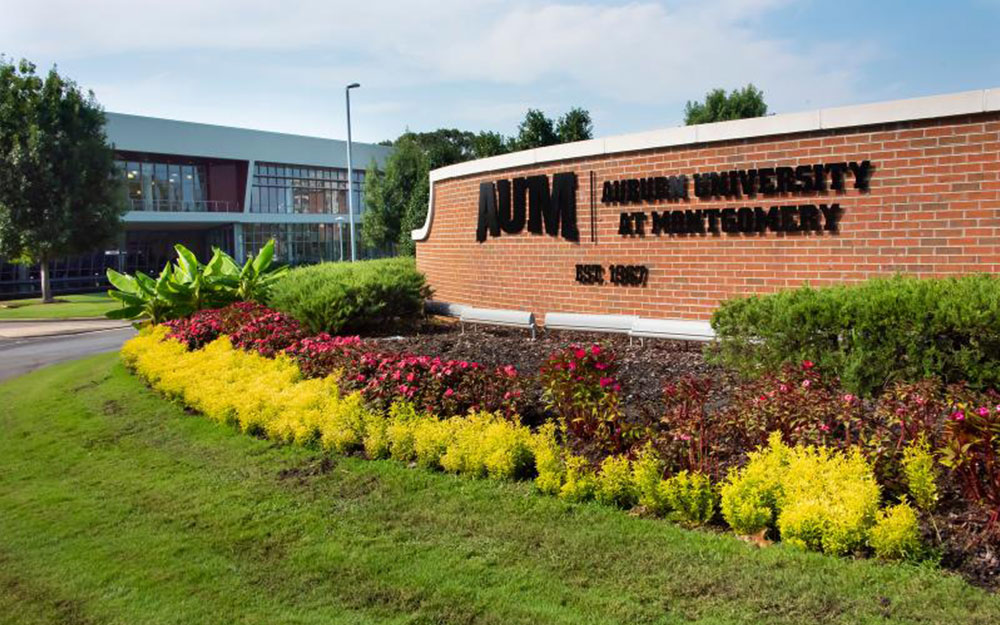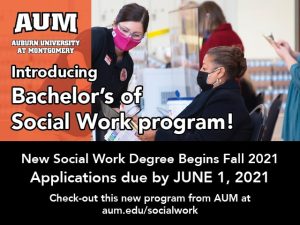 Auburn University at Montgomery will soon launch a Bachelor of Social Work (BSW) program geared towards meeting the growing demand for social work professionals in the state.
The state of Alabama has identified social work as a critical need area for the state, said Susan Cashwell, BSW program director and associate professor of social work. According to a 2019 Alabama Department of Labor study, health care and social assistance ranks as the second most popular career field in the state.
"The decision to start a BSW degree at AUM was influenced by student demand and the need for social workers in the state of Alabama," Cashwell said.
Beginning in Fall 2021, AUM will welcome the program's first cohort of students, Cashwell said. The program is planning to accept between 15-25 students, she said.
"We hope to attract students who want to make a difference in the lives of others and society and who have a commitment to diversity, social justice, service, and human relationships," she said.
Auburn University's Board of Trustees approved the creation of the BSW degree program in February 2019 with the Alabama Commission on Higher Education following with its approval in September 2019. AUM's program is currently in the pre-candidacy phase for accreditation with the Council on Social Work Education and is expected to enter full candidacy during the next academic year.
AUM began planning its BSW degree program in the College of Liberal Arts and Social Sciences' Department of Sociology, Anthropology, and Social Work during the Spring 2018 semester. Prior to establishing the program, AUM students were required to attend another university to complete their social work degrees, Cashwell said.
"By providing the BSW locally, it allows students to start and finish their degree at AUM," she said.
AUM's program will primarily focus on generalist practice, which allows students to integrate and purposefully apply knowledge, values, and skills to a variety of practice situations while working with individuals, families, groups, organizations, and communities, Cashwell said. Also, the program is designed with a strong emphasis on social justice, she said.
"By focusing on generalist practice with an emphasis on social justice, it allows AUM to fill a unique community need," she said. "Students will learn the importance of social justice, the impact of social injustice and oppression on individuals, families, groups, and communities in society. The goal is to teach students how to incorporate social justice into their practice and advocate for social change to create a better society."
Courses within the program are designed to equip students with knowledge in social work theory, social justice and diversity, practice interventions, prevention, communication, substance use, policy-practice, and research-informed practice, Cashwell said. As part of the program, students also will have to complete a 400-hour internship, which allows them to practice in all three levels — micro, mezzo and macro — of social work intervention, she said.
"We expect our students to gain critical practical experience during the internships, which allows them to enter their careers with experience and confidence in their knowledge and skills," she said.
AUM's program will also offer substance use courses and a Substance Abuse Prevention Studies certificate to address opioid prescription abuse in the state, Cashwell said. Alabama leads the nation in opioid prescription use, according to the Centers for Disease Control and Prevention.
An increasing need for social services to address social problems such as child abuse, aging, mental health and substance use in communities is expected to drive the demand for more social workers in coming years. In 2019, the National Association of Social Workers reported more than 700,000 jobs in social work.
Additionally, the U.S. Bureau of Labor Statistics projects the demand for social workers to grow 13 percent from 2019 to 2029 − faster than the average for all occupations. The bureau reports the median annual wage for social workers at $51,760 as of May 2020.
"AUM social work graduates will be prepared to go on to work in a variety of organizations specializing in mental health, health care, public health, schools, military, gerontology, substance use, child welfare, criminal justice, public policy, non-profit social services and grassroots movements," Cashwell said. "Our graduates also will be prepared to attend graduate school to pursue a Master of Social Work to advance in their professional careers."
AUM will begin contributing to meeting the increasing demand for social work professionals when the university graduates its first BSW class in Spring 2023. Graduates will be prepared to practice at the bachelor's level, but can also become licensed as an Alabama social worker, or LBSW.
Watch a video announcing AUM's new BSW degree.