Goodwyn Gallery renamed the Cason McDermott Art Gallery
Perhaps the most appropriate way to honor the memory of a beloved fine arts graduate is to create a space where the work of painters, photographers, sculptors and other creators can be showcased and celebrated.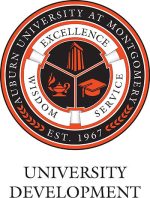 Auburn University at Montgomery
The Cason McDermott Art Gallery
In February 2021, Auburn University at Montgomery's Goodwyn Gallery was dedicated in honor of the late Cason Leigh McDermott, who earned a Fine Arts degree from the College of Liberal Arts & Social Sciences in 2018. In 2019, she tragically passed away while attending graduate school. Cason is remembered for her generous spirit and passion for the arts, and was loved by classmates and faculty alike.
Through the generosity of Cason's parents, Mickey and Mona McDermott, the gallery was named in Cason's memory and underwent renovation that has afforded students, faculty, and visiting artists the opportunity to display art-work in a professional exhibition environment.
The gallery will engage the university and wider Montgomery communities through its display of artworks by regionally and nationally recognized visiting artists and, works from Fine Arts Department faculty and students. The gallery also will feature, exhibits from the University's collection of paintings, including works on paper (with strengths in 20th Century prints), and exhibits designed and curated by students and faculty in the university's Art History and Museum Studies programs.
"It is important for us that our students see contemporary art and to exhibit their own…" Fine Arts Chair Will Fenn said. "The Cason McDermott Art Gallery is a professional exhibition space that allows our students to receive a good grounding in contemporary art due to our ability to bring in visiting artists. It also provides an opportunity for solo exhibitions for our BFA candidates and group exhibitions for the BA students."
In addition to naming the gallery, Mr. and Mrs. McDermott established the Cason McDermott Memorial Endowed Fund for Excellence to be used for the purchase of art supplies for students in need.
AUM and the Department of Fine Arts are grateful for the generosity of Mickey and Mona McDermott and honored to see Cason remembered through the gallery naming.