Warhawk Weekly 7-12: Wildland firefighting; Make a gift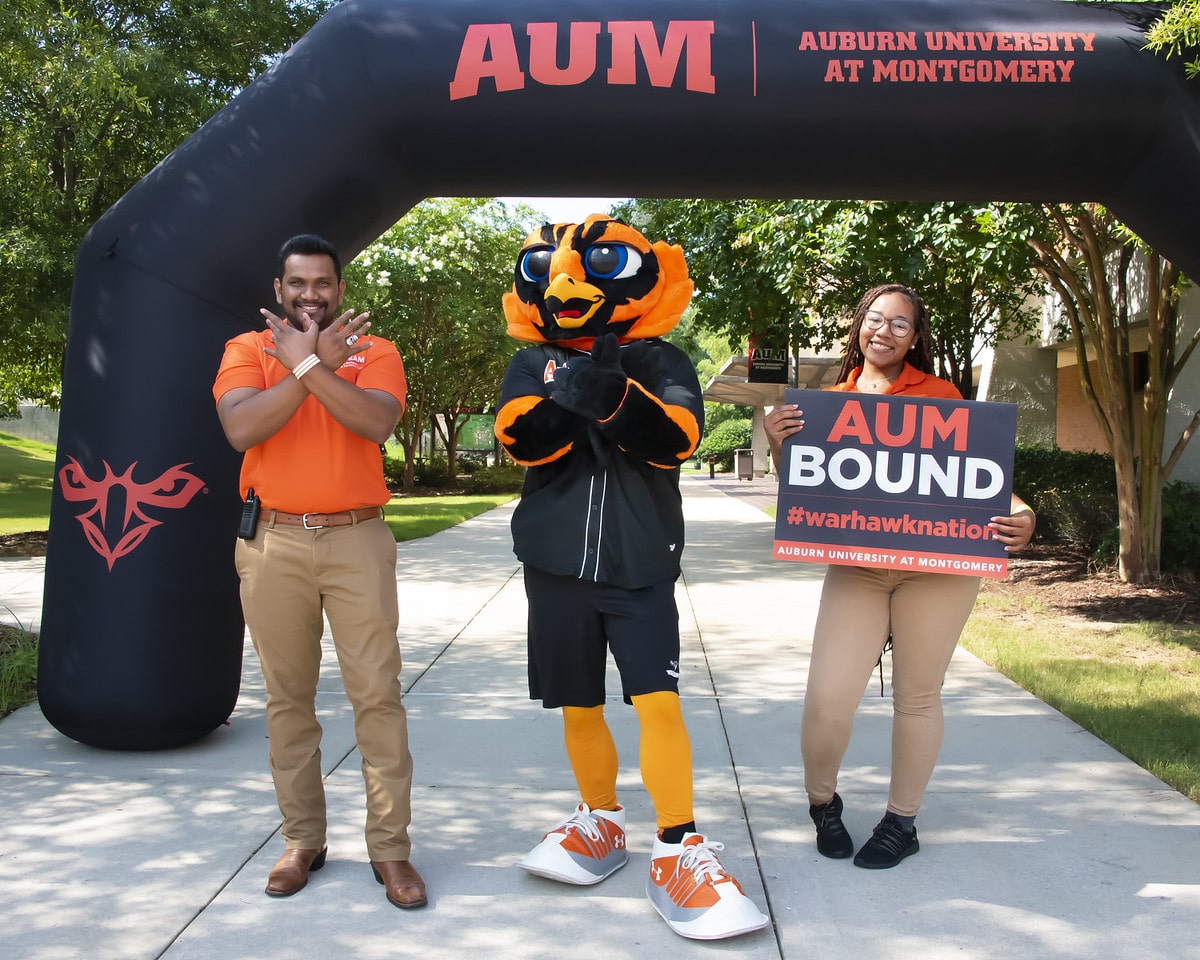 AUM course ignites passion for wildland firefighting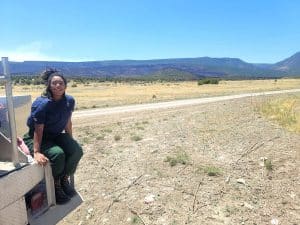 In a span of two semesters, AUM senior HeavenLee Pagan went from learning about wildland firefighting in an online AUM course to helping contain an actual wildland fire in New Mexico this summer.
Pagan was introduced to wildland firefighting through the AUM course "Wildland Firefighter Training" offered on campus this year. She credits the course and training she received for inspiring her to take a physical fitness pack test to obtain her first wildland firefighting job in New Mexico, where she was part of a burn crew helping to contain Cooks Peak Fire.
Supported by a National Fish & Wildlife & Foundation grant, the course included an eight-hour field day with AUM hosting students from other Alabama universities. Students learned about fire safety, firefighting equipment, personal protection equipment (PPE), the basics of setting and managing controlled burns, and how to fight wildland fires.
Make a gift as a member of the Class of '22
Summer 2022 graduates can celebrate their success and leave a legacy with other members of our Class of '22.
Make a class gift and get involved with the AUM Alumni Association. Graduating students are encouraged to give back to the college, department, or program that has influenced their AUM experience the most. All gifts make a difference, but those who give at least $20.22 (Class of 2022) will receive a commemorative medallion to wear at commencement.
Nowin earns NCAA Woman of the Year nomination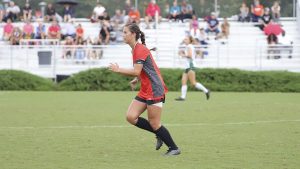 Former Auburn University at Montgomery women's soccer standout McKenzie Nowin has been nominated for the 2022 NCAA Woman of The Year award that honors their academic achievements, athletic abilities, and community service across all three divisions.
Nowin (Fayetteville, Tenn.) completed her second and final season with the Warhawks in 2021. The South Alabama transfer netted a pair of game-winning goals last year for AUM while locking down the defensive side of the field.
In the classroom, Nowin was just as effective, netting a 4.0 GPA as an exercise science major. The Tennessee native also racked up postseason honors as she was named to both the Gulf South Conference All-Academic team and the CoSIDA Academic All-District team.
In March, Nowin earned the NCAA Postgraduate Scholarship, a one-time non-renewable scholarship of $10,000 that is awarded three times a year that corresponds to each sport season.
Rooted in Title IX and directed by the NCAA Committee on Women's Athletics, the NCAA Woman of the Year program celebrates the accomplishments of female college athletes across all three NCAA divisions.
Youth basketball camp opens July 25
Got a young basketball player in your family?
They can sharpen their skills during the Coach Cheaney Basketball Summer Camps July 25-28.
Open to boys entering third grade through 11th grade, the registration fee is $125.
Contact Assistant Coach Bailey McEwen 334-244-3093, [email protected] for details.
Recognize outstanding AUM faculty
The Auburn University at Montgomery Alumni Association has opened nominations for the Alumni Professorship to recognize outstanding AUM faculty. To be eligible for the honor, faculty must have 10 or more years of full-time service at AUM.
AUM faculty, staff, students, alumni and friends can submit nominations for the 2022-2025 Alumni Professorship. Nominations must be submitted or postmarked no later than August 1, 2022. Nomination letters should be no more than two pages in length, and should emphasize teaching excellence as well as a strong record of publication and research. A vita may be attached, if available.
Send nomination letters to: Awards Committee, Auburn University at Montgomery Alumni Association, P.O. Box 244023, Montgomery, AL  36124-4023, or email them to [email protected].  If you have questions, call 244-3369 or email [email protected].
Ordering your textbooks for fall classes
The AUM Bookstore will not offer in-store ordering for books as we approach the Fall 2022 semester. To purchase your books, visit the AUM Bookstore website and pay by credit card or with financial aid.
The AUM Bookstore offers shipping and in-store pickup for all orders.
COVID-19 booster shots, tests available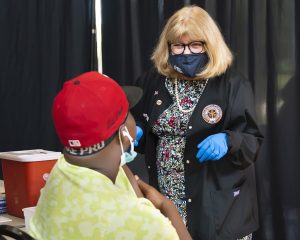 As the Alabama Department of Public Health tracks expected increases in COVID-19 cases in the region, Auburn University at Montgomery encourages students and employees to be proactive in monitoring their health and utilizing resources offered by Warhawk Health Services.
Warhawk Health Services will continue to offer COVID-19 vaccines, booster shots and rapid testing.
Warhawk Health Services will offer Pfizer COVID-19 vaccines and booster shots Monday-Friday, from 8:30a.m. to 11 a.m. and 1 p.m. to 3:30 p.m.  on a walk-in basis. Vaccines administered by Warhawk Health Services are free, and no insurance is required.
COVID-19 PCR testing and rapid testing is available through Warhawk Health Services Monday – Friday by appointment only during regular business hours. PCR and rapid tests administered by Warhawk Health Services require an office visit copay of $5 for students and $15 for faculty, staff and their dependents. Appointments can be made by phone at 334-244-3281.
Employees also can utilize at-home testing. Every home in the U.S. is eligible to order a third round of free at-home tests by ordering at https://www.covid.gov/tests.
Offering vaccines and taking a COVID-19 test represent several steps that AUM is taking to ensure the health and well-being of the campus community. AUM also continues to follow CDC guidance regarding COVID-19 exposure.
AUM encourages members of the campus community to also continue to practice safety measures to prevent the spread of COVID and to stay informed by:
We all have a part to play in taking care of ourselves and each other. If you are sick, stay at home. Employees who need to miss work due to illness, should contact their supervisor and [email protected] and students who need to miss class due to illness should notify their professor and [email protected].
If you have questions about COVID-19 vaccines, the Centers for Disease Control and Prevention offers a "Fact vs. Myth" page. Students are also welcome to contact Warhawk Health Services or their personal healthcare provider.
Keep up with campus events
There's an easy way to keep up with campus happenings. Enroll in AUM365 and get the 4-1-1 from Curtiss The Warhawk himself. Text curti$$ to 334-398-6025 to receive reminders about upcoming happenings.