Warhawk Weekly 6-6: AI business potential; Alumni Board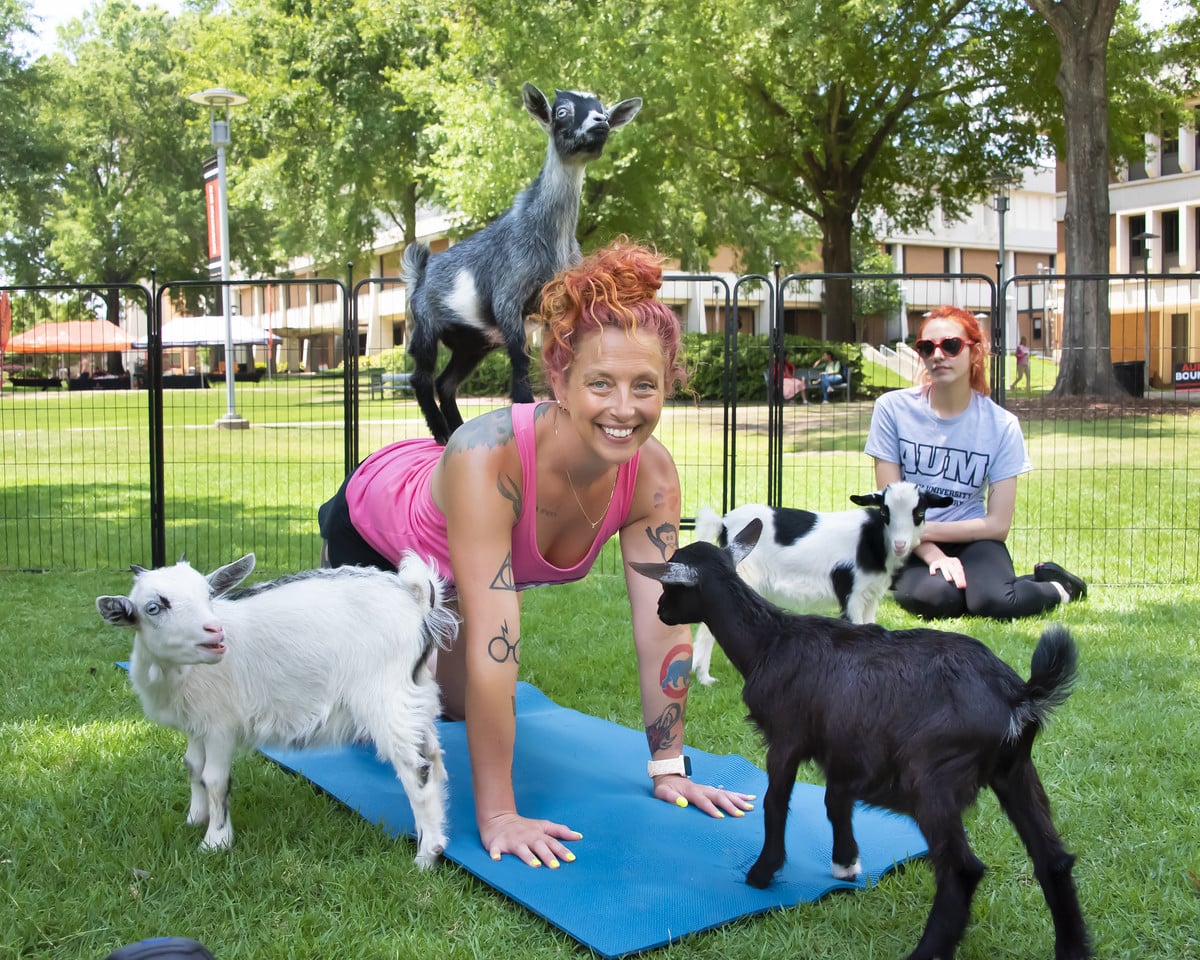 Exploring the business potential of AI
From search engines to customer service chatbots to push notifications alerting you to suspicious activity on your credit card account, artificial intelligence is a part of our every day – even if we're not fully conscious of its presence.
"AI is everywhere around you and it's growing extremely fast," said James Locke, chair of AUM's Department of Management Information Systems and director of its new AI Research Laboratory. "It's in places now where you take it for granted."
As one of the few labs of its kind nationally embedded within a College of Business, Locke and fellow faculty members are working to ensure that the lab will help students and industry partners better understand how to use AI to help companies operate more profitably, efficiently and ethically. The College of Business recently hosted an open house for local industry leaders to help them understand the AI Lab's capabilities and to learn more about the opportunities and challenges AI may help them meet.
"AI is at the forefront of everything right now," said TGD Consulting Principal Terry Davis, an AUM MBA alum. "Right now, it's all about what's going on with AI. We all get to have a front row for what's happening."
Powered by NVIDIA supercomputing capabilities, AUM's AI Research Lab will prepare management information systems undergraduate and graduate students in such areas as robotic process automation, machine learning, Big Data analysis, natural language processing and facial recognition systems.
Make a difference on the Alumni Board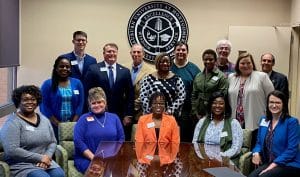 Are you passionate about making a difference at your alma mater? The AUM Alumni Association invites AUM graduates to apply for a position on the Alumni Association Board of Directors.
As the advisory board to the Auburn University at Montgomery Alumni Association, the Alumni Board seeks candidates who are proven leaders, have demonstrated service to the AUM alumni family, are experienced in working in a collaborative environment, and are committed to serving as AUM ambassadors in their communities. Board members also must be an AUM graduate or have earned credit toward one of its degree programs.
The board meets three times per year on campus, and board members serve a term of two years. Board members are expected to be active members of the AUM Alumni Association. Nominations will close Friday, September 1, 2023. Email your nomination form to [email protected] or mail it to the Auburn University at Montgomery Alumni Association, 75 Technacenter Drive, Montgomery, AL 36117.
If you have questions, please contact the AUM Alumni Association at 334-244-3369 or [email protected].
Help prepare Shady Street Park for public use
AUM's Experiential Education and Engagement Center (EEEC) has organized volunteer days for university students and employees to help prepare Montgomery's Shady Street Trailhead Park for public use.
The park is central to efforts to revitalize neglected areas in North Montgomery. Previous workdays have focused on invasive plant and debris removal. Upcoming volunteer dates will be Friday, June 16, and Friday, July 14. Volunteers will meet at Taylor Center, leaving campus at 9 a.m. and returning at 12:30 p.m. each day. Participants should bring water and wear close-toed shoes.
Give your child a chance to tell their story
Looking for a summer camp for your son or daughter? AUM's Department of Communication & Theatre and College of Liberal Arts & Social Sciences will offer an Audio/Visual Storytelling Camp for students in grades 9-12.
The camp will take place June 12-16, from 9 a.m. to 4 p.m. each day, and is free to all participants. Space is limited. To register or receive more information, contact Katherine Irwin ([email protected]), Michelle Johnson ([email protected]) or call 334-244-3379.
Campers will learn about video creation, podcasting and more.
AUM hosting youth soccer camps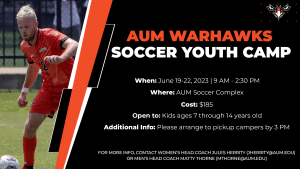 AUM women's soccer coach Julianne Herrity will host youth soccer camps for players ages 3-6 and 7-14 on June 19-22 at the AUM Soccer Complex.
Registration for the parents if players ages 3-6 can be found here.
Bump, set, spike at AUM volleyball camp
AUM volleyball coach Flavia Siqueira will host a series of summer volleyball camps for players of all ages. Skill camps will be open to players in grades K-12, and there will also be an ID camp for high school-age players.
Get updates on campus events
Don't get left out of important campus events. There's an easy way to keep up with what's happening each day. Enroll in AUM365 and get the 4-1-1 from Curtiss The Warhawk himself. Text curti$$ to 334-398-6025 to receive reminders about upcoming happening.