College of Nursing and Health Sciences
Turn Your Passion Into a Career
Bachelor of Science in Nursing
As a nurse, you can make a real difference in someone's life. Whether you are working in a clinic, office, or hospital, you'll offer hope to patients and their families as well as celebrate with them when they receive good news.
Of all the helping professions, nursing is the most respected, according to a Gallup survey. Nursing is also a career field where jobs are plentiful; the Bureau of Labor Statistics estimates a nine percent job growth for RNs and a 45 percent job growth for advanced practice registered nurses between now and 2030.
Because there is a high demand for nurses, there's never been a better time to get a bachelor's degree in nursing that will not only lead to a coveted registered nurse (RN) designation, but also to an exciting career where two days are rarely the same. With the Bachelor of Science in Nursing (BSN) from AUM, you'll gain valuable classroom knowledge and practical experience, such as working in the Warhawk Hospital, a simulated interprofessional experience to help prepare you for work in a clinical practice team. You'll learn technical skills as well as important "people skills"—such as interpersonal communication and time management—that could lead you to other career options: nursing administration, nonprofit management in nursing, public health nursing, correctional facilities, or being a missionary nurse in clinics across the world.
Considered one of the best in the state, AUM's Bachelor of Science in Nursing is a traditional, four-year baccalaureate program with two full-time, two-year components: lower division (Pre-nursing) and upper division (Nursing).
Following successful completion of the registered nursing program, graduates can apply to take the RN licensure exam.If you are already an RN with an associate's degree—and are seeking a BSN degree to expand your salary range and career options—you may be interested in our RN to BSN program. Because it is offered totally online and may be completed in three semesters of full-time study, many of our RN to BSN students work full time.
Students must first apply to AUM for admission. Once admitted to the university, then please complete the Traditional BSN Application.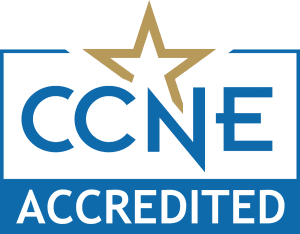 The baccalaureate degree program in nursing, master's degree program in nursing, and Doctor of Nursing Practice program at Auburn University at Montgomery are accredited by the Commission on Collegiate Nursing Education.
The Know How
What you will know with a Nursing degree from AUM
We Prepare You To Be The Leader
Besides learning the technical skills for nursing, you'll also develop critical thinking, communication, and organizational skills—critical attributes for any kind of leader.
We Give You A Positive Framework For Serving
Before you leave AUM with your degree and RN credentials, you will have collaborated with dozens of other healthcare team members and served scores of actual patients.
We Set The Bar For Ethics
Before you leave AUM with your degree and RN credentials, you will have collaborated with dozens of other healthcare team members and served scores of actual patients.
We Help You Launch A Career That You Design
Nurses are a vital part of delivering healthcare in many different settings. You can choose from over 100 different types of nursing specialties, which means you'll likely never be bored.
Bachelor of Science in Nursing (B.S.N.)
The Auburn University at Montgomery Bachelor of Science in Nursing (B.S.N.) program is considered one of the best in the state. The traditional four-year baccalaureate program has two components — a lower division (Pre-Nursing) and an upper division (Nursing).  The lower division (Pre-Nursing) component takes 4 semesters to complete if taken on a full-time basis.  The upper division (Nursing) component takes 5 semesters to complete and must be taken on a full time basis.
After completing most of the lower division (Pre-Nursing) courses, students must apply for admission to upper division (Nursing) of the School of Nursing.  Nursing applications are separate from the general university application. The number of students admitted to upper division is limited, and applicants are chosen based on their academic performance in the lower division prerequisites, Test of Essential Academic Skills (TEAS) score, an interview, math and science grades, and amount of AUM credit earned.
BSN Additional Resources:
Customize Your Concentration
Rewarding Occupations and Job Growth
Is a Degree in Nursing right for me?
With this bachelor's degree as your educational foundation, you have many career possibilities.
| Career/Job Title | Entry-level Education Requirements | Job Growth 2020-2030 | Annual Median Salary |
| --- | --- | --- | --- |
| Registered Nurse | Bachelor's degree | 9% (Faster than average) | $75,330 |
| Nurse Anesthetists, Nurse Midwives, and Nurse Practitioners | Master's degree | 45% (Much faster than average) | $117,670 |
Note: Salaries vary depending on several factors including your level of experience, education, training, demographics, and industry. Here is a sampling of the future job growth and salaries according to the U.S. Bureau of Labor Statistics.
Learn More
Quick Facts
College of Nursing and Health Sciences
Official Name of the Nursing Degree
Bachelor of Science in Nursing
Modality
This degree requires students to meet on campus. Students in these courses enroll in a program to connect in a campus setting and to collaborate using a variety of technological and educational tools. Professors play an inspirational role in building relationships among teams and individuals in this setting. The criteria for many programs can only be met with In-Class coursework. Be sure to check with your advisor to understand the best route to take.
In-Class
Nursing
Courses Include
To complete this degree concentration, you will need to complete courses in the university core, nursing, and electives. Contact the School of Nursing for a current listing of courses required to complete this program. 
The course listings below are only a few of the classes this concentration requires. For a full review of this program in detail, please see our official online catalog AND consult with an academic advisor.
| Course Number | Course Name | What you will know… |
| --- | --- | --- |
| NURS 3111 | Fundamentals of Professional Nursing | Study of concepts essential for professional nursing practice across settings of care. |
| NURS 3150 | Evidence Based Practice | Evidence-based practice concepts essential for the practice of nursing. |
| NURS 3210 | Clinical Pharmacology | The nurse's role in therapeutic pharmacology. |
| NURS 4251 | Care of Pediatric Patient & Support Network | The concepts needed for caring for children, their family, and their support network. |