College of Nursing and Health Sciences
Expand Your Career with a BSN
Bachelor of Science in Nursing
You're an RN. You make a positive difference every day in the lives of your patients and those who love them. Your passion and nursing skill have brought you a long way in your career, but there's something more that you want and need to gain additional advancement opportunities: a Bachelor of Science in Nursing degree.
If you would like to take your career to the next level, consider our online RN to BSN program. This program is offered totally online. Many of the students in this online program are working full time as nurses, so the assignments are flexible enough to work around your shift schedule. Completion of your BSN allows many nurses to fill leadership positions and/or seek advanced degree work for even greater career opportunity.
Each applicant to the RN to BSN track is reviewed individually and guided to prevent the repetition of previous coursework. The AUM faculty members teaching online have been prepared according to the highest quality standards for online education. An advisor maintains contact with students throughout their progression in the program to facilitate access to classes and other needs. Access to an advisor who knows you and your program plans is one of the unique aspects of the AUM experience.
The BSN degree program at Auburn University at Montgomery is accredited by the Commission on Collegiate Nursing Education and approved by the Alabama Board of Nursing.If you are not an RN but are interested in a traditional nursing bachelor's degree program, you may be interested in our Bachelor of Science in Nursing (BSN) program.
Students must first apply to AUM for admission. Once admitted to the university, then please complete the RN to BSN Application.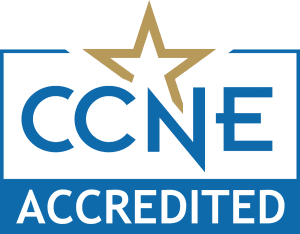 The baccalaureate degree program in nursing, master's degree program in nursing, and Doctor of Nursing Practice program at Auburn University at Montgomery are accredited by the Commission on Collegiate Nursing Education.
The Know How
What you will know with a Nursing degree from AUM
We Prepare You To Be The Leader
Know how your critical thinking, communication, and organizational skills will contribute to leadership skills that will serve you well in your career.
We Give You A Positive Framework For Serving
Before you leave AUM with your degree, you will have developed an expanded network of fellow students and faculty members—all part of an important career network.
We Set The Bar For Ethics
As a nurse, you'll be trusted by colleagues and patients alike. As a profession, nurses earned the highest score in a 2020 Gallup poll for honesty and ethics.
We Help You Progress In Your Career
Having your RN is a great start, but earning a BSN degree can be a launching pad to leadership roles and the opportunity to pursue advanced medical education.
Customize Your Concentration
RN to BSN Application Process
Admission Requirements
For more information, or if you have questions, please email or call (334) 244-3744 to connect with the RN to BSN Academic Advisor and Recruiting Manager.
Don't forget to connect with us on Facebook!
Rewarding Occupations and Job Growth
Is a Degree in Nursing right for me?
With this bachelor's degree as your educational foundation, you have many career possibilities.
| Career/Job Title | Entry-level Education Requirements | Job Growth 2020-2030 | Annual Median Salary |
| --- | --- | --- | --- |
| Registered Nurse | Bachelor's degree | 9% (Faster than average) | $75,330 |
| Nurse Anesthetists, Nurse Midwives, and Nurse Practitioners | Master's degree | 45% (Much faster than average) | $117,670 |
Note: Salaries vary depending on several factors including your level of experience, education, training, demographics, and industry. Here is a sampling of the future job growth and salaries according to the U.S. Bureau of Labor Statistics.
Learn More
Quick Facts
College of Nursing and Health Sciences
Official Name of the RN-BSN Degree
Bachelor of Science in Nursing
Modality
The ​RN-to-BSN program is 100% online.
Online