Q.V. Lowe Field Dedication
Just before opening its 2020 Gulf South Conference baseball schedule, Auburn University at Montgomery dedicated its playing field to the man who launched its program and made it a perennial power.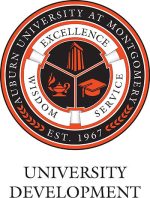 Auburn University at Montgomery
The AUM Lowe Field
Q.V. Lowe won 1,127 games and made three NAIA World Series appearances before retiring in 2014 after 28 seasons as head coach.
Under his leadership, 79 student-athletes earned all-conference accolades, 40 garnered all-area or all-region honors and 33 were selected NAIA All-Americans. Furthermore, 25 of Lowe's players went on to play professional ball at some level.
Lowe earned many honors as a result of his sustained excellence, including enshrinement in the Alabama Sports Hall of Fame in 2020. He was inducted into the Auburn University Tiger Walk Hall of Fame in 1998 and the Alabama Baseball Coaches Hall of Fame in 2005. In 2007 he was named the Alabama Baseball Coaches Association College Coach of the Year. He also became the first AUM head coach selected to the NAIA Hall of Fame in 2011.
"He literally built our baseball program from the ground up," AUM Chancellor Carl A. Stockton said of Lowe. "…His teams were known for achieving excellence on the field and in the classroom. There's no better way to honor his legacy than by the Warhawks playing the rest of their home games at Q.V. Lowe Field."
The field dedication was made possible through the generosity of former AUM baseball student-athletes and friends of Coach Lowe. A special gift towards the field naming was made by family friend of Q.V. Lowe, Janna Campbell and her husband Martin Maslonka.
Gifts Made During the Campaign
Main Gate
The Jo and Ben McNeill Plaza main gate entry by longtime AUM supporters, Jo and Ben McNeill.
Third Base Dugout
Former AUM baseball player Tyler Williams and his wife and fellow AUM alum Dawn, named the Third Base Dugout after AUM's second Chancellor, and Tyler's father, the Dr. James O. Williams Dugout. Dr. Williams founded the AUM baseball program during his tenure as chancellor.
First Base Dugout
Retired AUM staff member, and longtime Athletics supporter and Hall of Fame member Lt Col. Jack Doane and his wife Barbara, named the first base dugout the Doane Family Dugout.
Scoreboard
The Coca Cola Bottling Co. LTD Montgomery also contributed as a longtime supporter of AUM athletics, making the new scoreboard possible.
AUM is honored to be the home of Q.V. Lowe Field and is grateful for the generous alums and friends who made this possible.
If you are interested in supporting AUM athletics please call the AUM Office of Advancement at (334)244-3560 or make a gift online.