#WhyWeLearn: AUM bridges student's path to career in medicine
Neil Probst, AUM Strategic Communications and Marketing | June 6, 2017
Editor's note: The #WhyWeLearn series focuses on the lives that students build at AUM.
Students across the globe seek careers in medicine to serve others and to increase job security in an uncertain global economy. At Auburn University at Montgomery, the Pre-Health program provides students like Hakan Sahinoglu with the skills they need to advance to medical schools and fulfill their dream.
Sahinoglu, a recent graduate who majored in Biology with a Pre-Health concentration, is following such a path as he prepares to begin studies at the Edward Via College of Osteopathic Medicine (VCOM) at Auburn University.
To prepare for the next stage of his education, Sahinoglu was mentored and trained by AUM professor Dr. Ben Okeke, distinguished research professor and director of the Bioprocessing and Biofuel Research Lab, who taught him concepts and research methods that will help him at VCOM.
Okeke worked side-by-side with Sahinoglu as they conducted field and lab research, which Sahinoglu summarized in a conference presentation on "Evaluation of Antibacterial Activity of Microbial Isolates from Soil" at the recent Association of Southern Biologists Annual Conference.
Professor and students collected soil samples to isolate an effective antibiotic against "Staph bacteria" (Staphylococcus aureus), a contributor to illnesses like food poisoning, infections of the skin, blood and joints, and even pneumonia. During lab work, the professor-student team eventually located a microbe that "significantly inhibited" the bacterium, according to Okeke.
For Sahinoglu, the field and lab work with Okeke, as well as his organization of his research and preparation and delivery at the conference, was invaluable.
"As a physician, being able to articulate problems and solutions clearly enough for patients, for example, and constantly practicing verbal and nonverbal communication cues will allow me to effectively and efficiently work with my colleagues and others," Sahinoglu said.
At the same time, the student says the experience wouldn't have been the same without the guidance of his professor.
"Dr. Okeke helped me internalize the important research concepts of meticulous detail and duplication. As a physician, I can generalize those concepts to paying attention to minute details and always double checking charts, procedures or results."
Several of Okeke's students who have gained such valuable research-related experience have moved on to medical schools, other health/science professions, and graduate schools.
"Participation in scientific research teaches students necessary skills in organization of work, record keeping, multitasking and carefulness. Students also learn how to collect samples, analyze data, prepare scientific reports and present papers in scientific meetings," Okeke said. "These qualities are important in training students in health and STEM professions."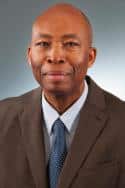 What's a DO?
DOs are fully licensed physicians who practice in all areas of medicine, from family medicine to neuropathy.
"Doctors of Osteopathic (bone disease-related) Medicine are physicians who spend 200 hours extra on the musculoskeletal and nervous systems, utilizing a more personable, holistic, and from-the-ground-up approach when diagnosing and treating patients," Sahinoglu said.
Set for success
Excited about the future, Sahinoglu is grateful to have prepared for it under Okeke. And he savors his overall AUM experience.
"The class sizes were small and I really wanted to learn from my professors, which, when looking back now, I really believe helped me retain a lot of information that subsequently helped me get into medical school."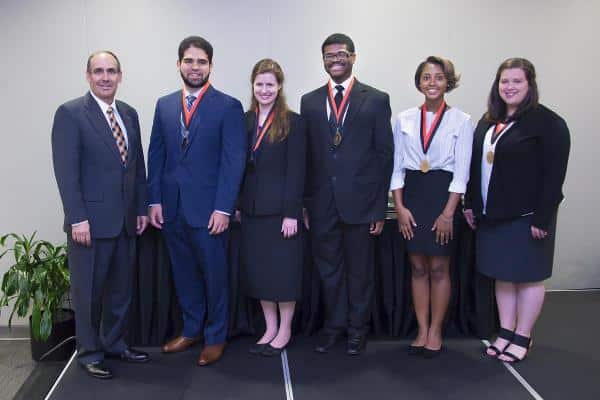 Hakan Sahinoglu, second from left, also was recently named a Chancellor's Scholar, Auburn University at Montgomery's highest award for scholarship and service. He stands with AUM Chancellor Carl A. Stockton and other 2017 Chancellor's Scholars, from left, Sarah Sumner, College of Business, School of Accountancy; Amos Davidson, College of Education, Department of Curriculum, Instruction and Technology; Aliyah Caldwell, College of Nursing and Health Sciences, School of Nursing; and Victoria Byrne, College of Public Policy and Justice, Department of Political Science and Public Administration, at AUM's 2017 Honors Day. (Photo by Frank Williams)