Warhawk Weekly 6–6: #WhyWeLearn: Hakan Sahinoglu; Walter Smith featured in article
Warhawk Weekly 6–6: #WhyWeLearn: Hakan Sahinoglu; Walter Smith featured in article
#WhyWeLearn: AUM bridges student's path to career in medicine
Students across the globe seek careers in medicine to serve others and to increase job security in an uncertain global economy. At Auburn University at Montgomery, the Pre-Health program provides students like Hakan Sahinoglu with the skills they need to advance to medical schools and fulfill their dream.
Smith featured in article on fair-credit credit cards
Walter P. Smith, associate professor was featured in WalletHub's online article about credit cards or fair credit. Smith provides advice on what to look for in "fair-credit credit cards" and how to handle credit in the "Ask the Experts" section of the article.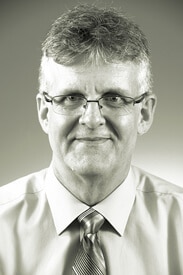 AUM's Logan Project featured in blog posts
Auburn University at Montgomery's Logan Project has been highlighted in two recent blog posts: Reclaiming Independence: Logan's Story and Automating Accessibility with Workflow for iOS.
The Logan Project is a research effort established and funded by Auburn University at Montgomery, where unique audio methods of teaching and assessing college level math have been developed for students who are blind or low vision.
Housing Game Night
Warhawks living on campus can relax with their neighbors after a successful week of classes at AUM. Housing Game Night is the place for you! The Nest Recreation and Game Room is the coolest spot for games, pizza, and bonding with your fellow residents. The Housing and Residence Life team looks forward to seeing you there!
Today, June 6 | 4–6 p.m. | The Nest Recreation and Game Room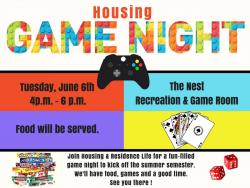 Summer of Sensory Overload
Come experience what it is like to live with a mental illness through audio and visual simulations. Experience interesting sensory exercises and kick off the summer semester with a little fun!
Wed., June 7 | 11:30 a.m.–1 p.m. | Taylor Center in front of the AUMazing Bean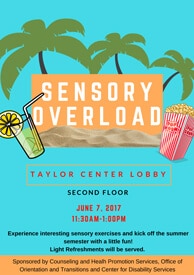 AUM Alumni Night at the Biscuits
Are you ready for some family fun and baseball?
Join us at the Riverwalk Stadium for a night of excitement and great Biscuits baseball action! Each Alumni Association member will receive $5 in Biscuit Bucks with their order. Go online to reserve tickets.
For more information, contact the AUM Alumni Association at 334-344-3557 or [email protected].
Thu., June 22 | 7:05 p.m. | Montgomery Riverwalk Stadium
Housing Pool Party for AUM students
It's HOT, but Housing is oh, so cool! AUM students, join us for a pool party at the Wellness Center to cool off, chill out and float away on the waves. There will be food and pool games!
Tue., July 18 | 5 p.m. | Wellness Center Pool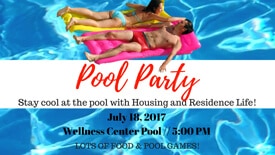 Faculty, staff: $20 off youth camps
Spots are filling up quickly for AUM OutReach's summer educational enrichment activities. AUM faculty and staff receive $20 off all camps!
OutReach at AUM currently has almost 700 campers registered for its summer youth camps, beginning the week of June 5 until July 28. Some of the most popular camps are Vet Camp, Robotics, Cupcake Craze, Hogwarts Academy and American Girl Camp.
Sign up your children and share the camps with your friends and neighbors. Register online or call 334-244-3804.
Arts and Sciences invites public to Mini-College
Auburn University at Montgomery's Mini-College, hosted by the College of Arts and Sciences, allows adults interested in lifelong learning to spend two days on campus engaging with some of the university's best teachers and leading scholars. Presentations and discussions will focus on topics across the arts and sciences spectrum, from history and literature to cosmology and psychology.
Tue., June 13–Wednesday, June 14 | Auburn University at Montgomery | Register
Kickoff to Summer Cookout
It's officially summer, and Housing and Residence Life is ready to celebrate! Do you like burgers, hot dogs, and games? If so, join us in the shade for some tasty food and lots of fun!
Tue., June 20 | 4 p.m. | Warhawk Hall grilling stations
Clubs and Orgs – Get Visibility
Each semester the Office of Orientation and Transitions puts on the Weeks of Welcome — better known as WOW. During these weeks, clubs and organizations have the opportunity to host an event on campus from sponsoring a business breakfast to putting on an activity for all of our Warhawks.
Weeks of Welcome will last throughout the first few weeks of the new semester. If you are interested in having an event at Fall 2017 WOW, please fill out the online application. Fall 2017 WOW events are due by July 1, 2017.
Additionally, this summer, the Club and Organization Fair will be held during WOW events rather than during Orientation and Transition sessions. The Club and Organization Fair will have two dates:
August 22 | 11:30 a.m.–1 p.m.
August 30 | 5:30 p.m.–7 p.m.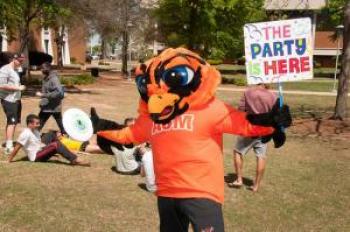 Gain certification as Project Wild educator
Join the College of Education for a morning of environmental education and receive your certification as a Project Wild educator. Project Wild curriculum is a wildlife-focused conservation education program designed for elementary educators.
All curriculum materials will be provide free of charge by the Alabama Department of Conservation and Natural Resources. See the curriculum at Project Wild's website.
Space is limited, so sign up today by emailing [email protected].
Wed., July 26 | 8 a.m.–noon | AUM Reading Center (Liberal Arts 112)