Warhawk Weekly 7-20: NIH grant; Career Fair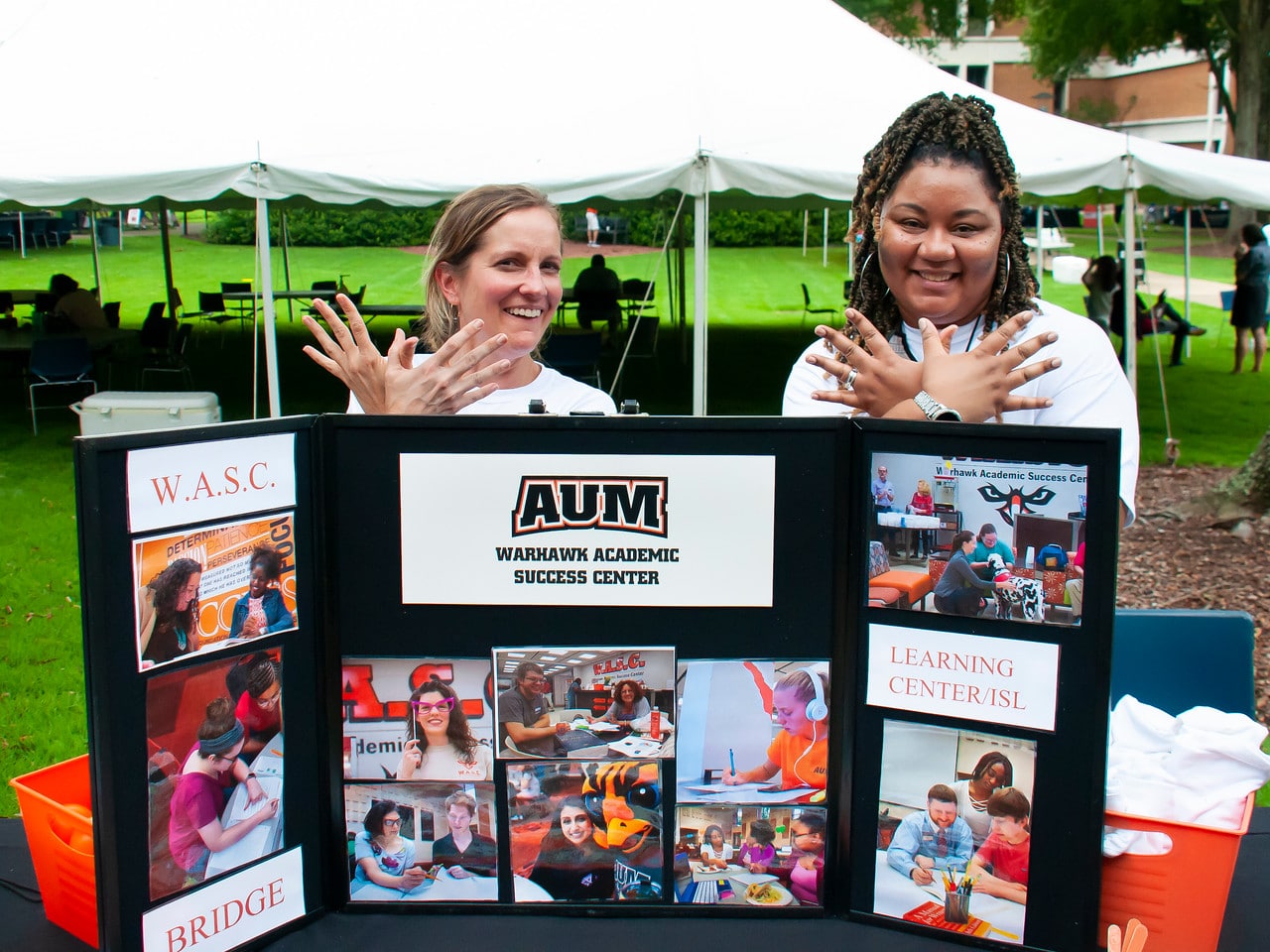 AUM awarded NIH grant to enhance STEM, biomedical research and diversity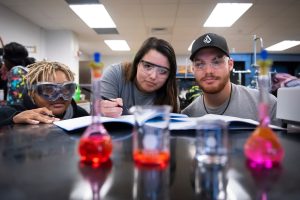 Auburn University at Montgomery has been awarded a three-year, $625,535 grant from the National Institutes of Health (NIH) to strengthen diversity and research opportunities for faculty and students within science, technology, engineering, math (STEM) and biomedical fields.
AUM's Office of the Provost and Office of Sponsored Programs & Research (OSPR) will manage the administrative grant from the Sponsored Programs Administration Development (SPAD) program, which is administered by NIH's National Institute of General Medical Sciences. AUM Provost Mrinal Varma serves as the grant's principal investigator while Matthew Ragland, associate provost for graduate studies and faculty, was a co-principal investigator of the grant.
"In part due to efforts of our Sponsored Programs team, AUM has been awarded its first NIH grant," Varma said. "We are experiencing a cultural change, where expectations for faculty research and engagement are becoming a top priority for our institution. This grant opportunity shows that AUM is capable of receiving future external grant awards from NIH to support such faculty research endeavors."
AUM will use the grant to reorganize and expand its Office of Sponsored Programs & Research to keep pace with rapidly growing faculty and student research in STEM and biomedical fields, Varma said. Specifically, the grant will support faculty research training, mentoring and collaborative research partnerships, as well as research funding opportunities for faculty and students, he said.
"We are excited to have this grant to support a key goal of AUM's strategic plan to increase research support, mentoring and award opportunities for research faculty and students," he said. "While we received the grant to focus on our faculty engaged in biomedical research —primarily faculty in the Department of Chemistry and the Department of Biology and Environmental Science — all faculty will be affected."
AUM hosts Career Fair for local job-seekers
Auburn University at Montgomery is hosting a career fair to connect qualified job seekers with a variety of staff openings at the university.
The AUM Career Fair will be offered Thursday, July 22, and Thursday, July 29, from 11 a.m. to 2 p.m. in the Taylor Center Café.
The university is currently advertising more than 30 openings, including positions for an executive chef, accountant, mental health therapist, human resources generalist and cyber security specialist, to name a few.
Career Fair attendees will have an opportunity to participate in on-site interviews for many positions. Search existing job openings at www.jobs.aum.edu.
As a member of the Auburn University System, AUM offers competitive pay, paid holidays, employee and dependent educational benefits, mandatory and voluntary retirement plans, and medical, dental and vision insurance.
Text 334-322-6072 for additional details about the AUM Career Fair.
Meet the WSFA Weather team
AUM will host members of the WSFA Weather team on campus Friday, July 30, from 4-7 p.m. for a First Alert Severe Weather Event. Look for the WSFA Storm Tracker van near the AUM Wellness Center.
Learn more about severe weather safety and meet WSFA's fantastic meteorologists. 
Vehicle registration period for 2021-2022 to open soon
Beginning August 1, AUM students and employees may register their vehicles online through MyAUM/Webster before picking up parking decals (read on for dates and locations).
If you haven't registered your vehicle online, you may bring your vehicle information (tag-license plate number, year, make, model, and color) with you so that Campus Police may register it during your visit.
Decal registration and pickup Information 
Below are the dates, times, and locations where students, faculty and staff may receive assistance with vehicle registration and pick up parking decals for the 2020-2021 academic year.
August 9 • 8 a.m.–6 p.m. • Taylor Center Room 222
August 11 • 8 a.m.–6 p.m. • Taylor Center Room 222
Searching for student employment opportunities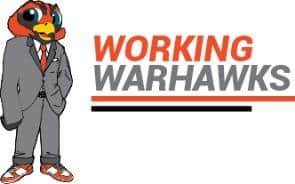 Students who are interested in on-campus job opportunities can browse and apply for open positions through AUMJobs.
Simply click on the "Students" tab near the top of the page to find a listing of open positions, as well as job responsibilities, campus location, hours and pay range. To apply for a job, simply follow the application instructions that accompany each position.
Students are encouraged to utilize AUM's Career Development Center for assistance, from creating a resume or cover letter to preparing for a job interview. Visit the CDC in Taylor Center 323 or email [email protected] to learn more.
Feed your appetite for professional development
Have you ever wondered about a career in Management Information Systems, Nursing or Applied Economics?
Don't wonder any longer. The AUM Graduate Programs new virtual webinar series Facts & Snacks provides various seminar topics to help you develop professional skills. As part of the series, graduate program faculty will offer an assortment of insights into such topics as information systems, nursing, and applied economics.
Learn more about upcoming speakers and topics: https://www.aum.edu/facts-and-snacks/
Nominate outstanding faculty for the 2021 Faculty Service Award
Faculty members elevate our university and play an important role in helping our students succeed. Every year, the AUM Alumni Association's Faculty Service Award honors outstanding faculty for their service to the university.
To be eligible for the honor, faculty members must have five or more years of full-time service at AUM. Nominations can be made by AUM faculty, staff, students, alumni and friends.
The honor will be awarded during the fall semester and the recipient will receive a $1,000 check from the AUM Alumni Association.
Nominations for the 2021 Faculty Service Award must be postmarked by September 3, 2021 and include a nomination letter. Nomination letters should be no more than two pages in length and should emphasize teaching excellence as well as a strong record of service to the university and community. A vita may be attached, if available.
Send nomination letters to: Awards Committee, Auburn Montgomery Alumni Association, P.O. Box 244023, Montgomery, AL 36124-4023, or email them to [email protected].
Questions? Contact the AUM Alumni Association at 334-244-3369 or [email protected].
EEEC Peer Mentors wanted
The Experiential Education & Engagement Center (EEEC) is looking for students interested in becoming Peer Mentors for Fall 2021.
Peer Mentors are needed in all courses and regardless of academic interest.
So, what does a Peer Mentor do?
Peer Mentors are part-time student workers that get paid $10 per hour.
They work in the classroom of courses they have already successfully completed.
They help current students get through the course by giving advice and support.
Peer Mentors are like teaching assistants without the responsibility of grading assignments.
Peer Mentors are leaders at AUM.
If you are dedicated to helping others and want to develop invaluable work experience, go to AUM Jobs to apply.
For additional information, contact Brenda Plympton at the EEEC.
Get event updates from Curtiss
Stay in-the-know about can't-miss campus events via text message. Enroll in AUM365 and get the 4-1-1 from Curtiss The Warhawk himself. Text curti$$ to 334-398-6025 to receive reminders about upcoming happenings.
Bringing tutoring resources to you
Resident students have an opportunity to connect with AUM tutors during the summer semester. Math and writing tutoring will be available each Tuesday and Thursday, from 4-6 p.m. in the first floor lobby of P40 Place.
Students can also participate in in-person tutoring or virtual drop-ins through the Instructional Support Lab. Visit Goodwyn 203 Monday-Thursday, from 9 a.m. to 8 p.m. or on Friday from 10 a.m. to noon.
Make a difference on the Alumni Board
Are you passionate about AUM? Do you want to make a difference? The AUM Alumni Association invites AUM graduates to apply for a position on the AUM Alumni Board of Directors.
As the advisory board to the Auburn University at Montgomery Alumni Association, the Alumni Board seeks candidates who are proven leaders, have demonstrated service to the AUM alumni family, are experienced in working in a collaborative environment, and are committed to serving as AUM ambassadors in their communities.
Board members must be an AUM graduate or have earned credit toward one of its degree programs.
The board meets three times per year on campus, and board members serve a term of two years. Board members are expected to be active members of the AUM Alumni Association. Nominations will close Friday, September 3, 2021.
If you have questions, please contact the AUM Alumni Association at 334-244-3369 or [email protected].
Learn more: https://www.aum.edu/alumni-board/