Warhawk Weekly 4–25: Theatre interview; COB students support autism event
Warhawk Weekly 4–25: Theatre interview; COB students support autism event
Tuesday, Apr. 25 | 5 p.m. vs. University of West Alabama
Friday, Apr. 28 | 6 p.m. vs. Georgia College
Saturday, Apr. 29 | 4 p.m. vs. Georgia College
Sunday, Apr. 30 | 1 p.m. vs. Georgia College
#WhyWeLearn
Collaborative atmosphere energizes Theatre student
AUM's Department of Communication and Theatre offers students the opportunity to gain experience in all aspects of theatre performance and production. Recently, Theatre student Kodi Robertson described his experiences as a Theatre AUM actor – a role he particularly enjoys because of the collaboration with fellow students and professors – in an AUMnibus video produced by AUM students Deanna Chavez, Nicolette Parrish and Rachel Wallace for Assistant Professor Hilary Gamble's Media Practicum class.
COB student clubs support autism awareness
The AUM College of Business student clubs recently helped serve crawfish and assisted with cleanup at the 13th annual Autism Crawfish Boil.
The Crawfish Boil, which was held in downtown Montgomery this year and completely volunteer based, is hosted every year by Easter Seals. All proceeds were donated to assist with autism programs provided by Easter Seals Central Alabama for families in the River Region.
Last year, the Mud Bug Ball raised more than $30,000 for autism programs. These programs include autism diagnosis, which is costly and difficult to receive in Central Alabama.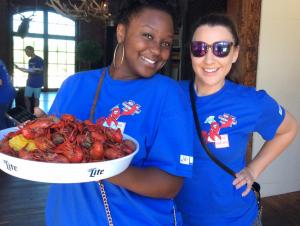 AUM students Nia Minor, left, and Michelle Rawls
How you can help improve inMotion
Come learn about the new interface and functionality of inMotion, AUM's online graphics and publicity request portal. All users and approvers are encouraged to attend. Please contact Megan Bronson, Client Services Manager with Strategic Communications and Marketing, at [email protected] with any questions.
The sessions are held in the Library Tower on the 10th floor, and registration is required:
Simmons essays on Christian history published
Two essays written by Dr. Michael B. Simmons, distinguished research professor in the Department of History, World Languages and Cultures, will be published in June by Routledge Press (London and New York).
Simmons' first essay, "Philosophical Opposition to Christianity," analyzes the role played by the Christian-pagan conflict before Constantine, represented by the works of Celsus, Hierocles Sossianus, Plotinus and Porphyry of Tyre. The second essay, "Julian the Apostate," addresses the life and career of Julian, who attempted to reverse Constantine's Christianization of the Roman Empire.
The essays will appear in the two-volume The Christian World (2nd ed., Philip Esler, ed.) along with essays by an international team of experts in church history, historical theology, history of the Roman Empire and patristics who represent the universities of Cambridge, Oxford, Harvard, Brown, Oslo, Cardiff, Aarhus, London, Notre Dame, Manchester, Princeton, Yale, John Carroll, Durham, St. Andrew's, South Africa, Columbia, Macquarie, Helsinki and several more.
2017 Admin Professionals Conference
OutReach at Auburn University at Montgomery will host the 2017 Administrative Professionals Conference on April 25 at Saint James United Methodist Church. This one-day conference will provide administrative professionals training to enhance expertise, boost productivity, and position themselves as valuable resources for their businesses.
AUM staff can register to attend for the discounted rate of $109. This conference typically sells out quick, so call 244-3804 and register now!
Today, April 25 | 8:30 a.m.–4:30 p.m. | Saint James United Methodist Church | Register here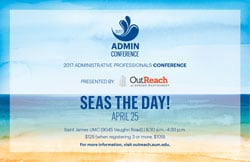 Students: Learn about counseling careers
Are you interested in a career in counseling? Do you want to learn more about the profession? Are you deciding what to do after graduation?
Join AUM's Counseling faculty for a casual meet and greet to learn about AUM's CACREP-accredited Counseling Master's Program.
What sets counseling apart from other mental health professions, the application process, curriculum, practicum and internship experiences, professional opportunities and more will all be discussed. Faculty and former students and professionals will be available to answer any questions you may have about the Clinical and School Counseling Master's programs at AUM.
Today, April 25 | 11 a.m.–1 p.m. | Global Education Center (inside Taylor Center)
Digital Humanities – Students talk Don Quixote
Students in INTL 4400 (Digital Don Quixote) will present the results of their work in a digital poster presentation on April 25. The students will showcase what they have learned about tools for research in digital humanities and how they have applied those tools in their research into the funniest book every written.
Digital humanities are an approach to studying human artifacts, such as literature, music, architecture, or historical documents that employs digital tools. These tools may be employed in research, collaboration or presentation of findings, or in the dissemination of results.
Today, April 25 | 2:10–3:30 p.m. | Goodwyn Hall lobby
Army ROTC Denim Day for Sexual Assault Awareness Month
April is Sexual Assault Awareness Month. Help Army ROTC bring awareness by wearing denim on April 26, National Denim Day. ROTC will have a table with information about the origins of Denim Day and pledge cards to sign to help prevent sexual assaults and harassment! We hope to see you there!
Wednesday, April 26 | 11 a.m.–1 p.m. | 2nd floor hallway of the Taylor Center, next to the Amazing Bean
Professors –N– Pajamas
A Housing and Residence Life tradition is back again! The semester is over, finals are upon us, and that means bottomless breakfast, study time, and awesome prizes! The doors open at 8 p.m.!
Wednesday, April 26 | 8 p.m. | Taylor Center 221, 230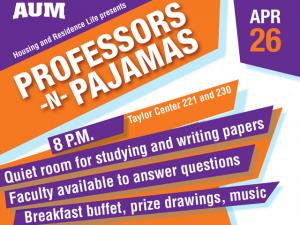 Staff Council reminders and events
Don't Forget: Administrative Professionals Day | Apr. 26
Spring Fling | Apr. 28 | Noon–2 p.m.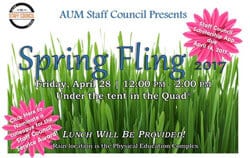 Friends of Curtiss tryouts
Are you mascot material? Try out for Friends of Curtiss!
If you have an energetic personality and a passion for AUM — and have an interest in college mascoting — Friends of Curtiss is the place for you.
Friends of Curtiss are energetic, committed, punctual, team oriented, able to perform as the best Mascot! If you've got what it takes, register for tryouts.
For more information, email Friends of Curtiss at [email protected].
Tryouts | Thurs. May 4 | Register here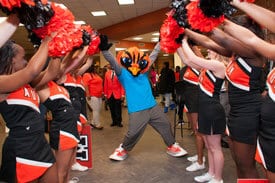 Clubs and Orgs – Get Visibility
Each semester the Office of Orientation and Transitions puts on the Weeks of Welcome — better known as WOW. During these weeks, clubs and organizations have the opportunity to host an event on campus from sponsoring a business breakfast to putting on an activity for all of our Warhawks.
Weeks of Welcome will last throughout the first few weeks of the new semester. If you are interested in having an event at Fall 2017 WOW, please fill out the online application. Fall 2017 WOW events are due by July 1, 2017.
Additionally, this summer, the Club and Organization Fair will be held during WOW events rather than during Orientation and Transition sessions. The Club and Organization Fair will have two dates:
August 22 | 11:30 a.m.–1 p.m.
August 30 | 5:30 p.m.–7 p.m.