#WhyWeLearn: Queens, Jagger and Warhol: Fine Arts students hit New Orleans
AUM Strategic Communications and Marketing | May 2, 2017
Editor's note: The #WhyWeLearn series focuses on the lives that students build at AUM.
AUM students recently had a rare "face-to-face" encounter with Marie Antoinette, the queen of France who died by guillotine.
On a trip to New Orleans, 23 Fine Arts students visited art museums and Tulane University to expand their knowledge and understanding of artwork.
"For me, personally, it was the equivalent of meeting a famous celebrity; I couldn't look away," said Brittany Roberson, who viewed an oil on canvas of Queen Antoinette at the New Orleans Museum of Art.
A senior majoring in Graphic Design and president of club A.R.T. (the Artist Response Team), Roberson will never forget seeing the creations of Degas, Warhol, and Picasso while at the New Orleans Museum of Art or learning how to take a ball of glass and transform it into a vase at Tulane University's glass-blowing department.
The venture to New Orleans embodies the learning concept at AUM, where students take an active role in shaping their learning environment in order to optimize their career plans.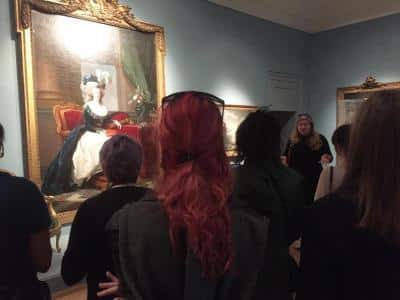 Fine Arts students 'meet' Marie Antoinette at the New Orleans Museum of Art.
In fact, the field trip answered a call by students to take their learning beyond the walls of the classroom, said Will Fenn, associate professor of Fine Arts.
"They said it would be great for the club to offer one trip each semester to look at art in different cities," said Fenn. "That would allow them to be exposed to various types of fine art in person."
The trip was similarly phenomenal for Preston Collins, a sophomore who is planning to start his own design agency.
"It opened my eyes to what is outside of Montgomery," said Collins, who also visited the St. Louis Cathedral and other monuments and was glad to get to check out the French Quarter, Bourbon Street and Café du Monde. "I've never seen New Orleans from an educational standpoint until the trip. It not only gave me confidence but hope that I can fulfill my dream someday."
Collins saw art in New Orleans that he may never have seen in Montgomery, like a Warhol of Mick Jagger.
He marveled at the harmony of the painting's blue and purple shades.
"I had never seen a Warhol, so I was interested immediately," Collins said. "It really stood out in appearance, and I knew I was looking at a one of a kind."
Like a work of art, in which there is often story or subplot beneath the painting or within the narrative, the club's trip was made possible by a collaboration of dedicated AUM educators.
Dr. Julie Freeman, coordinator of AUM's RN to BSN Program in the School of Nursing, her husband, Dr. Michael Freeman, and AUM's Center for Excellence in Learning and Teaching provided funding for the trip.
In addition, Dr. Marilyn Rhodes, who taught in AUM's College of Nursing and Health Sciences for nine years and currently serves as an adjunct professor, and her spouse, Col. Michael Grumelli, also helped to fund the trip.
The funds made a trip possible that was educational and entertaining.
After all, what's a trip to New Orleans without a classic breakfast, some sight-seeing, and excellent fellowship?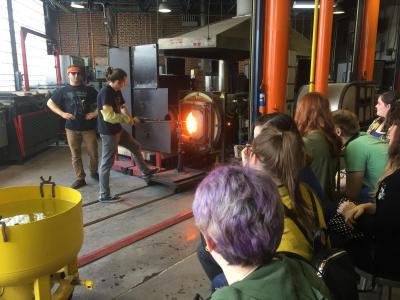 Glass is fired and takes shape before students' eyes at Tulane University.
"During our trip, we had free time to explore the city, enjoy beignets together and learn more about each other," Roberson said. "It was an amazing trip, with a wonderful group of students."
Club A.R.T. isn't just for fine arts majors; students of any major can join.
The next scheduled trip will take place in Fall 2017 to Nashville.