Warhawk Weekly 11–27: Reminder: NCAA holiday rules; Library accepting nominations
Warhawk Weekly 11–27: Reminder: NCAA holiday rules; Library accepting nominations
NEWS
NCAA Rules: Holiday Reminders
Library accepting nominations for awards
AUM Community Garden – Take our survey!
Filibuster accepting submissions
Apply for Spring Graduation
Curtiss Course Critiques deadline extended
EVENTS
English Department celebrates alumnus with book event
Chocolate & Chill
Faculty, Staff: Holiday Luncheon
Professors N Pajamas
NEWS
NCAA Rules: Holiday Reminders
Considering this is the time of year where people give the most, the Department of Athletics would like to make sure that no one winds up on the NCAA's naughty list for trying to do something nice. So, here are a few friendly reminders.
Extra Benefits: According to NCAA rules, an extra benefit is any special arrangement by an institutional employee, or a representative of the institution's athletics interests, to provide a student-athlete, or a prospective student-athlete, or their friend or family member, a benefit not also available to the general student population, or a particular segment of the student body. This may include:
Holiday presents/gifts
Money, loans, bonds, or co-signing of loans
Free transportation (use of a car, boat, airline tickets, bus tickets, etc.)
Free storage
Free merchandise (clothes, video games, etc.)
Free entertainment (sporting events, movies, concerts, nightclubs, etc.)
Free lodging (hotel rooms, staying at apartment/house)
Free meals
Discounted merchandise because of status
Free use of credit card, calling card, etc.
Holiday Gifts: It is impermissible to provide holiday gifts to student-athletes or their relatives. Please remember that holidays are not exempt from extra-benefit bylaws.
Occasional Meals: Occasional meal rules apply to team holiday parties, any AUM faculty and staff member or parents who wishes to provide a student-athlete, or an entire team, with a holiday meal. Be sure to complete an Occasional Meal Form, submit it to the Athletics Compliance Office, and get approval before any such meal occurs.
For more information or clarification, please email Andreé Houston or call at 334-318-9343
Happy Holidays and Go Warhawks!
Library accepting nominations for awards
The Library is accepting nominations for its 2018 Betty J. Tims Friends of the AUM Library Faculty and Staff Service awards.
The awards recognize individuals for outstanding dedication to activities and functions which lead to improvements in library services; for dedicated effort in providing or improving access to library holdings; or for offering quality suggestions which result in more efficiently and/or more cost-effective library operations.
AUM Community Garden – Take our survey!
Did you know that AUM has a campus Community Garden? We do – and we want to hear your thoughts on sustaining it and if you'd like to be involved!
Take our AUM Community Garden survey now before it closes on Dec. 14.
Filibuster accepting submissions
AUM's Filibuster, the school's literary magazine, is accepting poetry, prose, photographs, and art for its 2019 issue!
Any student currently enrolled at AUM may submit his or her work as an attached file (.txt, .doc, or .docx) to [email protected]. Students should title their file using the following pattern: Last Name_Title of Work_Genre. Written work should be in Times New Roman 12 pt. font and double-spaced. Files containing photographs or scanned artwork (.png, .jpeg, or .bmp) should be at least 300 PPI.
There is no limit on the number of submissions per student. The deadline for submissions is Dec. 31. For more information, please email the editor for the 2019 issue, Michelle Aitken.
Apply for Spring Graduation
Spring 2019 graduation application deadline is Jan. 25. Apply online in MyAUM. If you have any questions, please email [email protected].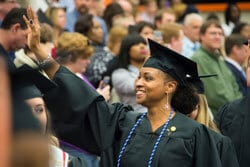 Curtiss Course Critiques deadline extended
The deadline for AUM Course Evaluations (Curtiss Course Critiques) has been extended through Sun., Dec. 2. Check your email for the link to the surveys for half and full terms.
Your confidential feedback helps professors understand what works and what doesn't in their courses so they can improve the learning experience
EVENTS
English Department celebrates alumnus with book event
The AUM Department of English is hosting a book event for AUM alumnus Foster Dickson. Dickson's book, Closed Ranks: The Whitehurst Case in Post-Civil Rights Montgomery, is a study of the 1975 killing of Bernard Whitehurst, a black man who was shot by white Montgomery police officers. This timely and relevant work is published by New South Books.
Dickson earned both his bachelor's degree and his Master of Liberal Arts at AUM.
Tue., Nov. 27 | 4– 5 p.m. | 10th floor, Library Tower
Chocolate & Chill
Do you have "end of semester burnout?" Join Counseling and Health Promotion Services for hot chocolate, games, and time management tips!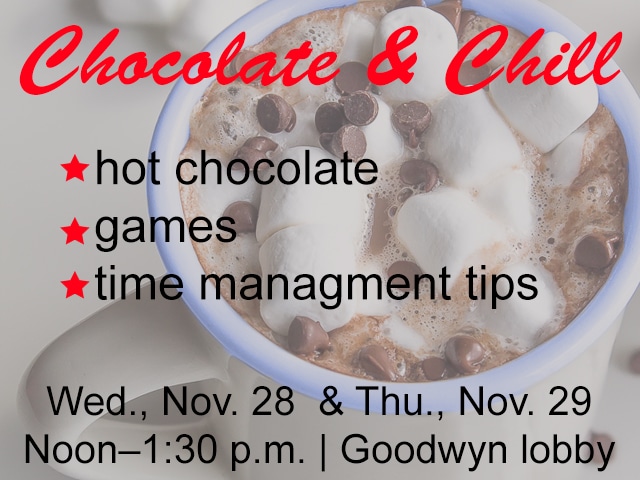 Wed., Nov. 28 – Thu., Nov. 29 | Noon– 1:30 p.m. | Goodwyn Hall lobby
Faculty, Staff: Holiday Luncheon
All faculty and staff are invited to the annual Staff Council Holiday Luncheon!
For more information, please email Audrey Shaw or call 334-244-3553.
Wed., Dec. 5 | Noon– 2 p.m. | Taylor Center 221–223
Professors N Pajamas
It's BACK! Housing and Residence Life's biggest night of the semester is back!
Let's close out the Fall semester with bottomless breakfast, amazing music, and great prizes! Need to study for finals or talk to a tutor? We'll have that too! Doors open at 8 p.m.