AUM accounting program recognized for affordability, quality
AUM accounting program recognized for affordability, quality
FOR IMMEDIATE RELEASE
AUM accounting program recognized for affordability, quality
Auburn University at Montgomery's undergraduate degree in accounting ranks among the most affordable in the nation, according to a state-by-state analysis of public and private university programs.
AccountingEDU, a website serving aspiring and professional accountants, included Auburn University at Montgomery among its top accounting bachelor's degree recommendations for 2018-2019. The website weighed such factors as affordability and first-time CPA exam pass rate to determine the "most effective, affordable schools" in its guide for potential students.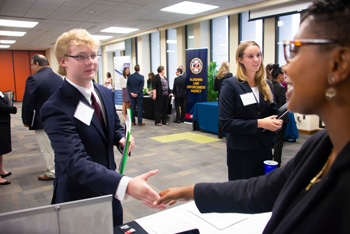 "We're excited to earn this recognition," said Auburn University at Montgomery School of Accountancy Director Scott Lane. "We take pride in our ability to offer a high quality education at an affordable price."
The program, the only one in the River Region accredited by the Association to Advance Collegiate Schools of Business (AACSB), reports a first-time CPA exam pass rate of 55.7 percent for undergraduate students. Students in AUM's Master of Accountancy (MAcc) program have a first-time pass rate of 75 percent, Lane said.
AccountingEDU also highlighted Auburn University at Montgomery's opportunities for student involvement and professional growth through its Career Development Center, academic engagement through its Beta Alpha Psi honor society and Accounting Club, and the ability to continue graduate-level coursework in AUM's MAcc program.
In addition to affordable costs per credit hour, AUM makes undergraduate and graduate degrees more accessible with a variety of scholarships. In addition to its traditional freshman scholarships, AUM also offers the following: Opportunity Scholarships, Transfer Scholarships, Military & Dependent Scholarships, Law Enforcement & Corrections Personnel Scholarships, and individual scholarships for studies in accounting.