Warhawk Weekly 11–20: NCAA holiday rules; AUM honors wounded warriors
Warhawk Weekly 11–20: NCAA holiday rules; AUM honors wounded warriors
NEWS
Happy Thanksgiving! Campus holiday schedule
NCAA Rules: Holiday Reminders
AUM honors wounded warriors with Purple Heart parking
Library accepting nominations for awards
AUM Community Garden – Take our survey!
Filibuster accepting submissions
Apply for Spring Graduation
EVENTS
Chocolate & Chill
Professors N Pajamas
EVENTS
Chocolate & Chill
Do you have "end of semester burnout?" Join Counseling and Health Promotion Services for hot chocolate, games, and time management tips!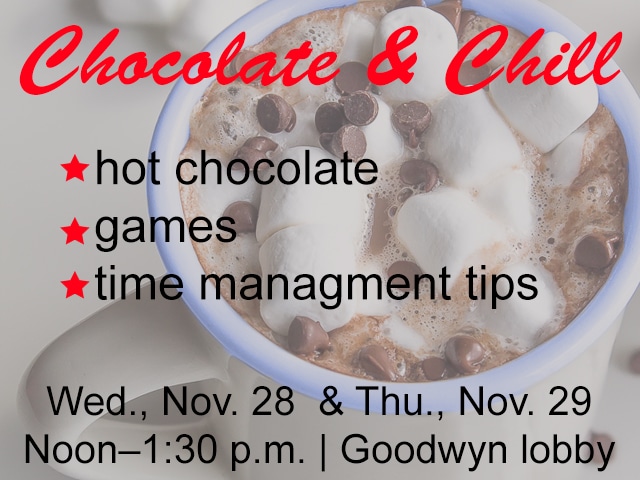 Wed., Nov. 28 – Thu., Nov. 29 | Noon– 1:30 p.m. | Goodwyn Hall lobby
Professors N Pajamas
It's BACK! Housing and Residence Life's biggest night of the semester is back!
Let's close out the Fall semester with bottomless breakfast, amazing music, and great prizes! Need to study for finals or talk to a tutor? We'll have that too! Doors open at 8 p.m.
Wed., Dec. 5 | 8– 11 p.m. | Taylor Center 221–223, 230