Warhawk Weekly 1–24: Carter establishes scholarship; common reading book vote
Warhawk Weekly 1–24: Carter establishes scholarship; common reading book vote
Warhawk Spotlight: Citizenship and Community
Alumna Kath Carter establishes endowed scholarship
Auburn University at Montgomery alumna Kath M. Carter has pledged $100,000 to establish the Isla Mae Hallman Endowed Scholarship in the Auburn University at Montgomery School of Accountancy. This scholarship is for undergraduate students pursuing a Bachelor of Science in Accountancy who have a minimum GPA of 3.0 on a 4.0 scale.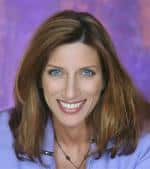 Vote for the 2017-18 AUM Connected common reading book
It's that time of year again: time to select the next book for AUM Connected, the common reading program. Beginning with your recommendations, the AUM Connected committee read and reviewed more than twenty books at the end of the fall semester and settled on a short list of four books that are now up for a vote.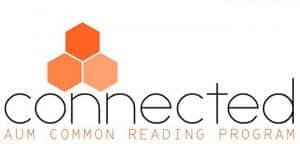 The books are:
Blink: The Power of Thinking without Thinking, Malcolm Gladwell
What Money Can't Buy: The Moral Limits of the Market, Michael Sandel
Just Mercy, Bryan Stevenson
Dracula, Bram Stoker
Visit the online poll before 11:55 p.m. Jan. 31 to vote for your preferred book. The book that receives the most votes will be the AUM Connected book for the 2017–2018 academic year. You may only vote once, so make your choice carefully!
The poll will close at 11:55 p.m. on January 31.
Klash awarded Research in Progress award
Erin Klash, instructor in the Department of Curriculum, Instruction and Technology, was recently awarded the Research in Progress award for outstanding research at the Mid-South Educational Research Association (MSERA).
MSERA represents Alabama, Arkansas, Florida, Kentucky, Louisiana, Mississippi and Tennessee in an effort to provide quality educational research in the Mid-South and to promote the results of this research in schools.
Farrow speaks at American Embassy in Moscow
On Jan. 19, Dr. Lee A. Farrow, distinguished teaching professor of History and director of the Center for Excellence in Learning and Teaching, spoke at the American Embassy in Moscow on her latest book, Seward's Folly: A New Look at the Alaska Purchase.
Farrow's book, timed to appear for the 150th anniversary of the Alaska Purchase, explores the story behind the Russian-American treaty and its international implications. Farrow was in Moscow for the first leg of a five-city college fair, serving as AUM's representative in recruiting Russian students.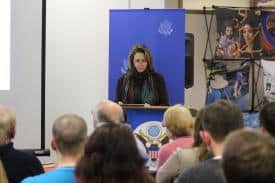 Senior Director of Athletics candidates on campus this week
Candidates for AUM's Senior Director of Athletics position will visit campus Jan. 23–31 to interview, talk with various groups on campus, make presentations during a campus forum, and meet with student athletes during a lunch session.
Students, faculty and staff are invited to attend the campus forum and participate in the Q&A afterward, and student athletes are invited to both the campus forum and student athlete lunch. Dates, times and locations are listed below.
Click on the candidates' names to view their curriculum vitae (Note: Jessie Rosa, a fourth candidate and current interim director of Athletics, met with student athletes and presented on campus on Monday, Jan. 23):
Campus Forum: Today, Jan. 24 | 10:30–11 a.m. | Goodwyn Hall 109
Student Athlete Lunch: Today, Jan. 24 | Noon–12:45 p.m. | Lib. Tower, 10th floor West
Campus Forum: Monday, Jan. 30 | 10:30–11 a.m. | Library Tower, 10th floor West
Student Athlete Lunch: Monday, Jan. 30 | Noon–12:45 p.m. | Library Tower, 10th floor East
Campus Forum: Tuesday, Jan. 31 | 10:30–11 a.m. | Goodwyn Hall 109
Student Athlete Lunch: Tuesday, Jan. 31 | Noon–12:45 p.m. | Athletics Complex Hospitality Room
Bone marrow drive supports student with cancer
The University Honors Assembly will host a bone marrow drive today at 10 a.m. The drive honors AUM student Christina Griggs, who has a rare blood cancer and is actively searching for a match. Those interested in potentially becoming donors are welcome to attend. Potential donors will be able to take a quick, pain-free test (no more than 10 minutes) to see if they are a potential match for someone in need.
Today, Jan. 24 | 10 a.m.­–2 p.m. | Goodwyn Hall Lobby
CELT session on evaluation forms
In the summer of 2016, AUM moved to a new course evaluation form that will be completed by students online. This new system offers faculty enormous flexibility in examining and utilizing CEF data for tenure, promotion, and teaching effectiveness purposes. Hosted by Pia Knigge and Cara Mia Braswell, the session, recommended also for UNIV instructors, will introduce faculty to the new system and its many benefits.
Wednesday, Jan. 25 | 11 a.m.­–noon | Goodwyn Hall 202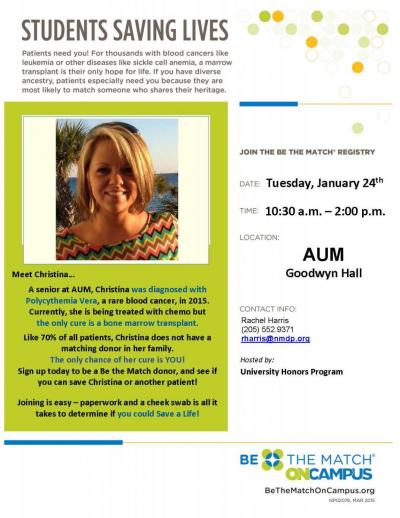 Student Health Services says farewell to Rudolph
Students, faculty and staff are invited Wednesday to celebrate the retirement of Linda Rudolph, senior program associate in Student Health Services in AUM's College of Nursing & Health Sciences, at a reception honoring her 25 years of service.
Wednesday, Jan. 25 | 2­–4 p.m. | Taylor Center 223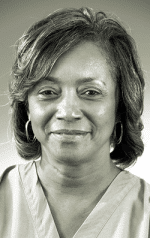 WASC webinar on improving student success
Faculty and staff are invited to join the Warhawk Academic Success Center to learn more about how to improve student success at a webinar hosted by leading retention researcher Joe Cuseo.
Cuseo's webinar, "Seven Student Learning and Retention Principles for Your Campus Community Success," will discuss student success programs and "best practices" in higher education that are growing in number.
However, fostering student success isn't simply a matter of adding on more and more, stand-alone support programs. Attempting to improve college-completion rates simply by tacking on a series of separate segmented initiatives runs the risk of creating "initiative fatigue" among members of the campus community responsible for student success programs.
Research indicates that colleges and universities with higher-than-predicted graduation rates do not simply tack on or "plug-in" best practices to improve their graduation rates. And not all "best practices" are created equal; the most effective ones are intentionally built on powerful principles of human learning and motivation that underlie, mediate and eventually culminate in "big ticket" terminal outcomes, such as: student retention, deep learning and college completion.
Thursday, Jan. 26 | Noon | Goodwyn Hall 109
Spring 2017 College of Arts and Sciences Lecture Series
Sterling speaks on 'female baby killers in Victorian England'
Eric Sterling of the Department of English and Philosophy will present a lecture Jan. 26 on "Desperate Motives for Murder: Mercenary Female Baby Killers in Victorian England."
Thursday, Jan. 26 | 12:30 p.m. | Library Tower, 10th floor South | Light refreshments will be served
Emory professor emeritus to lecture on 'liberal education and the civil character'
Dr. Ann Hartle, professor emeritus of philosophy at Emory University, will present a lecture Feb. 23 on "Liberal Education and the Civil Character."
Thursday, Feb. 23 | 12:30 p.m. | Goodwyn 112 | Light refreshments will be served
AUMazing spring workshops are back
After reaching more than 130 students during their successful launch in Fall 2016, the AUMazing Workshop Series started again this week and will continue through the semester!
Sponsored by the Warhawk Academic Success Center, Learning Center, Career Development Center, and YOUR Library, these free workshops introduce attendees to library and academic support resources that will help them on their academic journey.
All workshops will be held in the Library Computer Lab on the 2nd floor of the AUM Library Tower. While registration isn't required, it is encouraged as seating is limited! You can register electronically via the AUM Library calendar or choose from the times listed below!
Refreshments will be provided at all workshops and for UNIV students, the workshops count towards the required Supplemental Instruction in their Warhawk Passport!
Encourage your students or come and learn how you can become AUMazing! If you have any questions, please contact Jessica Hayes at [email protected].
January 26 – Developing Excellent Study Skills
Noon–12:30 p.m.
5:15–5:45 p.m.
January 30 – "I just got Assigned A Research Paper! Now What?!": Starting the Research Paper Process with the AUM Library"
Noon–12:30 p.m.
6:20–6:50 p.m.
February 2 – "I just got Assigned A Research Paper! Now What?!": Starting the Research Paper Process with the AUM Library"
Noon–12:30 p.m.
5:15–5:45 p.m.
February 6 – Taking Good Notes in Class!
Noon–12:30 p.m.
6:20–6:50 p.m.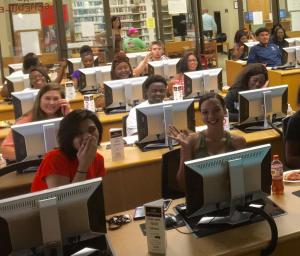 Students: Shadow Montgomery trip to HMMA
The Career Development Center is pleased to offer the opportunity for students to visit Hyundai Motor Manufacturing of America's facility in Montgomery as part of the Shadow Montgomery program for career exploration. Students will complete an informational tour of the HMMA facility and learn more about the mission, vision and organizational culture of HMMA. Students will also learn about employment opportunities at the location.
The bus will begin loading at 8:30 a.m. and will depart at approximately 9 a.m. Lunch and a brief reflection opportunity will be provided upon return to campus at approximately noon. Space is limited; please register at WarhawkCareers on the MyAUM portal.
Please contact the Career Development Center at [email protected] or 334-244-3345 for more information.
Friday, Jan. 27 | 8:30 a.m.–1 p.m. | Athletics Complex parking lot
Meet & Move with Staff Council
Faculty and staff are invited to come join your AUM Colleagues & Friends at the Staff Council Get Together!
Tuesday, Jan. 31 | 2­–3 p.m. | The Landing in The Nest (adjacent to Warhawk Hall)
Chinese New Year and Lantern Festival Celebration
AUM's annual Chinese Lunar New Year and Lantern Festival Celebration will take place Feb. 11, and guests can enjoy Chinese culture, food and entertainment. The celebration, hosted by AUM's Confucius Institute in partnership with the Central Alabama Association of Chinese (CAAC), will feature numerous performances of traditional Chinese arts followed by a dinner.
Admission prices are as follows:
Non-CAAC member $12
CAAC member $8
Students with ID $8
Children age 3-10 $5
Children 3 and under Free
To attend, RSVP by Feb. 6, 2017, to [email protected] or 334-244-3012 for registration and ticket information.
Saturday, Feb. 11 | 2:30 p.m. | Alcazar Shrine Temple, 555 Eastern Blvd.
Flash Talks combines speed dating, tech mixer
This year, the annual Faculty Development Institute Technology Speed Dating event and the AUM Staff Council's Tech Mixer are being combined into one grand event: Flash Talks. The principle is the same: hear how AUM faculty and staff are using technology in teaching and learning and in the work environment in short visual presentations.
Wednesday, Feb. 22 | 11 a.m.–1 p.m. | Taylor Center 230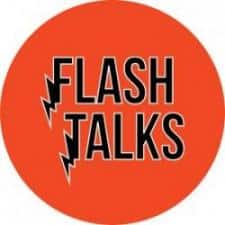 Students: Improve your résumé
Release the power of your résumé with Résumé Breakout, a series of workshops and labs designed to help students create effective résumés and other professional job search materials. Students will learn tips for building a strong and effective résumé from industry professionals and get one-on-one résumé assistance from Career Development Center specialists.
The Résumé Breakout workshops will feature a recruiting professional presenting best practices for creating résumés and other job search materials in specific career fields and/or industries including professionals in Public Education, Law Enforcement, Banking and Human Resources. Students can register for all workshops through WarhawkCareers on the MyAUM portal.
Specialists in the Career Development Center will host Résumé Breakout lab sessions on Thursdays from noon­–1 p.m. throughout the spring semester (excluding Spring Break). Any student seeking assistance in creating resumes or other job search documents is welcome to attend.
In addition the CDC will host evening résumé labs from 5–6 p.m. in Clement 110 on the following dates:
Thursday, Feb. 9
Thursday, Feb. 23
Thursday, Mar. 9
Thursday, Mar. 30
Thursday, Apr. 13
Registration is not required for the résumé lab sessions.
Please contact the Career Development Center at [email protected] or 334-244-3344 for more information.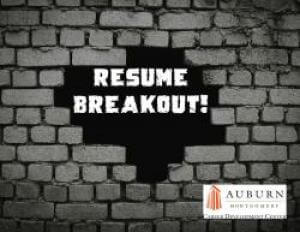 Shed pounds while assisting Kinesiology study
Looking to shed some of that holiday weight and increase fitness? The Department of Kinesiology is conducting a study on interval training and fitness, metabolism, and body composition. You will undergo four weeks of training three days per week in our lab. You are eligible to participate if you are between 18 and 50 years old and in good health.
Contact Dr. Matt Schubert at [email protected] for more information!
The department also offers fitness and body composition assessments to the public. Contact [email protected] for a list of services and fees.
Political Film Series kicks off Feb. 8
Get ready for another semester of exciting films in the Political Film Series sponsored by the Department of Political Science and Public Administration and the College of Public Policy and Justice. All films start at 7 p.m. with an introduction to the film subject and context. Audience discussion follows the screening.
13TH (2016; TV–MA) — Black History Month feature | Feb. 8 | Goodwyn Hall 109
Anita (2013; NR) — International Women's Rights Day feature | March 8 | Goodwyn Hall 109
Deepwater Horizon (2016; PG-13) — Earth Day feature | April 20 | Goodwyn Hall 111
​The Political Film Series is made possible thanks to a grant from the Ida Belle Young Special Projects Fund. The event is free and open to the public; popcorn and soda are complimentary. For further information or to receive email updates, please contact Dr. Pia Knigge at [email protected] or 334-244-3834.
Sigma Gamma Rho interest meetings
Sigma Gamma Rho Sorority, Inc. is returning to AUM Spring 2017. Please join the organization at its next informal interest meeting.
February 22 | 7:30 p.m. | Library Tower, 10th floor South Room
Engage in random acts of kindness
As the new year and new semester begins, AUM Connected: Common Reading Program invites you to engage in random acts of kindness. Our book this year, The Dinner, features characters who lack kindness and empathy. Here at AUM, we expect better.
Please visit the bulletin board on the second floor of the library or the other smaller displays around campus to get ideas for random acts of kindness.
If possible, take a picture of your random act and email it to [email protected] so we can include it on the AUM Connected Facebook page.