Warhawk Weekly 1–17: Martin Luther King Jr. Reflections Breakfast today
Warhawk Weekly 1–17: Martin Luther King Jr. Reflections Breakfast today
Martin Luther King Jr. Reflections Breakfast today
Students, faculty and staff are invited to join Auburn University at Montgomery in honoring Martin Luther King Jr. at today's annual Reflections Breakfast at 9:30 a.m. in Taylor 221–223.
The event is a challenge to all students to keep King's Dream relevant today and beyond. Of his pursuit of a nonviolent pathway to civil rights, King said, "Peace is not merely a distant goal that we seek, but a means by which we arrive at that goal."
Dr. Annice Yarber-Allen, distinguished teaching professor and chair of the Department of Sociology, Anthropology and Geography, will speak at the breakfast.
The breakfast is sponsored by AUM's Division of Student Affairs, Student Government Association, and Upsilon Eta chapter of Alpha Phi Alpha Fraternity Inc.
Tuesday, Jan. 17 | 9:30 a.m. | Taylor Center 221–223 | RSVP by email to [email protected] or call 334-244-3829.
Shed pounds while assisting Kinesiology study
Looking to shed some of that holiday weight and increase fitness? The Department of Kinesiology is conducting a study on interval training and fitness, metabolism, and body composition. You will undergo 4 weeks of training 3 days per week in our lab. You are eligible to participate if you are between 18-50 and in good health.
Contact Dr. Matt Schubert at [email protected] for more information!
The department also offers fitness and body composition assessments to the public. Contact [email protected] for a list of services and fees.
From Darkness to Light: Surviving Tragedy
Scared, abused and her endurance of tragedy taken to the limit, Elizabeth Liz Huntley reveals the perils of a childhood that would lead most a broken life or premature death. Huntley, now a successful attorney at prestigious Southern law firm, recounts her journey from unimaginable darkness to radiance thanks to the early intervention of teachers, a pastor and caring people, strategically placed in her life by God.
Huntley is the guest speaker for the upcoming Auburn University at Montgomery Business Breakfast series. Tickets are $30 for AUM staff or $250 for a table of 8. Registration is required.
To register and purchase tickets, please visit the Business Breakfast webpage.
Wednesday, Jan. 18 | 7:30 a.m. | The Marriott Legends at Capitol Hill, Prattville
TED Talk Thursday: The Battle Between your Present and Future Self
Join the Center for Disability Services for its second TED Talk. Hear the insights of presenter Dr. Christine Harrington, assistant professor of Finance in the College of Business, and enjoy viewing a TED video presentation featuring Daniel Goldstein, a cognitive psychologist who works for Microsoft Research. Discussion will follow, and refreshments will be provided.
Thursday, Jan. 19 | Noon–1 p.m. | Taylor Center 147, Center for Disability Services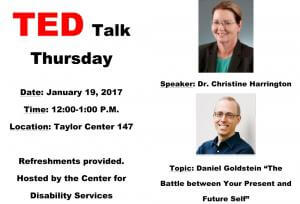 Warhawk Welcome
Do you remember when you were searching for the perfect university? Do you remember how overwhelmed you were? Do you remember having thoughts like, who will be my friends on campus, where will my classes be, or how can I get involved on campus?
On Saturday, the Office of Admissions and Recruitment will host Warhawk Welcome for prospective students interested in learning more about our university. Admissions and Recruitment invites all student organizations and university departments on campus to be involved in making an impact on prospective student's transition to college.
Organizations and academic departments can share information about their units and encourage students to enhance their college experience! We will have refreshments, music, and of course excited students ready to meet all of you!
If you are interested in getting your team involved, contact Allison Hendricks, admissions event coordinator, at [email protected] or 334-244-3067.
Saturday, Jan. 21 | 8 a.m.–12:30 p.m. | Goodwyn Hall lobby | AUM departments are encouraged to participate in the browse session which will take place from 8:45 a.m. to 11:10 a.m.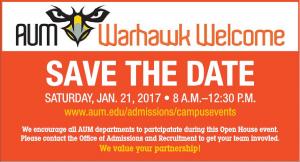 AUM Alert Reminder
As part of AUM's ongoing effort to safeguard students, faculty, and staff, the university has implemented a new emergency communications system. Known as the AUM Alert, the system allows you to receive time-sensitive emergency messages in the form of email, voice mail and text messages.
Everyone who has an AUM email address will receive emergency alerts to that email. You can also receive text messages and voice mail alerts by updating your account to include mobile and land line numbers.
For more information or to enroll in text and voice messaging notifications, please visit the AUM Alert information page.

Spring 2017 College of Arts and Sciences Lecture Series
Sterling speaks on 'female baby killers in Victorian England'
Eric Sterling of the Department of English and Philosophy will present a lecture Jan. 26 on "Desperate Motives for Murder: Mercenary Female Baby Killers in Victorian England."
Thursday, Jan. 26 | 12:30 p.m. | Library Tower, 10th floor South | Light refreshments will be served
Emory professor emeritus to lecture on 'liberal education and the civil character'
Dr. Ann Hartle, professor emeritus of philosophy at Emory University, will present a lecture Feb. 23 on "Liberal Education and the Civil Character."
Thursday, Feb. 23 | 12:30 p.m. | Goodwyn 112 | Light refreshments will be served
Political Film Series kicks off Feb. 8
Get ready for another semester of exciting films in the Political Film Series sponsored by the Department of Political Science and Public Administration and the College of Public Policy and Justice. All films start at 7 p.m. with an introduction to the film subject and context. Audience discussion follows the screening.
• 13TH (2016; TV–MA) — Black History Month feature | Feb. 8 | Goodwyn Hall 109
• Anita (2013; NR) — International Women's Rights Day feature | March 8 | Goodwyn Hall 109
• Deepwater Horizon (2016; PG-13) — Earth Day feature | April 20 | Goodwyn Hall 111
The Political Film Series is made possible thanks to a grant from the Ida Belle Young Special Projects Fund. The event is free and open to the public; popcorn and soda are complimentary. For further information or to receive email updates, please contact Dr. Pia Knigge at [email protected] or 334-244-3834.
Sigma Gamma Rho interest meetings
Sigma Gamma Rho Sorority, Inc. is returning to AUM Spring 2017. Please join the organization at its next informal interest meeting.
February 22 | 7:30 p.m. | Library Tower, 10th floor South Room
Engage in random acts of kindness
As the new year and new semester begins, AUM Connected: Common Reading Program invites you to engage in random acts of kindness. Our book this year, The Dinner, features characters who lack kindness and empathy. Here at AUM, we expect better.
Please visit the bulletin board on the second floor of the library or the other smaller displays around campus to get ideas for random acts of kindness.
If possible, take a picture of your random act and email it to [email protected] so we can include it on the AUM Connected Facebook page.