Warhawk Spotlight: Women Lead Society sets students up for success
By Neil Probst | Dec. 13, 2016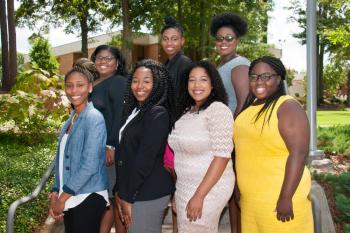 Students First: Women who choose to study at Auburn University at Montgomery now have an additional incentive to become a Warhawk. A new organization is helping female students solidify their footing on campus while preparing them for success in the workplace and in life.
"It's women growing women," said Dr. Nichole Thompson, assistant vice chancellor of Student Affairs, who, along with several other female leaders across campus, launched the Women Lead Society in August.
The first group of students taking part in the Society resides on campus together in a living and learning community in the P-40 Place residence hall.
Each is paired with a mentor — a female administrator or professor — and each month the students take part in professional development that encourages growth in areas of service, learning, leadership, globalization and mentorship.
"We saw this need to do something positive with our young women on campus," said Thompson. "We have the privilege of working with students outside the classroom as they navigate the plethora of issues that college students face when they are not learning."
While the students learn alongside other AUM students, their mentors check on them before midterms and finals and are available by phone and text to help advise the mentees when they have concerns or need additional guidance. "They wouldn't normally get this from a professor or an administrator. It's a higher level of engagement that we're committed to," Thompson said.
Through the Women Lead Society, the students also bond with each other in their living and learning community, and they can experience professionalism first-hand as they work with their mentors.
The mentors in the Women Lead Society especially want to provide encouragement so the students will be prepared to take on leadership roles after graduation. "Their biggest challenge is balancing it all. We're in a world where you have to be able to balance a lot of responsibilities," said Thompson.
Part of the leadership equation is confidence, which the society has already helped establish in participants like Brittany Bridgewater, a junior business major whose mentor is Dr. Rhea Ingram, dean of the College of Business.
"From a personal standpoint, it's allowed me to be more confident in myself," said Bridgewater. "I have learned that I do not need to change myself in order to be successful."
Mentorship moments
Especially during dialogue with their mentors, the students gain one-on-one insight into improving skills like asserting oneself.
Thompson recently shared insights on the topic with her mentee, Selina Johnson, a freshman Communications major. Johnson asked Thompson how to find the balance between articulating as a leader without coming across as a "loud woman."
Thompson shared that asserting oneself does not mean projecting angrily but that she does have a voice.
"You set the tone," I told her. "You be the thermostat and not the thermometer. You set it for how you're going to run your operation, but be open — open to hear, to grow, to listen," Thompson said. "So we talked about that balanced approached to leadership, and she was like, 'Thank you, I get it,' " Thompson said.
For Johnson, this mentoring relationship is an amazing blessing. "Being in the Women Lead Society has helped me personally because I've developed a relationship with my mentor outside of the program. I know that I'm not alone and, if I ever need to talk, she has an open door," Johnson said.
Personal and professional success
All of the students are enjoying the benefits of the program in ways that will help them personally and especially professionally.
Like Bridgewater, Emilea Moultrie, a senior Chemistry and Health Sciences major, appreciates the chance to complement her formal education with valuable, real-world advice on success.
"Being a member of the Women Lead Society has helped me to be more confident, more assertive in taking the initiative, more goal-oriented, and also to know that my opportunities are limitless," said Moultrie, whose mentor is Dr. Denise Davis-Maye, associate professor of Pre-Social Work. "I have also learned how to properly conduct myself and dress in a professional environment to prepare for being a competent professional woman leader," she said.
Friends for life
At the same time, the mentees in the Women Lead Society are getting to know one another, a very intentional goal of the program and one that boosts student retention because students begin bonding with fellow students from the start of their time at AUM, Thompson said.
"They're going to dinner together, they're in group meetings together, they're checking on each other, so they're fostering some of the innate traits that we were already hoping would be within them," Thompson said.
For Hydenia Boswell, a freshman Biology major, these relationships are one of her favorite reasons for joining the Society. "The Women Lead Society has introduced me to an amazing group of girls. And working with them has taught me the importance of teamwork and making connections with those around you," said Boswell, whose mentor is Dr. Kimberly Johnson, assistant dean for student engagement and success in the College of Business.
Passing the torch
Thompson used a garden metaphor to explain that while the inaugural Society is off to a strong start, the intention is for the Society to grow exponentially, and the students are expected to further this growth. "As they mature and are elevated, they bring the next cohort with them," Thompson said.
When the first group of Women Lead Society inductees complete a year in the program, they will become mentors to the next class of inductees starting in the fall, helping them clear obstacles, "showing them the ropes, and teaching them what they've learned," Thompson said. "It's a cycle of leadership," Thompson said.
World of opportunities
Most of all, Thompson and her fellow mentors on the leadership team want the students to see the possibilities open to them, and their example is vital, Thompson said.
Recalling her university years a graduate student, Thompson said it was the professor who spent a little more time with her who, by her example, encouraged her to pursue a Ph.D.
As the mentors work with the students, the senior women hope the younger women will realize, especially after seeing them and getting to know them, "I could be the dean of Business, I could be an assistant vice chancellor, I could be a program manager. I can do it." This is the essence of leadership by example, said Thompson.
"That's everything to me because if our students don't see leadership in action and aren't able to touch it, that's a disadvantage to them," Thompson said. "We want them to see it's possible for them to do whatever they want. They will have to work hard, they will need to be strategic, they will need some skills in their tool belt — but it's possible," she said.
The partnership has definitely left a lasting impression on the students, including freshman Teva Stinson.
Stinson, whose mentor is Dr. Annice Yarber-Allen, distinguished teaching professor and chair of the Department of Sociology, Anthropology and Geography, is currently undecided on a major but, thanks to the Women Lead Society, has learned the importance of etiquette, professionalism and organization.
"My mentor has taught me to always have my priorities first. She has shown me that one must always carry one's self in a manner that reflects who we truly are," Stinson said.
Applications: To apply to become a member of the Women Lead Society, https://aumstudentlife.wufoo.com/forms/aum-women-lead-society/.
A review of spring applications will begin March 1.
(Editor's note: The Warhawk Spotlight features news about people, projects and programs at AUM that illustrate our Core Values. Need a refresher on our Core Values?)