Warhawk Weekly 12–13: Employees, departments recognized; Women Lead Society
Warhawk Weekly 12–13: Employees, departments recognized; Women Lead Society
Happy Holidays! Warhawk Weekly will return on Jan. 10, 2017.
Warhawk Spotlight: Students First
Women Lead Society sets students up for success
Women who choose to study at Auburn University at Montgomery now have an additional incentive to become a Warhawk. A new organization is helping female students solidify their footing on campus while preparing them for success in the workplace and in life.
Warhawk Spotlight: Faculty, staff, departments recognized for dedication to AUM core values
Auburn University at Montgomery Human Resources recently awarded several AUM departments and employees with awards for exemplifying AUM's Core Values.
Students create Beowulf board game
As part of their final project in Dr. Seth Reno's English 2350 course, five students created a Beowulf-themed game based on Monopoly, complete with individual shields for pieces, Anglo-Saxon coins for money, specific sites and scenes from the epic poem and a new set of rules. The students, Jennifer LyAnne Peacock, Amy Plymack, Pam Harris, Erin Rembert, and Alexis Murphy, spent weeks doing research on Beowulf and Anglo-Saxon culture to help them in creating the board and cards. Reno will be organizing times to play the new game next semester.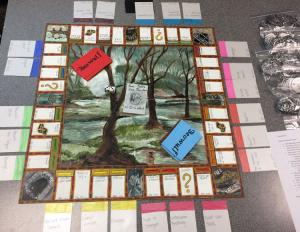 Mustang Battalion places 3rd at annual Ranger Challenge competition
The Army ROTC Ranger Challenge is a two-day competition that challenges cadets both physically and mentally, enhances leadership, critical thinking, and team-building skills. This year's ranger challenge took place November 3­–4 at Fort McClellan in Anniston, Ala. The competition consisted of six events: the Army Physical Fitness Test, an assessment on military tactical knowledge, building a rope bridge, casualty care, day land navigation, and a 10-kilometer foot-march with 35-pound ruck sacks. Each event put the cadets' fitness and tactical knowledge to the test.
The Mustang Battalion's team consisted of eleven cadets from AUM and its partner programs, representing each military science academic level. Teams from more than ten schools in Alabama and West Florida competed for a chance to advance to the regional level.
During the fierce competition, the Mustang Battalion Army ROTC program placed first in the casualty care event and top three in all other events. The Mustang Battalion was in first place entering the final event, the 10-kilometer foot-march, and came in third place overall, closely following University of Alabama and Auburn.
While the team will not be attending regionals, they made many great strides in teamwork and developing our Army's future leaders. The composite team required a tremendous amount of dedication on the part of the cadets and cadre as they trained five days a week. This included many early days and significant travel to train cadets from the various schools in order to develop the requisite skills and team cohesion necessary to compete. This was the first year the team competed as a combined battalion, and it made significant strides in their overall competitiveness. Team coach and military science instructor, SFC Andrew Dearden, said that "the Mustang Battalion will return to the challenge next year, stronger and better than ever," with the goal of bringing home first place.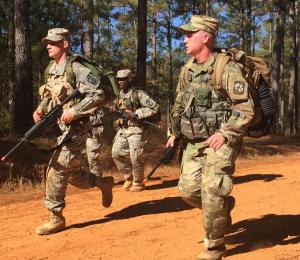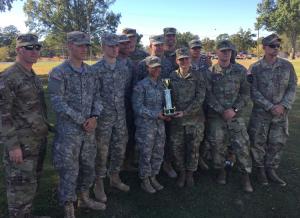 CELT attendance ceremony
On December 8, CELT honored its top attendees: Sissy Speirs, Van Orum, Eric Sterling, Ravi Chinta and Jason Gogue. Tarek El Badawy was also invited as one of CELT's most enthusiastic and supportive attendees. CELT would like to thank everyone who has attended a session in 2016 and would especially like to thank all those who generously shared their time to present sessions. Thank you for being a part of CELT!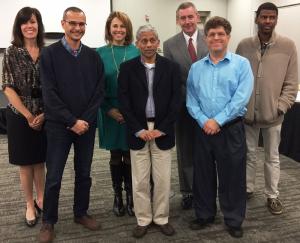 Sigma Gamma Rho to return to AUM
It is with enthusiasm that the Office of Student Involvement and Leadership Programs shares that we will be welcoming Sigma Gamma Rho Sorority, Inc. back to campus beginning Spring 2017. Beginning in January 2017, Sigma Gamma Rho (SGRho) will hold various informational sessions throughout the semester with the hope of inducting new members at the conclusion of the spring semester.
Sigma Gamma Rho Sorority, Inc. mission: to enhance the quality of life for women and their families in the U.S. and globally through community service, civil and social action. Our goal is to achieve greater progress in the areas of education, health awareness, and leadership development. Our members, affiliates, staff, and community partners work to create and support initiatives that align with our vision.
To learn more about Sigma Gamma Rho Sorority, Inc. please visit their website. With specific questions in regards to membership, please email Assistant Director DeLisa Joseph at [email protected].
Occasional meals for student athletes
Around this time of year, faculty, staff, boosters and parents like to invite our out-of-state and international students to their home for a holiday meal. For student-athletes, this is considered an occasional meal.
An occasional meal is a meal benefit incidental to a student's participation in intercollegiate athletics. AUM institutional staff members, boosters and parents are allowed to provide an occasional meal to a student-athlete or team member on an infrequent basis with prior approval from the Department of Athletics.
The NCAA requires institutions to monitor awards and benefits incidental to a student's participation in intercollegiate athletics. To ensure meals provided by institutional members, boosters and team members' parents to student athletes comply, we ask that you complete the approval process.
Notify the Head Coach or the Department of Athletics of your intentions to provide an occasional meal to team members.
The Head Coach or the Department of Athletics will provide you with the necessary paperwork to complete your request.
Submit the occasional meal form to the Athletic Compliance Office
Once the documentation has been reviewed, you will receive a notification regarding the status of your request.
We are committed to the principle of institutional control and operating our athletics program in a manner consistent with the letter and spirit of the NCAA, Gulf South Conference and Auburn University at Montgomery regulations. Please contact the Athletic Compliance Office if you have any questions. Remember to always ask before you act.
Let's Talk provides counseling services
Overwhelmed with school? Stressed about finals? Visit Let's Talk, a program sponsored by the AUM Counseling Center that engages students by providing brief informal walk-in consultations with a counselor.
Let's Talk is free and held every Tuesday from 1 p.m. to 2 p.m. in Room 126 of the Taylor Center and every Wednesday from 1 p.m. to 2 p.m. in Room 109 of Clement Hall. For more information, contact the AUM Counseling Center at [email protected] or 334-244-3469.
AUMnibus job openings
The AUMnibus is looking for a new editor in chief and a webmaster/web content manager. For more information about the available positions, check out the AUMnibus webpage.
Please send resume and letter of interest to Dr. Silvia Giagnoni, AUMnibus academic advisor, at [email protected].