Warhawk Spotlight: `The rest of my life is mine'
Warhawk Spotlight: `The rest of my life is mine'
Exonerated Death Row inmate shares story of resilience and redemption in AUM visit
Diversity & Inclusiveness/Citizenship and Community: AUM's Diversity Book Club brings Anthony Ray Hinton to campus for perspective on equitable treatment in the justice system and dedication to improving the lives of others.
One of Anthony Ray Hinton's first purchases as a free man was a king-sized bed. After spending nearly 30 years on Alabama's Death Row for a crime he did not commit, with all of those years compressed and contained in a 5 x 7 cell no larger than most typical household bathrooms, Hinton looked forward to stretching out and enjoying night after night of peaceful sleep.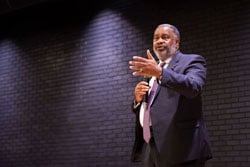 No matter how far he stretches out his arms and legs as he drifts off to sleep each night, Hinton awakens the same way – curled in the fetal position he assumed on a prison cot. A wrongful conviction couldn't break the man, but the man can't break some of the habits that formed over the course of three decades. Most mornings, he awakens at 2:45 a.m., the precise moment when prison guards would deliver breakfast to Death Row inmates.
Hinton, who recounted his arrest, conviction and eventual exoneration in the New York Times bestseller "The Sun Does Shine: How I Found Life and Freedom on Death Row," shared his story of resilience and redemption with Auburn University at Montgomery students, faculty, staff and community members during a September 27 lecture at Goodwyn Hall sponsored by AUM's Office of Diversity and Inclusion.
Pacing the stage and at times mirroring the cadence of a preacher in a pulpit, Hinton discussed race and class as factors in the judicial system, the loss of his mother during his incarceration, the efforts of and challenges faced by the Montgomery-based Equal Justice Initiative to secure his freedom and his desire to shine a light on inequity. For three years, he has been a free man, one who has now strolled the beach in Hawaii and met the likes of Oprah Winfrey and Facebook co-founder Mark Zuckerberg. But, in some respects, he remains imprisoned. Last year, proposed legislation to grant Hinton $1.5 million for his wrongful conviction received a mixed reaction from lawmakers. He has yet to receive a penny in compensation.
"Every day I think about where I was for 30 years," said Hinton, who was released in 2015 after the U.S. Supreme Court unanimously overturned his conviction and the State of Alabama dropped all charges against him.
Hinton spent his incarceration less than 30 feet away from "Yellow Mama," the electric chair in which the state had planned to execute him. "Mr. Hinton refused to let his spirit be broken," Auburn University at Montgomery Chancellor Carl A. Stockton said.
Stockton introduced Hinton to the lecture hall crowd as an "honorary Warhawk." "He dedicated what he believed was all he had left of his life to educating others," Stockton said. "Today, he continues to move the conversation for justice and equity."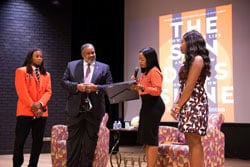 Anthony Ray Hinton presentation
According to research from the National Registry of Exonerations, more than 1,900 individuals convicted of crimes have been exonerated. The 2017 Exonerations Report, which details contributing factors behind systemic corruption and blunders leading to wrongful convictions in the United States, revealed there were 139 exonerations that year. Official misconduct was the most common trait in those wrongful conviction cases, surfacing in 84 percent of murder exonerations. The Equal Justice Initiative estimates that one out of every 10 inmates sentenced to death are innocent.
Hinton, who was 29 at the time of his arrest in 1985, recalled the day when two detectives showed up at his mother's home while he was mowing the backyard. Authorities arrested him after a string of restaurant robberies in Birmingham. In the first two robberies, the managers were killed and there were no witnesses or physical evidence leading to a suspect. After a third robbery, a manager selected Hinton from a photo lineup.
The detectives asked Hinton if he owned a gun and he told them that his mother, Buhlar Hinton, kept a .38-caliber pistol in her home for protection. The police took the weapon for testing and a state forensics expert said it fired the bullets that killed the two fast food workers. Hinton had an air-tight alibi, having been at work inside a locked warehouse 15 miles away from the crime scene. Hinton said one of the detective told him that it didn't matter, that he would be convicted because he was black and would be facing a white prosecutor, white judge and all-white jury. "He repeated the word `conviction, conviction, conviction,'" Hinton said.
Hinton said that, in Alabama, African-Americans make up 97 percent of the state's incarcerated population despite making up 27 percent of the overall population. Aside from race, Hinton pointed to class as a factor in his wrongful conviction. He grew up in a fatherless household, one of 10 children. As Hinton once described his experience, "In Alabama, justice isn't blind. She knows the color of your skin, your education level and how much money you have in the bank."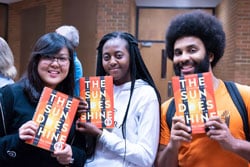 Audience members with copies of The Sun Does Shine
As he discovered, capital punishment represents a very real possibility for men without capital who cannot afford help beyond a public defender. Stevenson and the Equal Justice Initiative (EJI) spent 16 years fighting to free Hinton. Three ballistics experts, including a former FBI chief of firearms testing, concluded that the bullets in one of the shootings came from a distinctly different weapon while the bullets in the other incidents could not be matched. Before that legal battle was joined by EJI, Hinton had made an effort to forgive individuals involved in his wrongful conviction and to seek mental escapes from prison. He told the crowd that he often imagined he was having tea with Queen Elizabeth II.
"I was in this dark hole," Hinton said. "I had so much hate for those men who had lied in put me in this cage for no other reason for being born black. … What I realized is that the same thing I thought was keeping me alive was actually killing me. I wasn't the man I had been all my life."
After his lecture, while taking questions in a discussion moderated by AUM Vice Chancellor for Diversity and Inclusion Nichole Thompson, Hinton issued a call to action for all Alabamians.
"I charge you tonight to go out and make a difference in this judicial system because our young African-American men more than anyone need to know that they can drive down the road without being afraid to drive down the road," he said. "I charge each person here with searching their heart and to always stand up for right, always being willing to go to jail, if necessary, to make it right."
Hinton was asked about the power of forgiveness and the difficulty of extending it to those who played a role in his conviction. The answer was already in plain sight, on the pages of his book: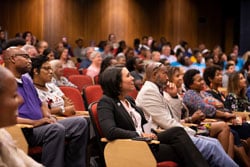 Audience at Hinton lecture
"They took 30 years of my life. If I couldn't forgive, if I couldn't feel joy, that would be like giving them the rest of my life. The rest of my life is mine. Alabama took 30 years. That was enough."
(Editor's note: The Warhawk Spotlight features news about people, projects and programs at AUM that illustrate our Core Values. Need a refresher on our Core Values?