Deal earns statewide award for teaching excellence
Deal earns statewide award for teaching excellence
Given her professional experience as an accounting manager with the State of Alabama, Keren Deal was acutely aware of the numbers the first time she stood before a classroom full of students as an educator nearly 20 years ago.
When she looked out from the lectern, she saw 25 faces she would see two nights a week for 16 weeks. Seventy-five minutes for each class. She did the math because that's what accountants are conditioned to do.
"My first night in the classroom was a nightmare when I realized I had to engage and motivate 25 students looking to me to make accounting interesting," Deal, an Auburn University at Montgomery professor of accounting, wrote of her initial teaching experience in a 2015 magazine column. "… I had to maintain their attention for approximately 144,000 seconds over the next 16 weeks. … Needless to say, I had to step up to the challenge of explaining debits and credits, how to create financial statements, and how to communicate finances to those within this career field."
It's safe to say that Deal has identified effective pedagogical approaches since arriving at AUM as an instructor in 2000.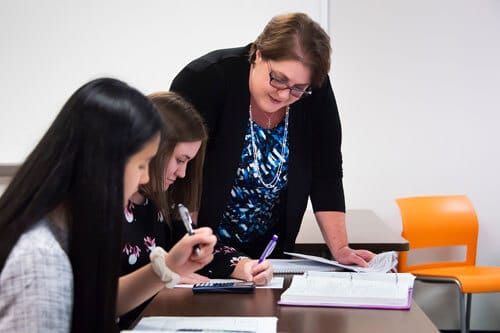 Deal earned the 2018 Educator of the Year Award presented by the Alabama Society of CPAs. ASCPA President and CEO Jeannine Birmingham honored Deal on September 28 at the Financial Accounting and Auditing Conference hosted by AUM's School of Accountancy. Deal, a two-time AUM graduate, was nominated by colleagues and former students.
"She exemplifies integrity and credibility within the accounting community and among her students," accounting major Nathan Mims said. "She is recognized by students for her passion and dedication to helping them reach their potential and achieve their dreams within the accounting profession."
Deal stands out to her students for a variety of reasons, including her status as a self-described "pracademic" ̶ a professor who can draw on several years of industry experience as well continuous engagement with industry professionals. She also connects with students through her own experience as a first-generation college student who initially struggled to find direction as an undergraduate.
"I tell my students my story of taking seven years to get my first degree and how I didn't take my education seriously until one of my professors asked me why I was here and what did I hope to get out of the educational experience," said Deal, who earned bachelor's and MBA degrees from AUM before completing a doctorate at Auburn. "I want my students to have the same experience I had. We will put in the work, we will make mistakes, but we will learn from the mistakes in the process and grow from them."
Deal's tenure as an LEA accountant for the Alabama State Department of Education, a position in which she conducted training on a statewide school accounting system for local school board bookkeepers, inspired her to give teaching a try. She saw a newspaper ad for adjunct positions at Huntingdon College in 1999 and became a fulltime instructor at AUM in 2000. During her progression from instructor to tenured faculty member, Deal learned from faculty mentors Judith Kamnikar and Jan Heier.
"The impact they made on me was the same they provided to every student who wanted to be a part of the accounting profession and it resonates with me to this day as I try to emulate the same educational experience for my students," Deal said. "We are, first and foremost, a teaching school with the goal of changing lives in the River Region. The faculty and staff who took an interest in me as a student and decided that I was capable even before I was capable made me love AUM and it's why I am still part of the AUM family."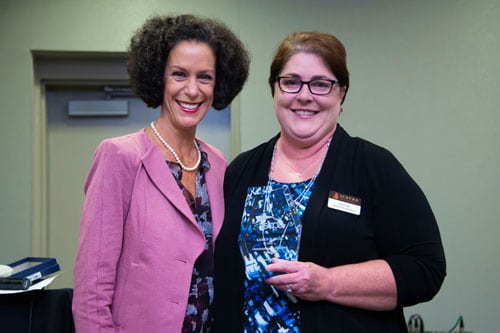 Jeannine Birmingham and Keren Deal