Theatre AUM helped Spring 2020 graduate Karen Licari stay on point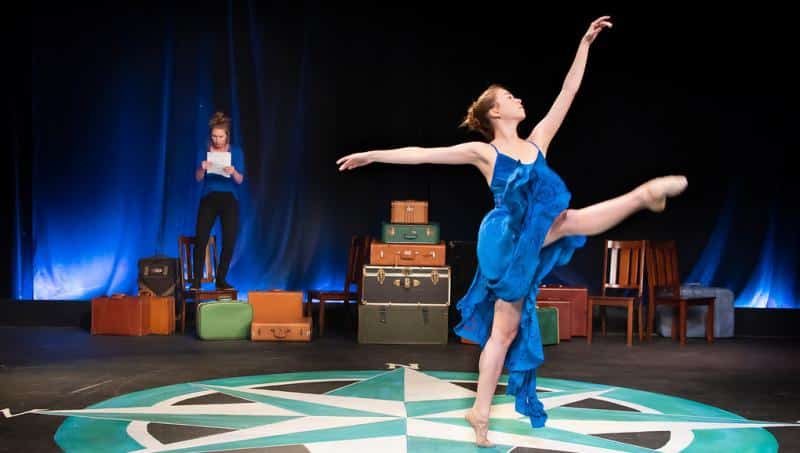 University Honors Program student Karen Licari performs in a Theatre AUM production.
University Honors Program senior Karen Licari has been on her toes since age 3.
"I was in love with ballet from a very young age after the gymnastics studio I attended closed down and my mom put me into ballet," said Licari, a ballet dancer with the Alabama Dance Theatre. "When you get to be on pointe on your toes then it really becomes a commitment."
When Licari arrived at Auburn University at Montgomery (AUM) her freshman year, she wasn't as spot on about finding a major as she had been most of her life with ballet. She spent her first two years at AUM searching for the right major to fit her "artsy" personality, Licari said.
"I often discussed my major-picking plight with (Department of Fine Arts Chair) Will Fenn since I had already chosen photography as a minor my freshman year," she said. "Professor Fenn sent me to (Distinguished Research Professor of Theatre) Val Winkelman's office in search of wisdom."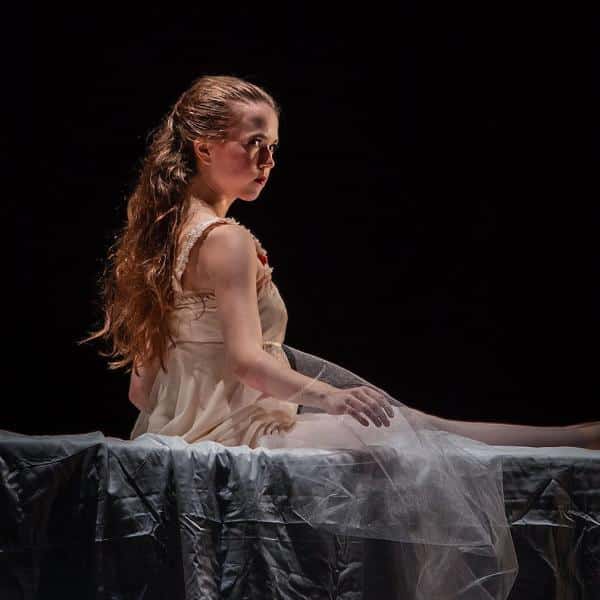 One conversation with Winkelman was all it took to convince me to major in theatre, Licari said.
"She was right, as usual," Licari said. "After taking courses like costume design and stage management, I wanted to learn all there was to know about theatre. It's interdisciplinary and creative, which is why I think I mesh with it."
This month, Licari joined her parents as AUM alumni when she graduated from the University Honors Program with a bachelor's degree in communication/theater and a minor in photography.
"Before coming to AUM, I had one primary passion, which was dance," she said. "Attending AUM has allowed me the chance to broaden my horizons, and I have discovered other passions that I would not have pursued otherwise."
During her four years at AUM, Licari said her involvement in the arts grew with her participation in Theatre AUM and the connections she made in the University Honors Program. She is a member of the Theatre AUM Guild, AUM's Art Club, and Phi Kappa Phi and Omicron Delta Kappa honor societies. She also worked on numerous Theatre AUM student productions, gaining valuable experience that has helped her perfect her work designing costumes and scenery for plays.
The highlight of Licari's time as a Theatre AUM student came this spring semester when she was named a design exhibition nominee for the 2020 Kennedy Center American College Theatre Festival (KCACTF) Region IV annual competition in Spartanburg, S.C. She earned the nomination for her scene design work on Theatre AUM's adaptation of the play The Seagull.
"Designing scenery for a play involves extensive research, drawing renderings and sketches for a set to be built and attending production meetings with the director and other designers before you even build a scale model," she said. "A lot of research was put into the design for The Seagull because it is set in rural Russia at a lakeside country estate in 1901. My design was equal parts abstract and realistic."
While she enjoyed the experience at KCACTF, the exposure opened her to the other side of being an artist — receiving hard critiques of her work, Licari said.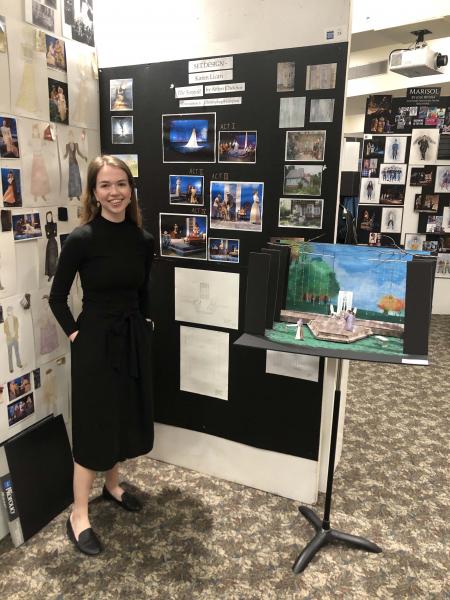 Karen Licari at KCACTF with her design sketches.

"At KCACTF, I was fortunate to be able to present my work to a panel of theatre professionals," she said. "I received constructive feedback about my design and why I choose a certain color and shape. I know the questions they raised about my design will help me with my next design."
The real-world experience she gained as a Theatre AUM student and with the Alabama Dance Theatre has prepared her to pursue a career in the performing arts, Licari said. While attending AUM, she continued her ballet classes and rehearsals at Alabama Dance Theatre. In her fifth season with the dance company, she has performed in Dracula, and as Sugar Plum Fairy in The Nutcracker, Little Mermaid in The Little Mermaid, and Fairy Godmother in Cinderella.
Thanks to her faculty mentors Val Winkelman, Mike Winkelman, Will Fenn, Neil David Seibel, and Bob Evans, Licari said she has learned a valuable lesson about working in the arts — it's a versatile field.
"For most dancers, the choice is one or the other," she said. "I do hope to have a career as a professional dancer, but because this career is so short, I'm glad that I am graduating with a degree that is so versatile. I can see myself working in a myriad of other jobs after dance as costume or scenic designer, dance photographer, teacher, director, or writer."
Licari said she is currently sending video auditions to dance companies in Atlanta, Georgia; Birmingham, Alabama; and locations in Florida in hopes of working with a professional dance company.
"The arts bring people together," she said. "I hope all artists at AUM feel as welcomed and as inspired to keep creating."