AUM Career Development Center offers Spring 2020 graduates strategies for networking, job searching
Auburn University at Montgomery's spring Class of 2020 will enter the college-to-career pipeline during unprecedented times.
With most of the nation on lockdown and practicing social distancing, and employers grappling with an economy spiraling downward from the coronavirus (COVID-19) global pandemic, it is normal for graduates finishing in May to feel anxious or uncertain about the current job market, said AUM Career Development Center Director Brad Robbins. The upside is that graduates can overcome these challenges by creating a targeted job search strategy and a strong personal and professional network, he said.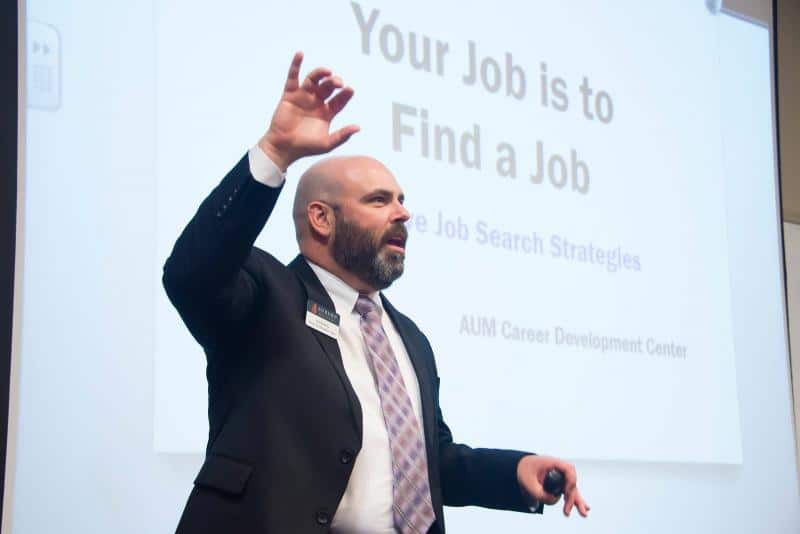 Career Development Center Director Brad Robbins
"It is more important than ever for new graduates to stay positive, sharpen their online professional presence, and strengthen connections with contacts in their network," he said. "I think the key difference for job seekers will be that recruiters are now almost exclusively using virtual recruitment sources to find candidates rather than more traditional, face-to-face recruitment methods."
While virtual job hunting is not a new way of searching for employment, it has become the principal method new graduates will have to use to find open job opportunities for some time because of COVID-19, Robbins said. Graduates also face entering a competitive job search environment because of growing unemployment caused by the pandemic, he said.
"While the job search picture seems grim, it's really unclear how hiring will be impacted through the rest of the year," he said. "Job seekers will need to compensate for the lack of face-to-face interactions with recruiters by boosting their online networking efforts through sites such as LinkedIn and other online networking sites. The key is to leave no stone unturned."
One advantage that new graduates will have is entering the job market straight from college, Robbins said.
"New graduates often are equipped with new skills and knowledge valued by the world of work that current employees may not have had access to," he said. "They are enthusiastic about entering their career field, eager to perform well, and may represent a cost advantage versus an experienced professional."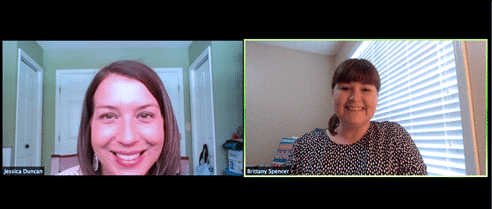 AUM student Jessica Duncan interviews with Tallassee Elementary School
"Organizations, regardless of industry or career-cluster, have responded quickly to the changes of our new environment post-coronavirus by finding ways to be effective at sourcing and recruiting talented employees even online. I advise graduates to identify organizations within their career field maintaining active communication and signifying a definitive strategy for moving forward and targeting them."
New graduates, and alumni, also can turn to AUM's Career Development Center for assistance. While the center has transitioned to virtual services, the center's career specialists can assist students and alumni with job searches using AUM's online career management platform, Handshake. Handshake connects students and alumni with thousands of job and internship opportunities around the world.
"Our career specialists also have been working virtually with students and alumni to develop targeted job search strategies and job search materials, including resumes and cover letters, to help prepare for interviews and networking opportunities," Robbins said.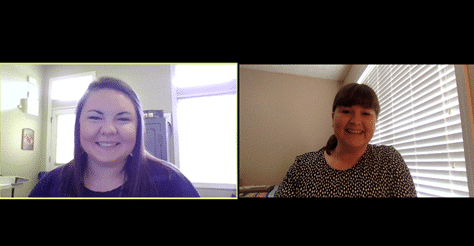 AUM student Lindsey Ison interviews with Tallassee Elementary School
In addition to using online and on-campus resources, Robbins recommends new graduates begin their job search sooner rather than later. He offered the following tips to help graduates jumpstart their job search:
Create your targeted job search strategy by identifying industries, organization types, and locations that best represent a fit for your knowledge, skills, and career priorities.
Identify anyone in your personal and professional network that can be influential in helping access job opportunities and connect with them.
Take advantage of as many online resources as you can for building an online professional presence. These can include LinkedIn, ePortfolio sites, Handshake, and other career-specific resources so you can remain active online. Do not simply create an account and let it remain static.
Review your personal online presence and remove any behavior that may not reflect a professional image.
Put your time management skills into practice by establishing a set schedule for job search activities. Set up email alerts through online search engines when new jobs are posted that match your search criteria.
Watch out for scam job listings. Any job that requires a monetary investment before you can apply is almost always a scam!
Identify your current technology resources and limitations. If an organization contacts you for a virtual interview, make sure you understand the format and technological resources required in advance. I have not seen any remote interviewing technology thus far that cannot be accessed with a smart device.
The best way to prepare for an interview is to R.A.P. – Research, Anticipate, and Practice. Do extensive research about the organization, job description, and the selection process. Anticipate possible questions and the interview environment. If the interview is face-to-face, anticipate transportation needs and commute issues (traffic, parking, location access, etc.). If it is remote, make sure your device is in working order and will you have uninterrupted access to the internet.
Finally, practice your communication, both verbal and non-verbal. Even during a telephone interview, distracting non-verbal communication, such as tapping or shifting can be apparent.
For more information about resources through AUM's Career Development Center, visit www.aum.edu/career-resources. Current students can also access the center's resources through the MyAuM portal.