SACSCOC reaffirms Auburn University at Montgomery's accreditation
SACSCOC reaffirms Auburn University at Montgomery's accreditation
FOR IMMEDIATE RELEASE
SACSCOC reaffirms Auburn University at Montgomery's accreditation
Auburn University at Montgomery's accreditation was reaffirmed this week by the Southern Association of Colleges and Schools Commission on Colleges (SACSCOC) for the next 10 years.
Auburn University at Montgomery is accredited by SACSCOC to award bachelor's, master's, educational specialist and doctoral degrees. AUM first earned accreditation from SACSCOC in 1973, earning reaffirmation in 1978, 1988, 1998 and 2008.
"We are quite pleased that the Southern Association of Colleges and Schools Commission on Colleges did not return any recommendations," said Auburn University at Montgomery Chancellor Carl A. Stockton. "That is uncommon and speaks to the high quality of Auburn University at Montgomery's academic programs, faculty and staff.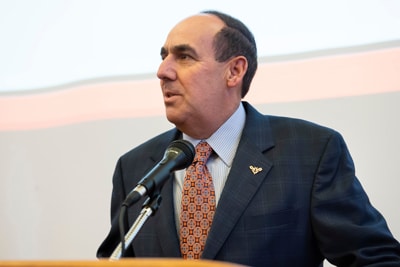 "The reaffirmation of accreditation is important for a variety of reasons. In addition to reinforcing the value of an Auburn University at Montgomery degree, the process offers an opportunity for self-study and examination of university standards, governance and finances, academic programs and student services. The results clearly show that we are on the right track."
Universities attempting to earn or maintain SACSCOC accreditation must comply with more than 90 standards. Representatives from the accrediting body visited AUM last spring. The university submitted a response to the site visit in August. A national committee reviewed the response and voted for reaffirmation with zero recommendations.
"This serves as testament to Auburn University at Montgomery's commitment to excellence," said Auburn University at Montgomery Provost and Senior Vice Chancellor Mrinal Varma. "One important outcome of the self-study process was the development of a Quality Enhancement Plan, the AUM Mathematics Pathways Success Initiative, to increase pass rates in core math courses. This week's news validates our efforts as a university. We are grateful to our faculty and staff for their willingness to establish a culture of evidence and to embrace our pursuit of continuous improvement."
Our goal here is to establish a culture of evidence. This is a reaffirmation of our efforts. We try to bring in this culture of evidence. We are grateful for our faculty and staff who have embraced our philosophy of continuous quality improvement."
Established in 1967, AUM offers more than 90 undergraduate and graduate degree programs and certifications. AUM earned a No. 22 ranking among regional universities in the South from U.S. News & World Report for the quality of its undergraduate teaching and ranked 38th overall among regional public universities.
Consistently chosen as the best university in the area, AUM provides students with detailed knowledge and hands-on, practical experience, often from professionals in the field. Learn more at aum.edu.