Fox named director of Warhawk Academic Success Center
Fox named director of Warhawk Academic Success Center
FOR IMMEDIATE RELEASE
Fox named director of Warhawk Academic Success Center
In settling into a new role as director of the Warhawk Academic Success Center, Paul Fox will guide change that is as much cultural and structural.
While the center focuses on meeting the academic support needs of Auburn University at Montgomery students, Fox said it's important for faculty and students to understand the resources that it offers as well as its potential impact on student retention.
"We definitely need the faculty to buy into what we do," said Fox, a clinical assistant professor at AUM since 2017. "As someone who will continue to teach, I think I'm in a good position to work on both the student and faculty sides of that."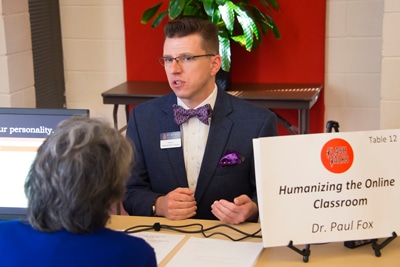 The structural changes in store for the center include the integration of the Learning Center and Instructional Support Lab as components. "The two units have always been a fundamental part of support our students," said Associate Provost for Enrollment Management Sameer Pande. "This move will facilitate clear coordination between the two units and the other services in place in the WASC."
The WASC serves as a "one-stop shop" for AUM students' academic support needs. Students can receive assistance from advisors in identifying potential academic majors and working on core classes or developing personalized plans for academic success. Previous elements of the WASC – the UNIV program and Learning Communities – will now report directly to Associate Provost for Undergraduate Studies Joy Clark. Fox said the changes will enhance the WASC's ability to improve outcomes for students.
"All of this is with an eye toward improving student retention," Fox said. "We're trying to create that one place where students can come and have their questions answered and their needs met. It's not just about helping them with writing, math or science. Our student success advisors will be able to reach out to students, make contact with them and make sure they have the resources they need, whether it's through Counseling and Health Promotion Services or the Center for Disability Services.
"If they come to us with an issue and we can fix it, we will. And if we can't, we'll know who can."
Fox, who earned a bachelor's degree in history and political science and a master's degree in history from the University of Texas-San Antonio, as well as a master's and doctorate in history from Auburn University, joined AUM as a lecturer of history in 2016. Fox brings 10 years of teaching experience to the job, having taught at Kennesaw State University, Auburn University and Columbia State Community College. He has earned a variety of awards, including the Marguerite E. Scharnagel Fellowship and Auburn University's Graduate Instructor Fellowship.