Warhawk Weekly 12–11: Lt. Gen. speaks at commencement; Welcome new deans
Warhawk Weekly 12–11: Lt. Gen. speaks at commencement; Welcome new deans
NEWS
Lt. Gen. Cotton to speak at commencement
AUM welcomes new deans
Accounting students win national competition
Reserve your seat for the MLK Legacy Breakfast
WSFA 12 Days of Giving donations
AUM Community Garden – Take our survey!
NCAA Rules: Holiday Reminders
Filibuster accepting submissions
Scaleback Alabama is coming!
Apply for Spring Graduation
EVENTS
Fun Fitness before the Break!
NEWS
Lt. Gen. Cotton to speak at commencement
Lt. Gen. Anthony J. Cotton, commander and president of Air University at Maxwell Air Force Base, will be the featured speaker at Auburn University's Fall 2018 commencement ceremonies.
The ceremonies will take place on Saturday, Dec. 15, at the AUM Athletics Complex. The 10 a.m. ceremony will include students from the Colleges of Business, Nursing and Health Sciences and Sciences, while the 2 p.m. ceremony will feature students from the Colleges of Education and Liberal Arts and Social Sciences. Doors will close 15 minutes before each ceremony.
Read more about Lt. Gen. Cotton and the fall commencement in the AUM Pressroom.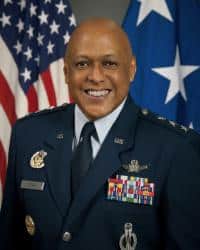 AUM welcomes new deans
AUM will welcome new deans for the College of Sciences and the College of Liberal Arts and Social Sciences in the new year.
Robert Granger, a longtime Department of Chemistry chair at Sweet Briar (Va.) College, will assume the College of Sciences deanship on January 15. While at Sweet Briar, he served as dean of the college during the 2017-2018 academic year and oversaw such areas as academics, athletics, student life, faculty grants, development and study abroad initiatives. He earned a bachelor's degree in chemistry from Illinois State University and a doctorate in analytical and inorganic chemistry from Purdue University.
Andrew McMichael, associate dean of the Potter College of Arts & Letters at Western Kentucky University, will join the College of Liberal Arts and Social Sciences as dean on January 28. A professor of history, McMichael served as assistant dean at the Potter College from 2009 to 2016 before becoming associate dean. In his most recent position, he focused on budget management, development and advancement, diversity initiatives, strategic planning and student recruitment and retention. He earned bachelor's and master's degrees in history from George Mason University and a doctorate from Vanderbilt University.
Read more about Granger and McMichael in the AUM Pressroom.
Accounting students win competition
Accounting students Matthew McKinney, Yumani Shabazz and Elisabeth Tucker recently won the Association of Government Accountants' 2018 Fall Government Case Challenge. The students each earned $1,000 scholarships for their win. Student teams analyzed specific data for U.S. state, city and county governments and developed Citizen-Centric Reports (CCRs) for those entities.
Read more about their competition in the AUM Pressroom.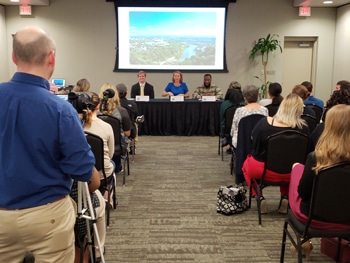 Reserve your seat for the MLK Legacy Breakfast
Civil rights leader and activist Xernona Clayton will be the keynote speaker for the Martin Luther King Jr. Legacy Breakfast on Tues., Jan. 22 at 9 a.m. in Taylor Center 221–223.
Registration for the event opens Sat., Dec. 15. Reserve your seat by emailing [email protected]. The event is free and open to the public.
Clayton, who worked closely with King at the Southern Christian Leadership Conference, is a former Turner Broadcasting executive who founded the Trumpet Awards, which highlight the achievements of African-American men and women.
Read more about Clayton in the AUM Pressroom.
WSFA 12 Days of Giving donations
AUM is a sponsor of WSFA's 12 Days of Giving. There are donation boxes in the Library lobby (near the Chancellors' portraits) and in Taylor Center by the AUMazing Bean. If you have an opportunity to do so, please drop in a few non-perishable food items, including, but not limited to: mac-n-cheese, stove-top stuffing, cranberry sauce, etc.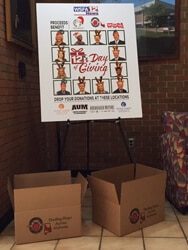 AUM Community Garden – Take our survey!
Did you know that AUM has a campus Community Garden? We do – and we want to hear your thoughts on sustaining it and if you'd like to be involved!
Take our AUM Community Garden survey now before it closes on Dec. 14.
NCAA Rules: Holiday Reminders
Considering this is the time of year where people give the most, the Department of Athletics would like to make sure that no one winds up on the NCAA's naughty list for trying to do something nice. So, here are a few friendly reminders.
Extra Benefits: According to NCAA rules, an extra benefit is any special arrangement by an institutional employee, or a representative of the institution's athletics interests, to provide a student-athlete, or a prospective student-athlete, or their friend or family member, a benefit not also available to the general student population, or a particular segment of the student body. This may include:
Holiday presents/gifts
Money, loans, bonds, or co-signing of loans
Free transportation (use of a car, boat, airline tickets, bus tickets, etc.)
Free storage
Free merchandise (clothes, video games, etc.)
Free entertainment (sporting events, movies, concerts, nightclubs, etc.)
Free lodging (hotel rooms, staying at apartment/house)
Free meals
Discounted merchandise because of status
Free use of credit card, calling card, etc.
Holiday Gifts: It is impermissible to provide holiday gifts to student-athletes or their relatives. Please remember that holidays are not exempt from extra-benefit bylaws.
Occasional Meals: Occasional meal rules apply to team holiday parties, any AUM faculty and staff member or parents who wishes to provide a student-athlete, or an entire team, with a holiday meal. Be sure to complete an Occasional Meal Form, submit it to the Athletics Compliance Office, and get approval before any such meal occurs.
For more information or clarification, please email Andreé Houston or call at 334-318-9343
Happy Holidays and Go Warhawks!
Filibuster accepting submissions
AUM's Filibuster, the school's literary magazine, is accepting poetry, prose, photographs, and art for its 2019 issue!
Any student currently enrolled at AUM may submit his or her work as an attached file (.txt, .doc, or .docx) to [email protected]. Students should title their file using the following pattern: Last Name_Title of Work_Genre. Written work should be in Times New Roman 12 pt. font and double-spaced. Files containing photographs or scanned artwork (.png, .jpeg, or .bmp) should be at least 300 PPI.
There is no limit on the number of submissions per student. The deadline for submissions is Dec. 31. For more information, please email the editor for the 2019 issue, Michelle Aitken.
Scaleback Alabama is coming!
Attention AUM faculty, staff, and students: Scaleback 2019 is on its way! Weigh-ins will begin Jan. 21–25 in the Wellness Center every day from 8 a.m.–5 p.m.
Teams of 2 (no more; no less) are allowed, so grab a friend or co-worker and get ready to shed those 10 pounds each to start of the year of YOU!
Stay tuned for more information.
Apply for Spring Graduation
Spring 2019 graduation application deadline is Jan. 25. Apply online in MyAUM. If you have any questions, please email [email protected].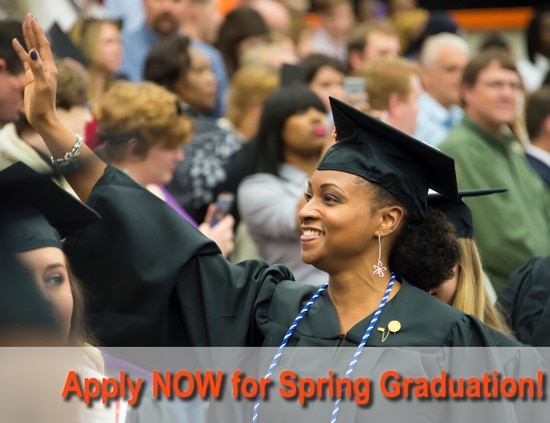 EVENTS
Fun Fitness before the Break!
'Tis the season to DANCE! A new belly dance/yoga class will be offered at the Wellness Center. Prior dance experience is not required; however, fun experience should be expected.
For more information, please email Mel Redding or call 334-244-3029.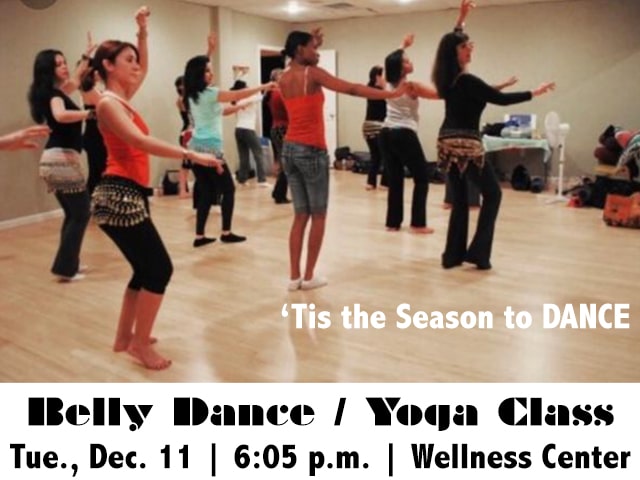 Tue., Dec. 11 | 6:05 p.m. | Wellness Center