Peeling back the layers of Bright's AUM experience
Much like an onion, the COVID-19 pandemic has many layers – the discovery of a novel virus in China in late 2019, the global spread and resulting declaration of a public health emergency by the World Health Organization in January 2020, the first fatalities among more than 3 million globally in the first year alone, lockdowns, masking, political infighting, ambitious collaboration between public and private entities, and, ultimately, the development of effective vaccines.
Peel back enough of those layers and you'll eventually find yourself in the late-1990s, in the Auburn University at Montgomery laboratory of then-professor Jeff Barksdale, where a nearly 30-year-old undergraduate student named Rick Bright explored ways to extract DNA from a sulfur-laden vegetable.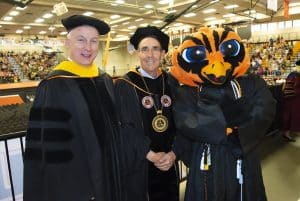 "I wanted to extract DNA from plants, from onions, and I wanted to do it in a non-toxic way," said Bright, now a globally recognized expert on immunology and virology who served as AUM's Spring 2023 commencement speaker on May 6. "I showed you could do it and I submitted it to the Alabama Academy of Sciences for a teaching protocol and won a prize. It excited me that I could do something like that, that I could play with DNA."
That project helped propel Bright to an AUM degree in molecular biology and physical science from AUM in 1997, to graduate studies at Emory University where he learned from a pioneer in DNA-based vaccines and developed an interest in messenger RNA (mRNA) vaccines and, eventually, to the frontlines of the COVID-19 pandemic as director of the Biomedical Advanced Research and Development Authority (BARDA) focused on leading the development and stockpiling of vaccines needed to counter public health emergencies.
"It backtracked to that onion in Jeff's lab, and everyone who helped me do that experiment and push me out the door," said Bright, who earned a bachelor's degree and magna cum laude honors from AUM in 1997. "That's AUM."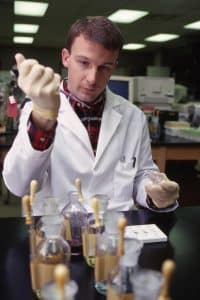 A call to action
Bright's commencement message encouraged Spring 2023 graduates to provide mentorship and guidance to the generations that will follow them, to call out injustice and improve conditions for the marginalized, to use fear as a motivator to move forward rather than to stand still, and to speak truth to power – especially when the truth may be uncomfortable to voice.
In addressing the latter point, Bright speaks with the authority of experience. As the COVID-19 pandemic surged in early 2020, Bright protested the government's awarding of certain COVID-19 contracts and criticized what he viewed as a halting and highly politicized response to an urgent threat. He was demoted from his position as director of BARDA in April 2020 after pushing back against then-President Trump's endorsement of hydroxychloroquine as an unproven coronavirus treatment and filed a whistleblower suit. The federal government settled the suit in August 2021 for an undisclosed amount.
Bright moved forward, serving as Chief Executive Officer of the Pandemic Prevention Institute at The Rockefeller Foundation, and now shares his expertise as a consultant in such areas as biodefense, pharmaceutical innovation, emergency preparedness and response and vaccine, drug and diagnostics development. However, after filing the whistleblower complaint in 2020 and receiving death threats, he spent months "in hiding, in isolation, off the grid."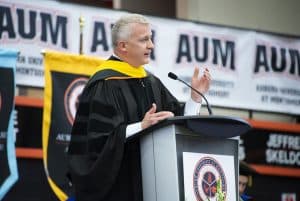 "I have no regrets, but it did come at a cost," Bright said. "It has changed my life and my career. I lost my job that I loved and was great at. I've lost friends who won't speak to me because they are on the other side of a political discourse. My whole life became an open book. There are no secrets about me and my life. That is not a comfortable place to be. That's a cost of speaking truth to power. But the reward is reestablishing science to its rightful place in a world of politics, because science should lead us through public health crises — not politics and cronyism."
Challenging the federal government and a sitting president is a daunting process, Bright admitted, but he chose to use the accompanying fear as fuel rather than as a reason to remain silent.
"I have been scared to death a number of times in my career," he said. "I have lost jobs. I have risen up and used my voice to speak truth to power and change the discourse and narrative at the highest levels. I have taken on the ideology of the President of the United States, full-force and full of fear. Good things happened because of that.
"What I've learned in life through various experiences is to embrace that fear. If you can learn to let that fear drive you, you know you're doing something important. No big change in life, society or global politics has ever happened without someone pushing beyond their comfort level."
Finding himself
"Are you lost?"
The question, delivered by Barksdale, then an AUM professor of clinical laboratory sciences and biology, to Bright in the hallway outside classroom and lab spaces couldn't have been more appropriate.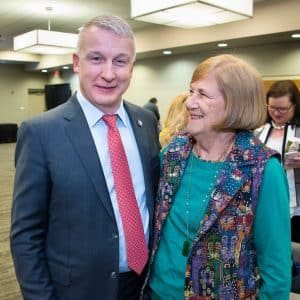 Up until that moment, Bright had veered off course so many times that GPS technology might not have helped him had it been available in the 1990s. One semester of accounting courses and an aversion to early morning classes at the University of Kansas in his native state proved to be a dead end. He dropped out and bounced from job to job and place to place, taking the occasional community college course but racking up more incompletes than As.
"I drifted," Bright said. "I was picking up a class here or there like someone would pick up a basketball at the park, and was not able to really find my way."
A job at Osborn Laboratories in Kansas City – where he helped write educational material about diagnostic testing — and a supervisor who saw potential in him ignited his interest in giving college another try. While glancing at U.S. News & World Report, he read an article about UAB's emerging healthcare presence and moved to Alabama on a whim in the hopes of potentially attending medical school. To establish residency in the state to lower his tuition costs, Bright worked at a Birmingham-area Blockbuster Video and visited different campuses in search of a college home.
That chance encounter with Barksdale, as Bright wandered the halls on the AUM campus with only the vaguest notion of where he might land and what he might study, helped him find himself as a 27-year-old undergraduate student.
"He brought me into his office to have a conversation about a journey, a pathway," Bright said. "There was something in that moment where I felt AUM was my home. I felt like there was this one person who had my back and would help me navigate my life and help me get a degree.
"All the faculty here were supportive. It was amazing to find a campus and university that had a culture of accepting and shaping a pathway for people who were juggling so many things – life, and a career and children and working several jobs — and still having that ambition to learn."
Bright cleaned glassware in the lab to help pay his tuition, but found AUM faculty and staff were quick to volunteer assistance when money was tight. When he wanted to prove DNA could be extracted from a plant in a non-toxic way for that undergraduate research project, his professors helped find the funding for the necessary materials. When it came time to apply for graduate school and take the MCAT in the early morning on another campus, AUM professors offered to cover application fees or spring for a hotel room so he could take a potentially life-changing exam well-rested and clear-headed.
"The things they did here, the extra mile they went, not just showed me the value of humanity of people, it showed me the world could be different," Bright said. "It opened this whole vision to me. I didn't know what my next step was, but they had the confidence in me to push me. The door was open and they pushed me through it."