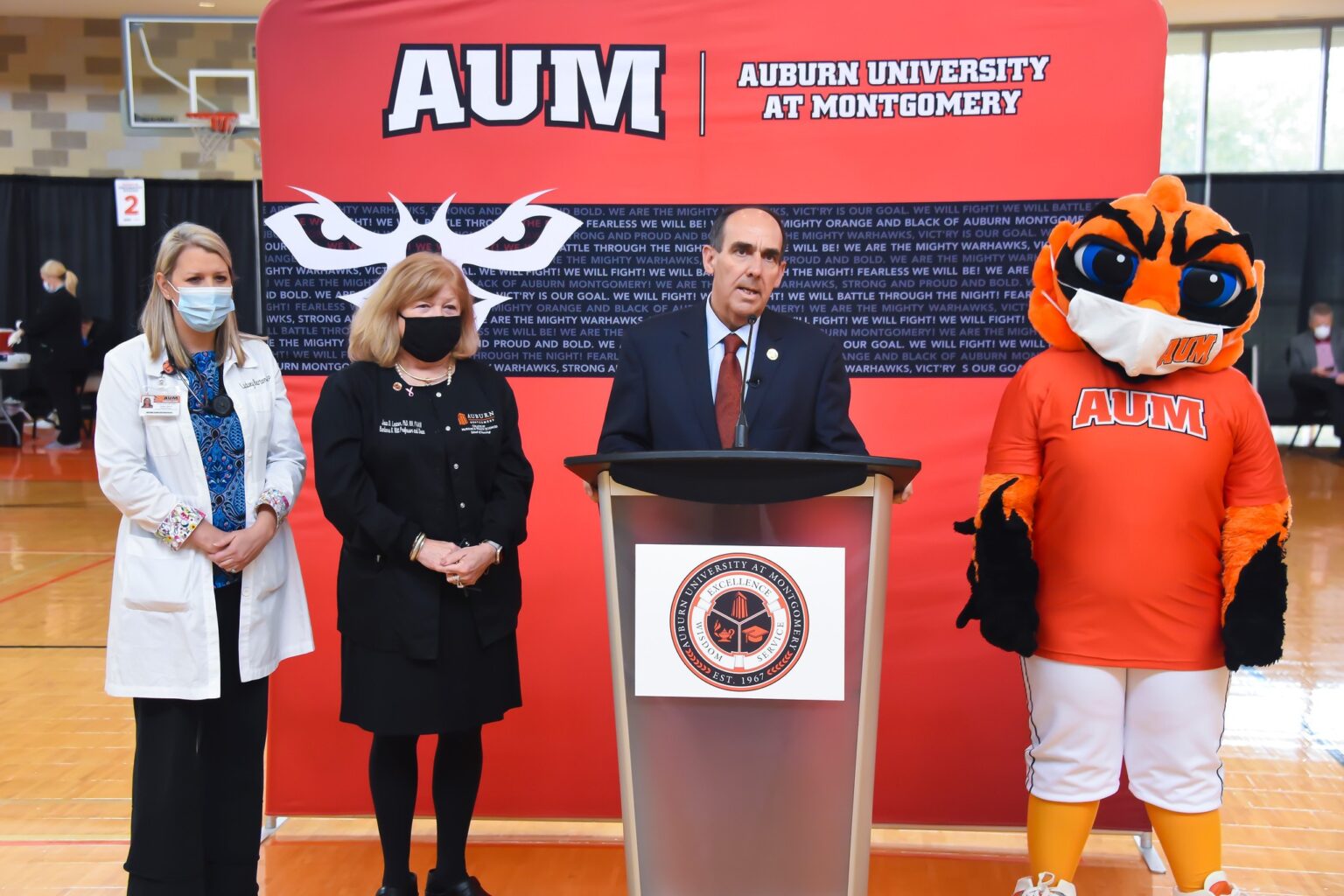 Returning to Normal Operations for Summer and Fall
Auburn University at Montgomery will resume normal, on-campus operations for the Summer and Fall 2021 semesters.
The availability of COVID-19 vaccines, coupled with extremely low case numbers on campus, have positioned the university to better meet the needs of students who prefer face-to-face teaching and campus services.
Even with a return to more traditional classroom and work environments, AUM will continue to require students and employees to wear face masks on campus (except when alone in private dorm rooms or work spaces) and observe social distancing. We remain hopeful that these guidelines can be eased as we enter the Summer and Fall semesters.
The university will continue to monitor public health conditions and adjust policies and operational status as necessary. AUM will continue to provide updates as conditions change.
*Please note: The AUM Wellness Center and Library are open to current students, faculty and staff only at this time. Announcements regarding alumni and community access to campus facilities are forthcoming.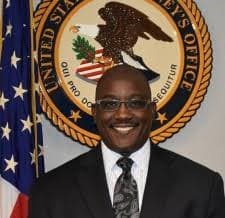 Middle District U.S. Attorney Louis V. Franklin Sr. '83 retires after 3 decades of public service
Franklin joins multiple U.S. Attorneys across the country retiring recently, which is standard following a presidential election where a Republican president succeeds a Democratic one, or vice versa. U.S. Attorneys are appointed positions.
Franklin was appointed to the central Alabama position in 2017, becoming the first African American U.S. Attorney in the state's middle district. He first joined the office in 1990 as an assistant U.S. Attorney and continued to hold a number of leadership positions, including head of the office's major drug trafficking task force, criminal chief, and acting U.S. Attorney before his nomination was confirmed by the U.S. Senate on Sept. 14, 2017.
During his time in office, Franklin personally prosecuted hundreds of criminal cases, from large-scale drug trafficking operations to high-profile public corruption cases. He led the prosecution team that brought former Alabama Governor Don Siegelman and HealthSouth CEO Richard Scrushy to justice for their involvement in a wide-ranging bribery scheme.
"It has been an absolute privilege to spend my career in this office, serving the people of the Middle District and working alongside so many talented attorneys and staff," Franklin said. "I know I am leaving the office in good hands, and I will forever be grateful for the opportunity to serve in my hometown and make our communities safer for the people of Alabama."
Franklin received his juris doctorate from Howard University School of Law in 1987, his bachelor's degree from the University of Alabama in 1981, and a master's degree from Auburn University at Montgomery in 1983.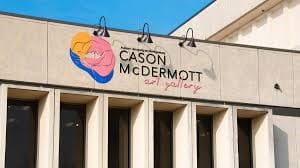 Cason McDermott Art Gallery Dedicated February 9, 2021
"It is important for us that our students see contemporary art and exhibit their own," said Will Fenn, Fine Arts Chair and Associate Professor in Photography. "The Cason McDermott Art Gallery is a professional exhibition space that allows our students to receive a good grounding in contemporary art due to our ability to bring in visiting artists. It also provides an opportunity for solo exhibitions for our BFA candidates and group exhibitions for the BA students."
Formerly named the Goodwyn Gallery, the renovated Cason McDermott Art Gallery was dedicated in 2021 on the AUM campus to engage the university and wider Montgomery community. It is an integral part of the programs and curricula of the Department of Fine Arts and the College of Liberal Arts and Social Sciences, and features:
Works by regionally and nationally recognized visiting artists
Works by Fine Arts Department faculty and students
Exhibits designed and curated by Art History and Museum Studies students and faculty
Exhibits from the University's collection of paintings and works on paper (with strengths in 20th-century prints)
During her short life, Cason Leigh McDermott (1995-2019) had a momentous impact on those around her. Cason's laugh was contagious, her smile lit up the room, and her devotion to creativity was inspiring. It is doubtful she realized just how many lives she touched. Cason loved others deeply and without judgement or reservation. Her presence at AUM not only had a positive and lasting influence on the lives of her peers, but she left an impression on the faculty within the Department of Fine Arts that is sure never to fade.
Cason was pursuing her dream of being an artist and wanted to teach at the collegiate level. She earned a Bachelor of Arts in Fine Arts from AUM in 2018, and after tireless effort and the creation of a strong portfolio, she was admitted into and awarded a full scholarship for the Master of Fine Arts program within the School of Art at the University of North Carolina at Greensboro. Cason wanted to one day return to AUM to teach and give back to the University and its student body. Through the generosity of her parents, Mickey and Mona McDermott, the gallery has been named in Cason's honor and has been updated to provide students, faculty, and visiting artists the opportunity to display work in a professional exhibition environment.
For more information about the Cason McDermott Art Gallery, please visit www.aum.edu/about-aum/cmag.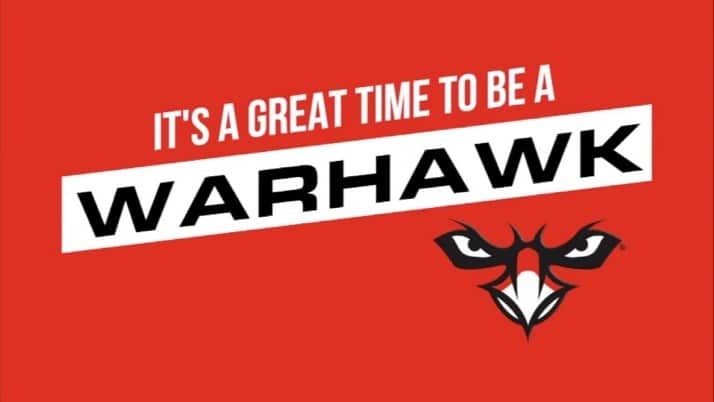 Are you All-in for AUM?
The All-in for AUM campaign is a friendly competition between family, friends and alumni of the 11 varsity sports sponsored by Auburn University at Montgomery. This competition among AUM alumni and friends has been established to raise funds to directly support the university's nearly 225 student-athletes. We have already exceeded our first goal of 150 donors, as well as our second goal of 250! We are so grateful to those who have already contributed, and now we're aiming for a NEW goal of 500 donors! Every gift counts and will have a significant impact on a student-athlete's time at AUM.
Go Warhawks!
To make your gift to AUM Athletics, please visit www.AUMAthletics.com/AllinForAUM.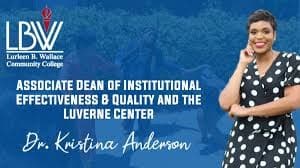 Anderson '14 hired as associate dean at LBWCC
LBW Community College is pleased to announce the hiring of Dr. Kristina Anderson for the position of Associate Dean of Institutional Effectiveness and Quality at the Luverne Center.
Anderson's background includes more than ten years of related experience in Alabama public education, including serving in roles such as Assistant Principal and Community Liaison for Charles Henderson High School and Lead Teacher/Crisis Management Leader/Summer School Director for Pike County Elementary School.
"Dr. Anderson is one of the most dynamic educational leaders in the state, and LBW is stronger with her addition," said LBW President, Dr. Brock Kelley. "Her ability to analyze and disseminate data will be essential in moving our college to new academic heights."
Anderson earned a Doctor of Education in Administration and Teacher Learning from Walden University. She earned a Master of Education with a major in Education and a concentration in Instructional Leadership from Auburn University at Montgomery. She also earned a Master of Science in Education and a Bachelor of Science in Education from Troy University.
"I look forward to working beside the dynamic leaders at LBW to ensure students are provided the best educational opportunities in the state," said Dr. Anderson.
Alumni Homecoming Week Recap
The AUM Alumni Association hosted a full week of activities to celebrate homecoming. We socialized with alumni (from a distance) while enjoying the week's festivities.
Virtual Book Club
Launched on Monday, February 22 as part one of three faculty-led discussions about the book, Just Mercy by Bryan Stevenson. Just Mercy is a New York Times bestseller and now a major motion picture. A powerful true story about the potential for mercy to redeem us, and a clarion call to fix our broken system of justice- from one of the most brilliant and influential lawyers of our time.
Men's Basketball vs. University of West Georgia
AUM alumni cheered on the Warhawks (in person and online) while enjoying alumni swag bags provided by the AUM Alumni Association on Tuesday, February 23.
Food Drive benefiting the AUM Food Pantry
More than 35 alumni donated over 500 non-perishable food and hygiene items for college students during the Alumni Association's Food Drive on Wednesday, February 24.
Virtual Cooking Class
Alumni came together (virtually) for a two-hour cooking demonstration led by a professionally trained chef on Thursday, February 25. Participants received an ingredient list and an exclusive AUM Alumni apron prior to the event. Alumni started with basic ingredients and made an incredible meal together, all while learning basic culinary skills. This cooking class featured pan-seared salmon, winter risotto, and a lemon beurre blanc sauce!
Virtual Wine Tasting
Alumni joined together from the comfort of their homes for a wine tasting led by a professionally trained sommelier on Friday, February 26. Participants received a wine list prior to the event as well as a set of AUM Alumni wine glasses and food pairings. Participants sampled three varieties of wine while learning about the origins and flavors of each bottle.
Class Notes
AUM alumna and Attorney Ashley Mallory '11 was selected by the Union Springs City Council as the new city attorney.
AUM alumna Renee Dickerson '08 has been promoted from Assistant Vice President to President at Troy Bank & Trust (TB&T). Dickerson has worked for TB&T for 24 years.
AUM alumnus Drew Danner '05 became the new principal at Dauphin Junior High School.
AUM alumnus Robert Pettigrew '05 was named by Cigna as the new President of Medicare Advantage (MA) plans in Alabama, Mississippi, and Northwest Florida. In this role, Pettigrew will oversee the growth of Cigna's MA plans in the region.
AUM alumnus Jason Isbell '04 has joined the Governmental Affairs practice as "of counsel" in Maynard Cooper & Gale's Montgomery office.
AUM alumnus Richard Perryman III '97 was appointed by Georgia Governor Kemp to the Alapaha Judicial Circuit, which includes Atkinson, Berrien, Clinch, Cook and Lanier Counties.
AUM alumnus Ben Barnes '95 is a finalist of the 2021 Alabama CIO of the Year ORBIE Award (Corporate Category). The ORBIE honors chief information officers who have demonstrated excellence in technology leadership. Barnes is the Chief Information Security Officer for McLeod Software, where he guides the company's internal systems, product, and customer-centric information security policies, practices, and activities.
AUM alumnus William Bowman '93 is the CEO of the Visually Impaired People, Inc., a tax-exempt, non-profit organization dedicated to providing low vision educational programs, support, and mentoring to the blind and visually impaired of Selma and throughout Dallas County.
AUM alumna and former Ambassador to Slovenia, Lynda Blanchard '91, announced that she would likely run for the U.S. Senate seat set to be vacated in 2023 when Republican Alabama Senator Richard Shelby retires at the end of his term.
AUM alumnus Kenneth Till '91 has been named Who's Who in Birmingham Banking by the Birmingham Business Journal in the February 2021 issue. Till serves as Chief Executive Officer CommerceOne Bank.
AUM alumna Debra Warren '89 is Network Director of the Montgomery Working Women Network of the National Association for Female Executives (MWWN), Inc. a non-profit organization that helps students and teachers in Montgomery County, Alabama fulfill their academic needs. Warren is currently working with local leaders in the community to raise funds for student resources at Booker T. Washington Magnet High School, Jefferson Davis High School, and George Washington Carver High School.
AUM alumna Debra Wallace '82 was named the CEO of the Alabama Supercomputer Authority.