AUM Weekly 1-19-16: Journal publishes faculty work; ELC showcases work of students, children
AUM Weekly 1-19-16: Journal publishes faculty work; ELC showcases work of students, children
by Caitlin Forrest | Jan 19, 2016
HEADLINES
Kaufman's article on outlaws, robbers and rebels published in medieval studies journal 'Enarratio'
Dr. Alexander Kaufman, professor of English and coordinator of the Bachelor of Interdisciplinary Studies program, recently published an article in the peer-reviewed, medieval studies journal Enarratio, published by The Ohio State University. Kaufman's essay, "John Mair's Historiographical Humanism: Portraits of Outlaws, Robbers, and Rebels in his History of Greater Britain," argues that the Scottish chronicler's representations of Robin Hood, William Wallace, and Jack Cade are deeply influenced by his own philosophical leanings toward Renaissance humanism.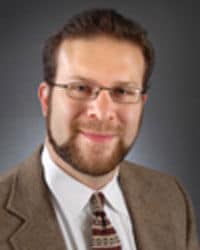 Early Learning Center event showcases efforts of childhood education practicum students, children
The AUM Early Learning Center recently hosted a culminating event that brought together childhood education students and teachers, parents, and learning center children and provided the children with an opportunity to display their work.
The event, themed "Far Away Places," coordinated the learning experiences of the childhood education practicum students working in the center and children of the Early Learning Center. It also included a tour of the center during which the children shared their knowledge.
Later, all the projects and books that the children wrote were shared on a video, and all parents were given a copy to remember these experiences.
The fun ended with a family-style party in which parents visited each other and talked with the practicum students and teachers in the ELC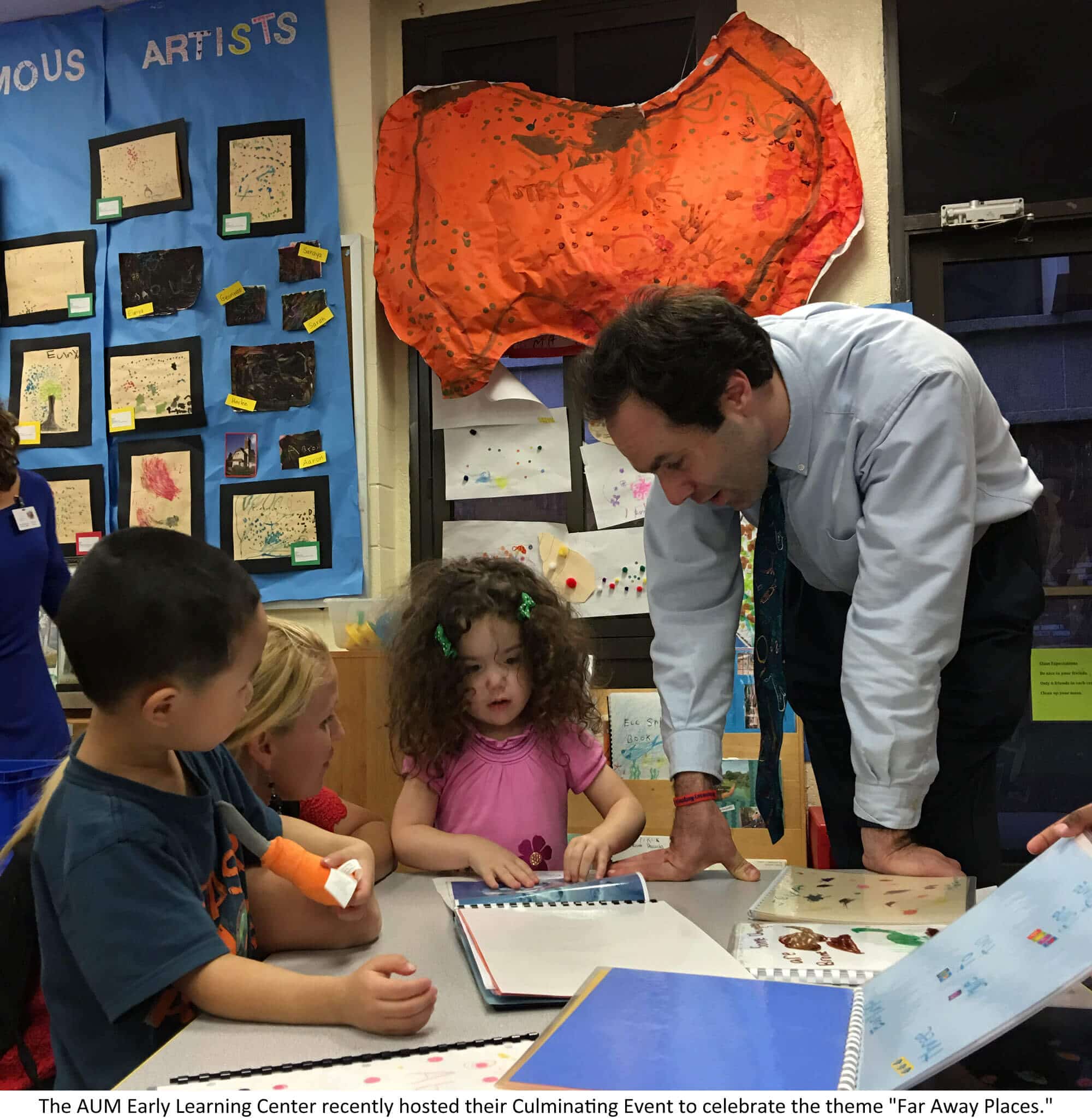 Exhibition at Gallery 213 features student and faculty work
AUM's Department of Fine Arts is pleased to announce a group exhibition that features student and faculty work. The exhibition runs from Jan. 11 through Jan. 29 at Gallery 213, located in Montgomery at 213B Commerce St.
Also, a gallery reception will take place Wednesday, Jan. 20 from 5–7 p.m., and all are welcome.
Gallery 213 is open Monday–Friday, 10 a.m.–3 p.m.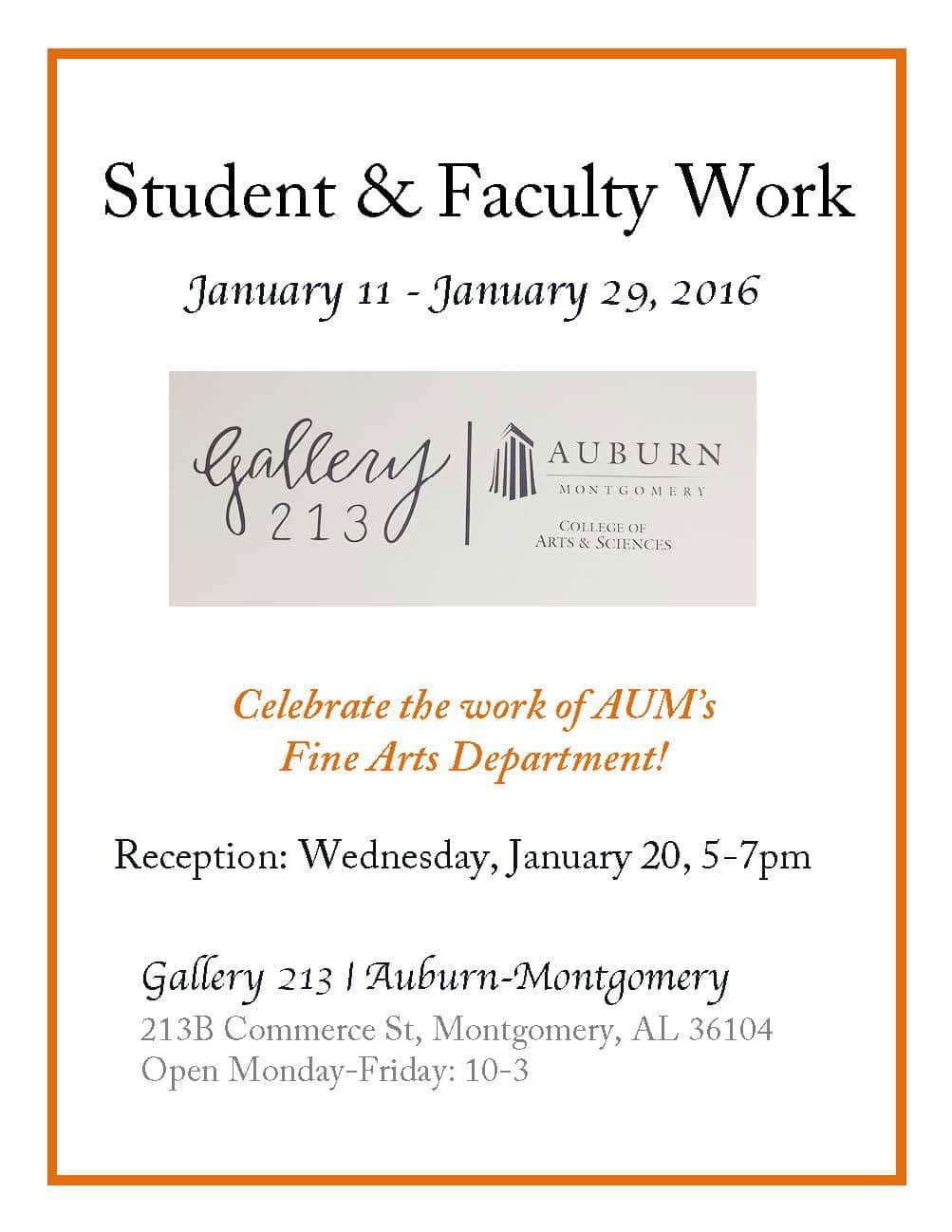 AUM launches Student Alumni Association
The AUM Student Alumni Association aims to generate pride and advance the traditions of Auburn University at Montgomery while fostering loyalty, commitment, lifelong relationships, involvement and communication among students and alumni.
Membership is open to all students as of January 2016.
For more information, contact Valerie Rankin at 334-244-3557 or [email protected].
SGA Fall 2015 Review
Student Government Association is happy to welcome everyone back to school this semester. We know 2016 will be an amazing year.
Take a look at what was accomplished in Fall 2015 in the SGA Newsletter!
EVENTS
Counseling Center launches Selfie Campaign to consider relationship between social media, self-esteem
The Counseling Center (AUMCC) invites students to take part in its "Selfie-Expression" campaign to explore the relationship between social media and self-esteem. For instance, what does your selfie express about you?
Students are invited to take a selfie at the AUMCC "Selfie-Expression" Station, post it on the center's Instagram page along with the hashtags #ExpressYourSelfie and #Whatsthemessage, and write a phrase or word that describes their selfie-expression!
Also, the wall of 'Selfie-Expressions!' will be displayed in the Taylor Center throughout this week (with permission of the student).
Wednesday, Jan. 27 | 11 a.m.–1 p.m. | Across from the AUMazing Bean in the Taylor Center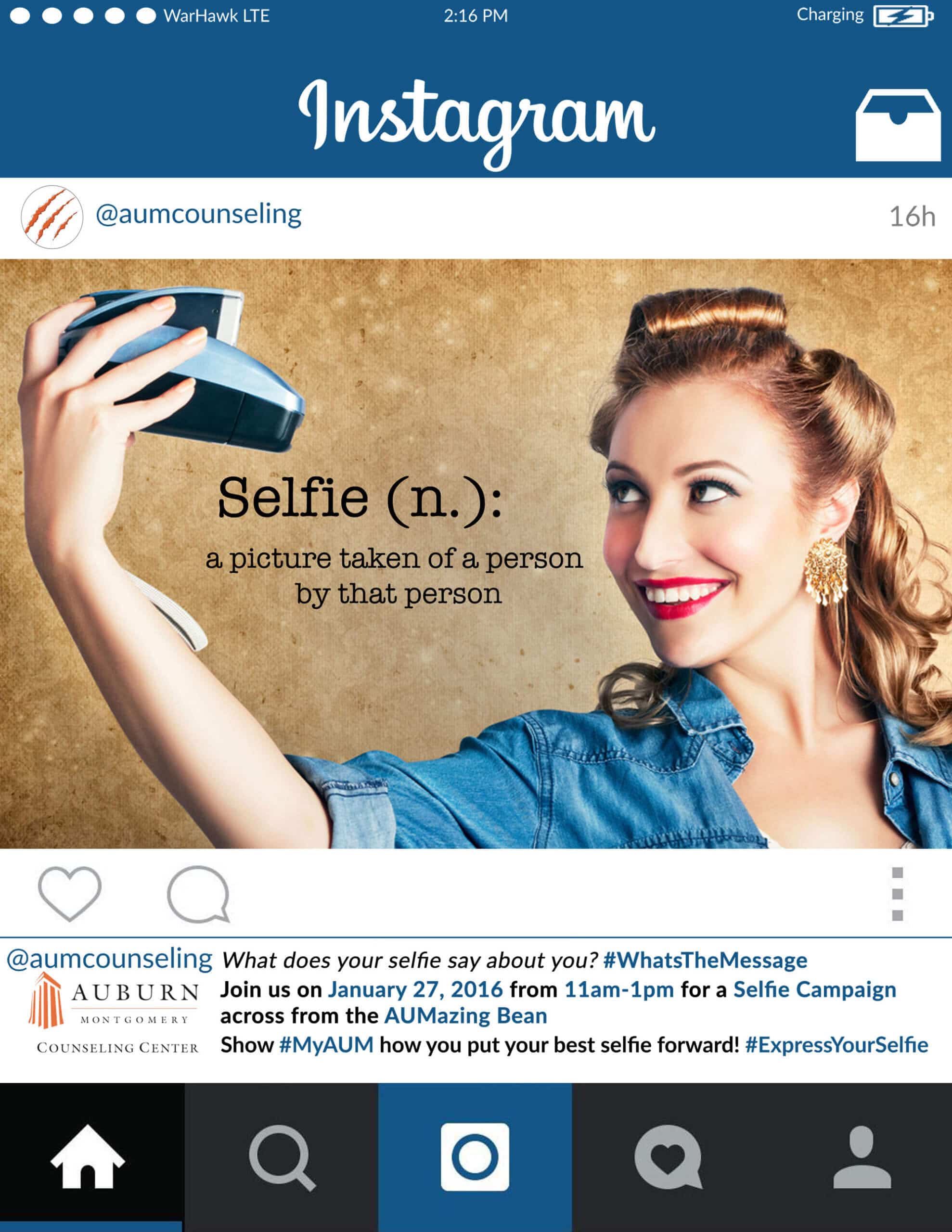 Mindfulness group counseling available throughout semester
Join us for an interactive group counseling series through the semester. We will be exploring activities to increase mindfulness, your overall mental health, and reduce stress.
Activities include:
Breathing exercises
Mindful meditation
Mindful eating
Progressive muscle relaxation
Healthy sleeping practices
Relaxation techniques
Cognitive reconstruction
Every Friday beginning Jan. 29 | 1–2:30 p.m. | Taylor Center 158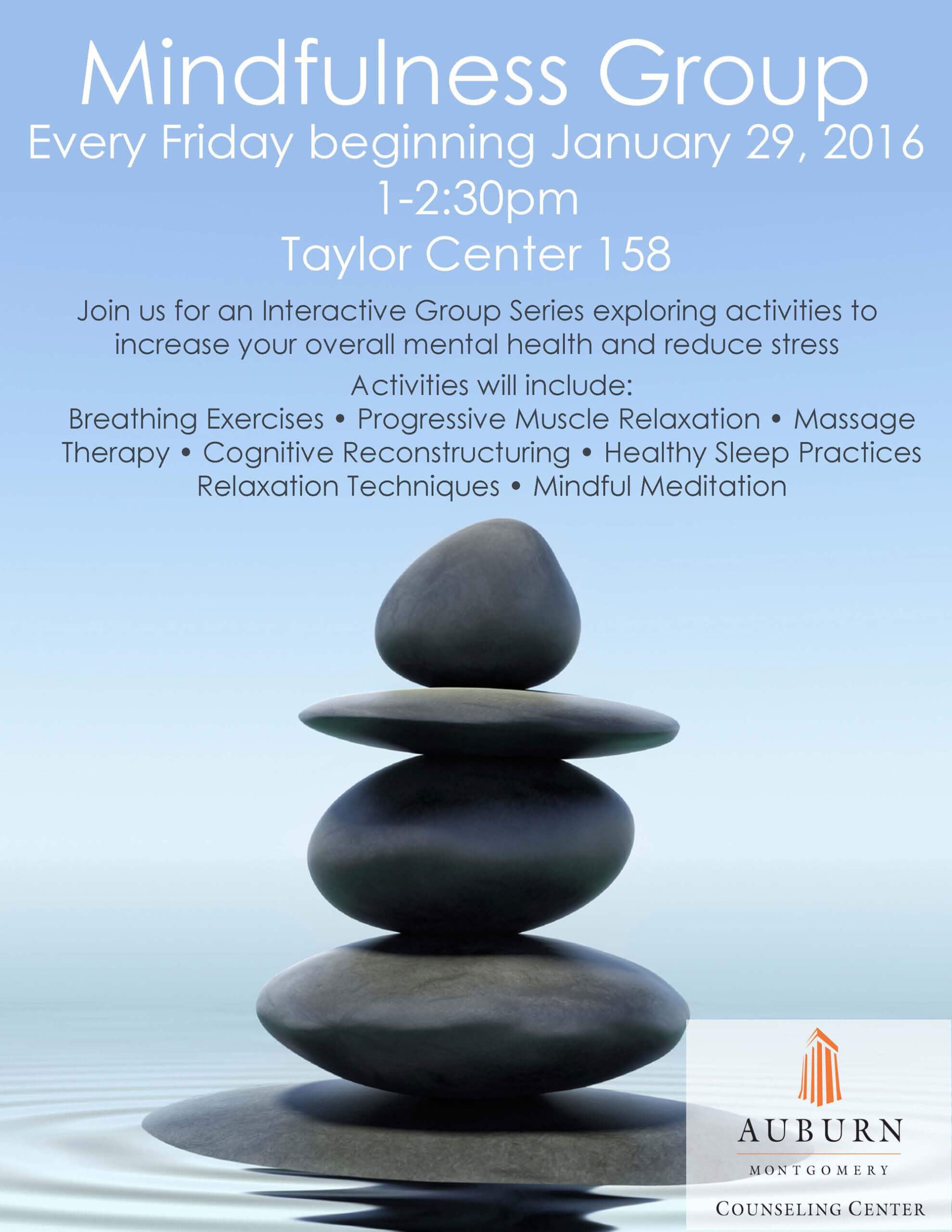 NAMI on Campus AUM offers support to those with coping with mental illness
NAMI on Campus AUM is a peer-led support group for students living with a mental illness as well as students who live with, care for, or love someone with mental illness. These group sessions will offer students the opportunity to engage with one another through support. This group is open to all students who would like to connect with and support other AUM students experiencing similar struggles.
Every Friday beginning Jan. 29 | 11 a.m.–12 p.m. | Taylor Center 158
CELT guest speaker from Canada to speak on introversion, extroversion; content in teaching and learning
Nicki Monahan, facilitator in faculty development at George Brown College in Toronto, Canada, will make two presentations to AUM faculty and staff on Friday, Jan. 29.
9:30–11 a.m. — "Understanding Temperament: Implications of Introversion and Extroversion for Teaching and Learning"
Susan Cain's New York Times bestseller Quiet: The Power of Introverts in a World that Can't Stop Talking reignited interest in Carl Jung's categorization of human temperament into two categories: extroverts and introverts. For educators, her work raises interesting questions about the experiences of students across the introversion/extroversion spectrum. In this keynote address, participants will gain insight into their own temperament and its potential effect on teaching styles, explore the impact of temperament on our students' responses to a range of learning activities, and learn strategies to ensure that while engaging students in learning, teachers remain mindful of their diverse needs.
1–2:30 p.m. — "Taming the Monster: Rethinking the Role of Content in Teaching and Learning"
With access to a world of information as close as our phones, it's easy to feel overwhelmed with all there is to teach. Whether it's new material emerging in the field or content from previous courses that students have yet to master, teachers struggle with what to cover in a course. Cutting, trimming, and wedging more into an already jam-packed syllabus lead to agonizing decisions. Perhaps it's time to rethink the role of content in teaching and learning.
This session will pose tough, pragmatic questions and explore potential answers. After participating in this seminar, participants will be able to identify critical problems created by the "content coverage" model of teaching, answer critical questions about content problems, analyze the role of content in learning from new perspectives, and implement strategies for effectively using content to enhance student learning.
Friday, Jan. 29 | Library Tower, 10th floor West | Visit the AUM training calendar in AUMnet to register.
Appreciation Night honors military, dependents with free dinner, basketball games
In appreciation of the service of military members, service members are invited to be guests Feb. 4 for dinner and a battle on the basketball court. All activities are free to military personnel and their dependents.
Attendees must pre-register. Military ID is required at check-in.
Thursday, Feb. 4 | Dinner: 5–8 p.m. | Women's game: 5:30 p.m. | Men's game: 7:30 p.m. | RSVP to [email protected] or 334-244-3804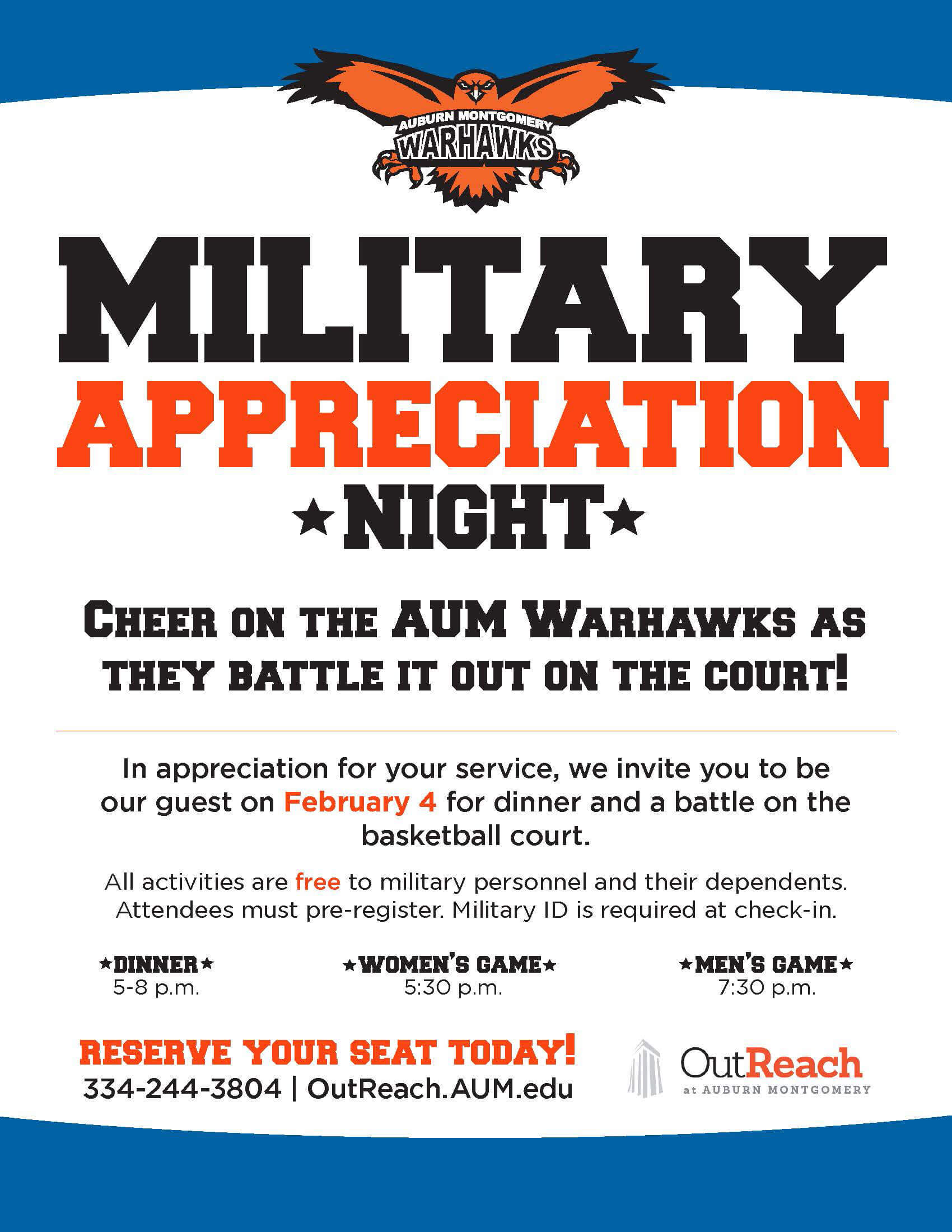 REMINDERS
Learning Center Tutoring Hours
*The first day of Spring Semester 2016 tutoring is Wednesday, Jan. 13*
Learning Center-WASC, 2nd floor Library Tower
Monday–Thursday | 9 a.m.–6 p.m.
Friday | 9 a.m.–12 p.m.
North Commons
Monday | 4–6 p.m.
Wednesday | 4–6 p.m.
ISL, 203 Goodwyn Hall
Monday–Thursday | 9 a.m.–9 p.m.
CELT offers January learning opportunities
The Center for Excellence in Learning and Teaching will offer a number of sessions this month. Read about each session in detail here.
Active Shooter Response Training – Brenda Mitchell, Chief, Campus Police
Wednesday | January 20 | 9:30–10:30 a.m. | Goodwyn Hall 109
Why "U" Should Teach UNIV — Amy Ingram, UNIV Program Manager
Wednesday | January 20 | 11 a.m. –12 p.m. | Library Tower, 10th floor East
Why "U" Should Teach UNIV — Amy Ingram, UNIV Program Manager
Thursday | January 21 | 12:30–1:30 p.m. | Library Tower, 10th floor West
Copyright and Fair Use for Online and Traditional Classes — Phill Johnson, Library
Thursday | January 21 | 5–6 p.m. | Library Tower, 10th floor West
Will This Be on the Test? The Pros and Cons of Study Guides — Jan Bulman, History; Chelsea Ward, Biology; and, Kim Pyszka, Sociology, Anthropology, and Geography
Friday | January 22 | 2:15–3:15 p.m. | Goodwyn Hall 109
Foreign Languages and Our Students — Pamela Long, History, World Languages and Cultures
Monday | January 25 | 11 a.m.–12 p.m. | Library Tower, 10th floor West
Faculty and Recruiting — Amanda Brasington, Admissions
Monday | January 25 | 12:30–1:30 p.m. | Library Tower, 10th floor West
Ethics of Advising and Advisor Expectations — Belinda Marable, Advisor Development Institute
Tuesday | January 26 | 12:30–1:30 p.m. | Library Tower, 10th floor West
Faculty and Recruiting — Amanda Brasington, Admissions
Tuesday | January 26 | 2:15–3:15 p.m. | Library Tower, 10th floor West
AUM Connected: Watch "The Painted Veil"
AUM Connected will be hosting a screening of The Painted Veil, a 2006 film starring Ed Norton as a British doctor and Naomi Watts as his wife, fighting a cholera epidemic in a 1920's Chinese village. Free pizza and drinks for those who stay for the movie.
Don't forget to bring your Warhawk ID to sign in and AUM Connected Common Reading Program Events checklist (pictured to the right).
Friday | January 22 | 11 a.m.–1 p.m. | Goodwyn Hall 109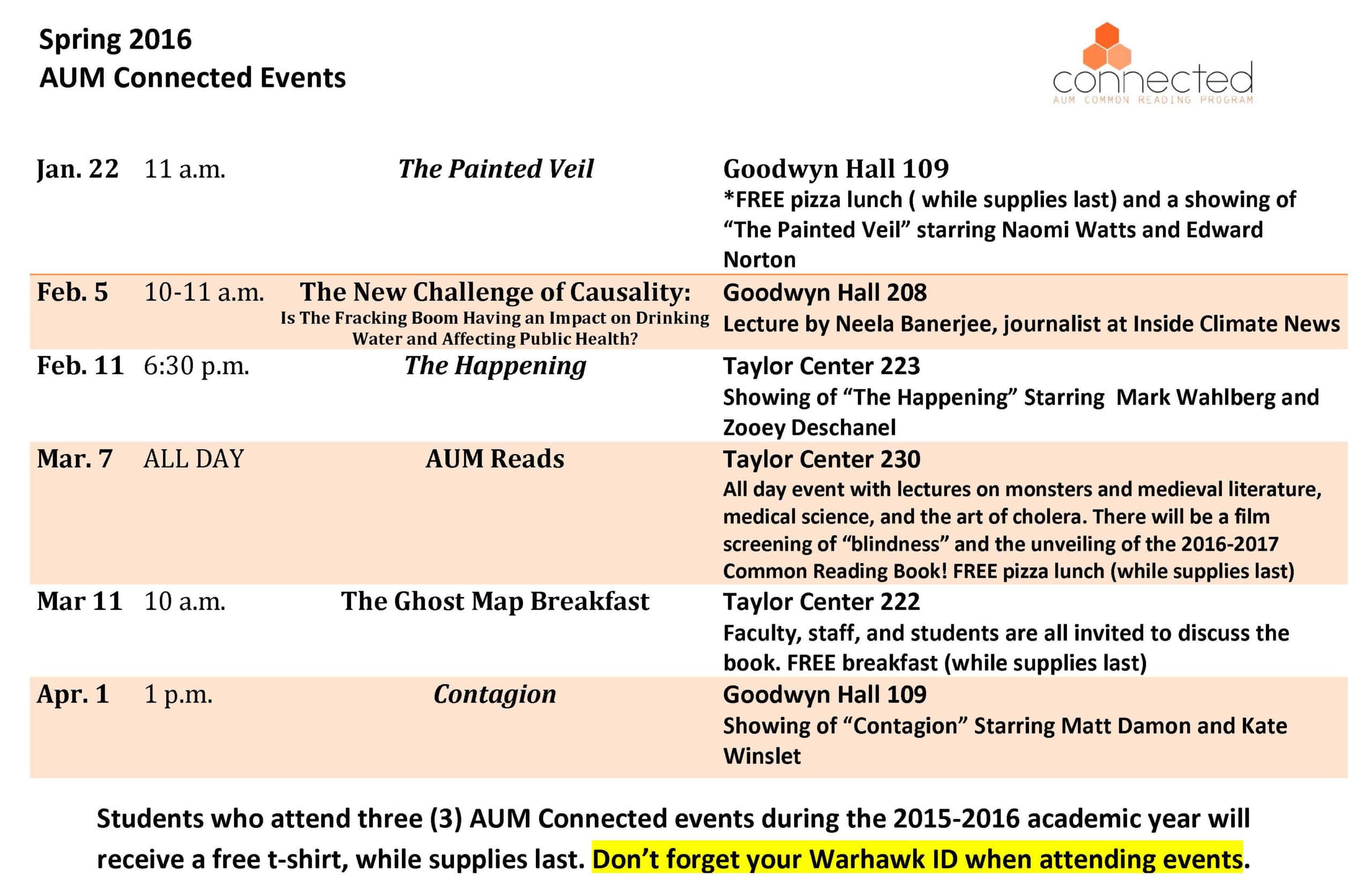 Political Film Series features semester of films
The Political Film Series, sponsored by the College of Public Policy & Justice, is featuring another semester of exciting films.
On Jan. 25 (7 p.m., Goodwyn Hall 112), the 1985 award-winning movie The Official Story, one of the first Argentinian films focusing on the country's "dirty war" of the 1970s, will be introduced by Dr. Tim Henderson.
For Black History Month, Fruitvale Station (2013), a dramatization of Oscar Grant's tragic death by a police officer in the Bay Area, will screen on Feb. 17 (7 p.m., Goodwyn Hall 112) following an introduction by Dr. Annice Yarber-Allen.
The International Women's Day feature on March 8 (7 p.m., Library Tower, 10th floor West), introduced by Dr. Silvia Giagnoni, is Vanishing Borders (2014). The documentary tells the story of four immigrant women living in New York City.
The final film of the spring is dedicated to Earth Day. Plastic Paradise (2014) will take you on a journey to one of the most remote places on Earth, Midway Atoll, to uncover the truth behind the mystery of the Great Pacific Garbage Patch. Dr. Karen Stine will introduce the documentary, which starts at 7 p.m. in the Library Tower, 10th floor West.
The January, March and April screenings are co-sponsored by the College of Arts & Sciences. All films are free, open to the public, and made possible thanks to a grant from the Ida Belle Young Special Projects Fund.
For more information, contact Dr. Pia Knigge at [email protected] or 334-244-3834.
Homecoming Week starts February 1
Mark your calendars for Homecoming Week 2016, which take place February 1-6, 2016. To view the full list of Homecoming Week events, see the Homecoming page.
Alumni Homecoming Celebration
Dress casually and enjoy refreshments, heavy hors d'oeuvres and a fireworks display! Admission is free.
To RSVP or for more information, contact the Office of Advancement at 334-244-3369 or [email protected].
Friday | February 5 | 6:30 p.m.–9 p.m. | 10th Floor Library Tower | Faculty, staff, and alumni and their guests are welcome.
Baxley, Jones to speak about experiences gaining convictions in church bombing
Former Lt. Governor Bill Baxley and attorney Doug Jones will discuss their two separate experiences reopening and winning convictions in the 1963 bombing of the 16th Street Baptist Church case in Birmingham, Ala. Baxley and Jones will use this structured forum to explore the racial climate in Alabama during the time when the bombing happened, and they will discuss highlights of their own struggles to gain the convictions.
Thursday | Feb. 11 | 2:30 p.m. | Library Tower, 10th floor East | Reception will follow
Chinese New Year celebration set for Feb. 7
The AUM Confucius Institute is partnering with the Central Alabama Association of Chinese (CAAC) to host AUM's Chinese New Year celebration on Feb. 7. Performances will be followed by dinner. This year, the celebration will include performances such as professional folk dance, lion dance, and Chinese acrobats. Participants will also enjoy and appreciate Chinese Kung Fu, traditional musical instrument, and K-pop dance.
Sunday | Feb. 7 | 2:30 p.m. | Alcazar Shrine Temple, 555 Eastern Boulevard, Montgomery, AL 36117
Admission: Non-CAAC member: $12; CAAC member: $8; Students with ID: $8; Children ages 3 to 10: $5; Children under 3: free.
Please RSVP by Jan. 26, 2016 to [email protected] or 334-244-3624 for registration and ticket information.
College of Arts and Sciences Lecture Series
The Department of Biology's Pete Haddix will give a lecture, "Red pigment function in the bacterium Serratia marcescens," on Feb. 11.
Thursday | Feb. 11 | 7:30 p.m. | Library Tower, 10th floor West
Scale Back Alabama at Wellness Center encourages employees in teams to cut 10 pounds
The Wellness Center will be a private weigh-in site for Scale Back Alabama, so grab a teammate and sign up now!
Kickoff is January 25, and the program will continue for 10 weeks through April 17. All full-time employees are encouraged to sign up at www.scalebackalabama.com.
Free access to the Wellness Center will be granted for two weeks. There is a required minimum of 3 visits per week to the Wellness Center in order to gain 3 additional weeks of free access.
The Alabama Department of Public Health will award prizes to all participants. Also, full-time employees of AUM who participate through the Wellness Center will be eligible for a free, one-year membership to the Wellness Center. Eligibility requires that both teammates lose at least 10 pounds each during the 10-week program.
For information, visit www.scalebackalabama.com or contact Wendy Franklin at 244-3029 or [email protected].
See who you know in Campus Life
AUM's Campus Life page is frequently updated to show photographs of people, events and life around campus. See who you know — or see yourself — in the Campus Life photo album and in this month's photo slideshow.
OTHER EVENTS