AUM Weekly 1-26-16: Norvell, Benton present at conference; Hard earns association award
AUM Weekly 1-26-16: Norvell, Benton present at conference; Hard earns association award
by Nicolette Parrish | Jan 26, 2016
Norvell, Benton present on purpose of play at Alabama First Pre-K Conference
Dr. Barbie Norvell, director of the AUM Early Learning Center, and Sierra Benton, ELC curriculum coordinator, recently presented on "The Purpose of Play: Deconstructing the Role of Play in Preschool Classrooms" at the Alabama First Class Pre-K Conference, Jan. 4–6, in Mobile, Ala.
More than 1,800 early childhood educators and researchers from Alabama and beyond attended the conference, hosted by the Alabama Office of School Readiness and the Alabama Department of Early Childhood Education.
Hard earns Distinguished Service Award
Dr. Paul Hard, an associate professor in the AUM Counselor Education Program, recently earned a Distinguished Service Award from the American Association of State Counseling Boards (AASCB) at the group's annual meeting in Tampa, Fla. Hard was recognized for his service to the counseling profession in the areas of regulation, reciprocity, client advocacy, and marriage equality.
AASCB is the alliance of governmental agencies responsible for the licensure and certification of counselors throughout the United States, and Hard is a past member of the AASCB executive committee.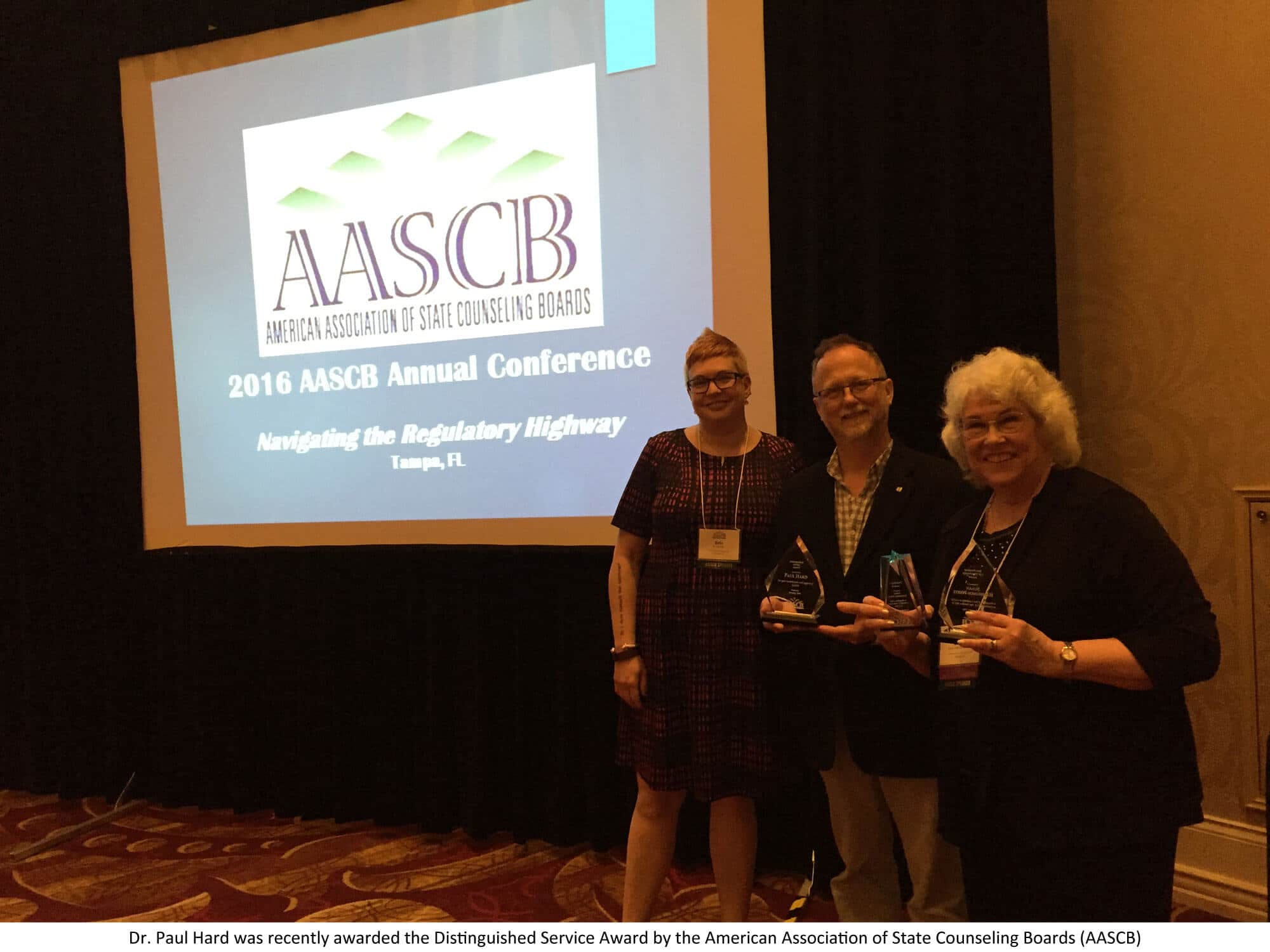 Shao publishes article in journal 'Risk Analysis'
Dr. Wanyun Shao, assistant professor of Geography in the Department of Sociology, Anthropology, and Geography, recently published an article in Risk Analysis, the official journal of the Society for Risk Analysis.
In the paper, Shao and her co-author at Texas A&M examine how objective weather conditions affect perceptions of local climate shifts and how these perceptions drive attitudes toward climate change among coastal residents in the U.S. Gulf Coast.
Weekly LGBTQ support group starts Feb. 11
The Counseling Center is offering a weekly support group, 'Open Room," for students concerning gender identity and sexual orientation.
This group is open to all, however, participants must agree to maintain members confidentiality and attend regularly.
This group will meet from 12–1 p.m. every Thursday from Feb. 11 until April 21 and will meet in Taylor Center, Room 158.
The AUM Counseling Center (AUMCC) is a safe space for anyone who identifies as lesbian, gay, bisexual, transgender, queer, or anyone who is exploring their own sexual orientation or gender identity.
Thursday, 12–1 p.m. | Feb. 11–April 21 | Taylor Center 158
'AUMnibus' seeks submissions for article contest
Do you have an interesting story or important cause to share? Make your voice heard with the AUMnibus, AUM's student newspaper! There are no limits to what subjects we want to see, so send us something attention grabbing.
The winning article will be published on the front page of the March issue.
Deadline: Monday, Feb. 15 | Minimum length: 350 words. | Send submissions to [email protected].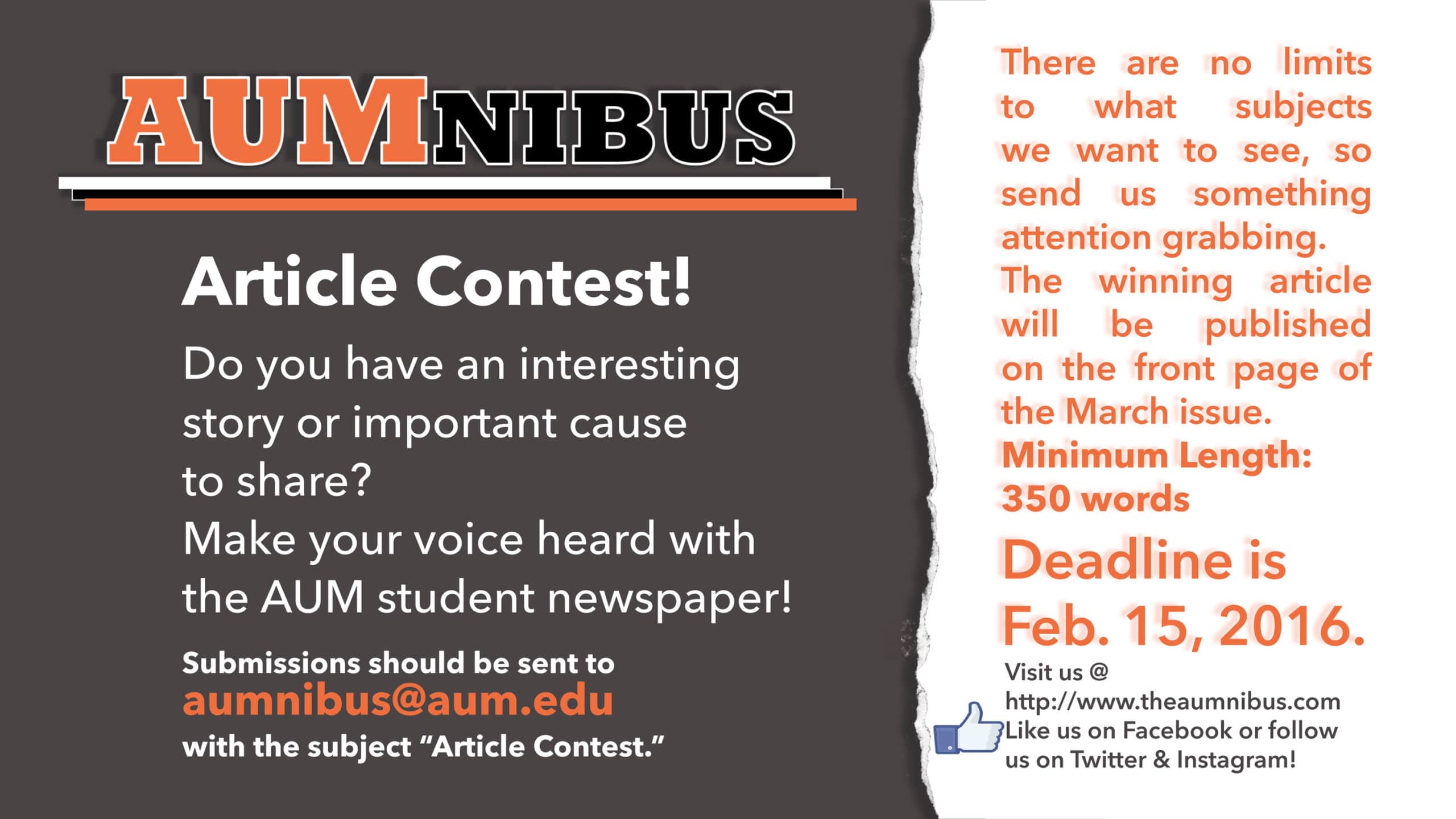 Students: Travel the world this summer with Study Abroad
Did you know you can study in other countries this summer and earn AUM credits at the same time — with up to $1,500 in scholarship assistance?
Choose a country below and contact Study Abroad at 244-3544 for more information.
Manabi, Ecuador
Mexico City, Mexico
Shiga, Japan
Ulsan, South Korea
Lincoln, United Kingdom
Kandy, Sri Lanka
AUM Student Affairs welcomes DeLisa Washington, Brac Brady
AUM Student Affairs recently gained two new team members.
DeLisa Washington
DeLisa Washington joined the AUM community in September 2015 as the Assistant Director of Student Involvement and Leadership Programs. In her current role, Washington oversees multiple student groups, including the Student Government Association, Fraternity & Sorority Life, and the Campus Activities Board.
Prior to joining AUM, Washington worked as a residential coordinator at Salem College in Winston Salem, N.C. Washington earned her B.S. in Psychology from the University of North Carolina at Charlotte and her M.Ed. with a concentration in School Counseling (K–12) from Liberty University.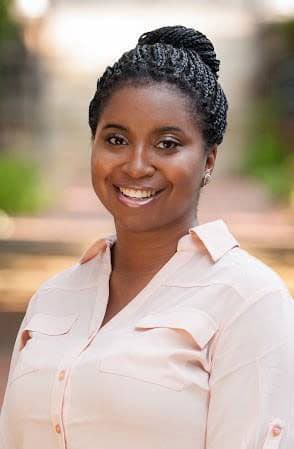 Brac Brady
Also coming aboard in AUM Student Affairs is Brac Brady, who began as the Intramural and Club Sports Coordinator in Fall 2015. Brady brings a wealth of experience working in athletics and running sport camps, programs and leagues to the Intramural Program.
Prior to joining AUM, Brady worked at the University of Maine at Machias where he served as head men's basketball coach and as an instructor in the UMM's Sports Management Program. Brady returned to Machias in 2013 after one season at Tennessee Temple University, where he served as Head Men's Basketball Coach and Assistant Athletic Director.
During his one season at Temple, the Crusaders won the Mid-East Region Championship and finished in seventh place at the National Christian College Athletic Association National Tournament with a final 23–13 mark. Brady was named the Mid-East Region 2012–13 Coach of the Year.
Brady earned his B.S. in Physical Education and Secondary Education from Palm Beach Atlantic College and received his M.Ed. in Physical Education and Teacher Education from Florida State University.
Continuing Merit, Student Involvement scholarships available to AUM students
Students are encouraged to apply for two AUM scholarships.
The 2016-17 Continuing Merit Scholarship application is now available, and any currently enrolled student who has completed 12 undergraduate or 9 graduate hours may apply. The application will be available on the homepage of MyAUM until March 1.
Also, the 2016-17 Student Involvement Scholarship, sponsored by the AUM Student Government Association, is now available. Any currently enrolled undergraduate student who has completed a minimum of 12 hours may apply. Also, students must have a 2.5 institution GPA and demonstrate involvement and dedication to AUM's campus community. This scholarship totals $500 for the academic year, and paper applications are available in the Scholarships Office (located in the Admissions Office in Taylor Center) or the Student Involvement and Leadership Office (located in Warhawk Alley) until March 1.
Contact Kate Bartlett at 334-244-3615 or [email protected]
Counseling Center launches Selfie Campaign to consider relationship between social media, self-esteem
The Counseling Center invites students to take part in its Selfie Campaign to explore the relationship between social media and self-esteem. For instance, what does your selfie say about you?
Students are invited to take a selfie at the Counseling Center's selfie station, post it on the center's Instagram page along with the hashtags #ExpressYourSelfie and #Whatsthemessage, and write a phrase or word that describes their selfie!
Wednesday, Jan. 27 | 11 a.m.–1 p.m. | Across from the AUMazing Bean in the Taylor Center
Appreciation Night honors military, dependents with free dinner, basketball games
In appreciation of the service of military members, service members are invited to be guests Feb. 4 for dinner and a battle on the basketball court. All activities are free to military personnel and their dependents.
Attendees must pre-register. Military ID is required at check-in.
Thursday, Feb. 4 | Dinner: 5–8 p.m. | Women's game: 5:30 p.m. | Men's game: 7:30 p.m. | RSVP to [email protected] or 334-244-3804
Outreach Business Breakfast features Aric Bostick, author of FIRED UP! Employees
Aric Bostick, motivational speaker, success trainer, and author of FIRED UP! Employees, will speak Feb. 16 at AUM Outreach's Business Breakfast.
Bostick has spoken to more than a half million people in nearly every industry, helping leaders and employees to get "Fired Up!" Using his high-energy performance and style, Bostick passionately infuses real-world skills and motivation into the workplace.
The motivational speaker also has overcome hardships and setbacks that help him connect with audience members, their struggles and each person's life ambitions. His philosophy is that "the way to stay motivated is to create a vision for our lives as difference makers." In fact, Bostick exemplifies one of his favorite quotes from Joan of Arc: "I am not afraid. I was born to do this!"
Tuesday, Feb. 16 | 7:30 a.m. | Marriott Legends at Capitol Hill in Prattville | Tickets (individual or table) or series sponsorship information: 334-244-3804.
CELT offers January learning opportunities
The Center for Excellence in Learning and Teaching is offering two sessions today.
Ethics of Advising and Advisor Expectations — Belinda Marable, Advisor Development Institute
12:30–1:30 p.m. | Library Tower, 10th floor West
Faculty and Recruiting — Amanda Brasington, Admissions
2:15–3:15 p.m. | Library Tower, 10th floor West
Mindfulness group counseling available throughout semester
Join us for an interactive group counseling series through the semester. We will be exploring activities to increase mindfulness, your overall mental health, and reduce stress.
Activities include:
Breathing exercises
Mindful meditation
Mindful eating
Progressive muscle relaxation
Healthy sleeping practices
Relaxation techniques
Cognitive reconstruction
Every Friday beginning Jan. 29 | 1–2:30 p.m. | Taylor Center 158
NAMI on Campus AUM offers support to those with coping with mental illness
NAMI on Campus AUM is a peer-led support group for students living with a mental illness as well as students who live with, care for, or love someone with mental illness. These group sessions will offer students the opportunity to engage with one another through support. This group is open to all students who would like to connect with and support other AUM students experiencing similar struggles.
Friday | Jan. 29 | 11 a.m.–12 p.m. | Taylor Center 158
CELT guest speaker to discuss introversion, extroversion; content in teaching and learning
Nicki Monahan, facilitator in faculty development at George Brown College in Toronto, Canada, will make two presentations to AUM faculty and staff on Friday, Jan. 29.
9:30–11 a.m. — "Understanding Temperament: Implications of Introversion and Extroversion for Teaching and Learning"
In this keynote address, participants will gain insight into their own temperament and its potential effect on teaching styles, explore the impact of temperament on our students' responses to a range of learning activities, and learn strategies to ensure that while engaging students in learning, teachers remain mindful of their diverse needs.
1–2:30 p.m. — "Taming the Monster: Rethinking the Role of Content in Teaching and Learning"
This session will pose tough, pragmatic questions and explore potential answers. After participating in this seminar, participants will be able to identify critical problems created by the "content coverage" model of teaching, answer critical questions about content problems, analyze the role of content in learning from new perspectives, and implement strategies for effectively using content to enhance student learning.
Friday, Jan. 29 | Library Tower, 10th floor West | Visit the AUM training calendar in AUMnet to register.
Exhibition at Gallery 213 features student and faculty work
AUM's Department of Fine Arts is pleased to announce a group exhibition that features student and faculty work. The exhibition runs through Jan. 29 at Gallery 213, located in Montgomery at 213B Commerce St.
Gallery 213 is open Monday–Friday, 10 a.m.–3 p.m. 
Learning Center Tutoring Hours
*The first day of Spring Semester 2016 tutoring is Wednesday, Jan. 13*
Learning Center-WASC, 2nd floor Library Tower
Monday–Thursday | 9 a.m.–6 p.m.
Friday | 9 a.m.–12 p.m.
North Commons
Monday | 4–6 p.m.
Wednesday | 4–6 p.m.
ISL, 203 Goodwyn Hall
Monday–Thursday | 9 a.m.–9 p.m.
AUM launches Student Alumni Association
The AUM Student Alumni Association aims to generate pride and advance the traditions of Auburn University at Montgomery while fostering loyalty, commitment, lifelong relationships, involvement and communication among students and alumni.
Membership is open to all students. For information, contact Valerie Rankin at 334-244-3557 or [email protected].
Political Film Series features semester of films
The Political Film Series, sponsored by the College of Public Policy & Justice, is featuring another semester of exciting films.
For Black History Month, Fruitvale Station (2013), a dramatization of Oscar Grant's tragic death by a police officer in the Bay Area, will screen on Feb. 17 (7 p.m., Goodwyn Hall 112) following an introduction by Dr. Annice Yarber-Allen.
The International Women's Day feature on March 8 (7 p.m., Library Tower, 10th floor West), introduced by Dr. Silvia Giagnoni, is Vanishing Borders (2014). The documentary tells the story of four immigrant women living in New York City.
The final film of the spring is dedicated to Earth Day. Plastic Paradise (2014) will take you on a journey to Midway Atoll, one of the most remote places on Earth, to reveal the mystery of the Great Pacific Garbage Patch. Dr. Karen Stine will introduce the documentary, which will be shown on April 21 (7 p.m., Library Tower, 10th floor West).
The January, March and April screenings are co-sponsored by the College of Arts & Sciences. All films are free, open to the public, and made possible thanks to a grant from the Ida Belle Young Special Projects Fund.
For information, contact Dr. Pia Knigge at [email protected] or 334-244-3834.
Homecoming Week starts February 1
Mark your calendars for Homecoming Week 2016, which takes place February 1–6. To view the full list of Homecoming Week events, see the Homecoming page.
Alumni Homecoming Celebration
Dress casually and enjoy refreshments, heavy hors d'oeuvres and a fireworks display! Admission is free.
To RSVP or for information, contact the Office of Advancement at 334-244-3369 or [email protected].
Friday, Feb. 5 | 6:30 p.m.–9 p.m. | 10th Floor Library Tower | Faculty, staff, and alumni and their guests are welcome.
Chinese New Year celebration set for Feb. 7
The AUM Confucius Institute is partnering with the Central Alabama Association of Chinese (CAAC) to host AUM's Chinese New Year celebration on Feb. 7. Performances will be followed by dinner. This year, the celebration will include performances such as professional folk dance, lion dance, and Chinese acrobats. Participants will also enjoy and appreciate Chinese Kung Fu, traditional musical instrument, and K-pop dance.
Sunday, Feb. 7 | 2:30 p.m. | Alcazar Shrine Temple, 555 Eastern Boulevard, Montgomery, AL 36117 
Admission: Non-CAAC member, $12; CAAC member, $8; students with ID, $8; children ages 3 to 10, $5; children under 3, free.
RSVP today to [email protected] or 334-244-3624 for registration and ticket information. Today is the final day to register.
College of Arts and Sciences Lecture Series
The Department of Biology's Pete Haddix will give a lecture, "Red pigment function in the bacterium Serratia marcescens," on Feb. 11.
Thursday, Feb. 11 | 7:30 p.m. | Library Tower, 10th floor West
See who you know in Campus Life
AUM's Campus Life page is frequently updated to show photographs of people, events and life around campus. See who you know — or see yourself — in the Campus Life photo album and in this month's photo slideshow.
OTHER EVENTS