#WhyWeLearn: Honors students explore diversity
Nicolette Parrish | Auburn University at Montgomery | May 9, 2017
Learning at AUM provides students with opportunities to explore the world around them and to embrace its diversity. With this objective in mind, eight AUM University Honors Program students and Dr. Matthew Jordan, Honors Program director, recently attended the annual conference of the Southern Regional Honors Council (SRHC) in Asheville, N.C.
Alexis Carr, Tara Crowe, Maeghan DePace, Andrew Goggans, Brennan Herring, Linda Lewis, Elizabeth Meads and Rachel Pate took part in the conference, themed "Diving into Diversity: Opportunities and Obligations in Honors Education."
Attendees were encouraged to consider the obligations students have as informed citizens and engaged leaders, and they were asked to think of ways in which education — especially honors education — can foster diversity, equity and inclusion in society.
The AUM students listened to guest speakers, including Jordan, met other honors students from around the Southeast, and explored the uniqueness of Asheville.
Jordan's lecture, "Disagreement and Inclusivity in Honors Education," addressed how honors programs should approach controversial issues in the classroom, especially issues that are closely tied to a persons' sense of identity.
"We need to be willing to accommodate every viewpoint, even very controversial ones, as long as the expression of that viewpoint is compatible with respecting all other members of the class as one's peers in the pursuit of knowledge and wisdom," Jordan said.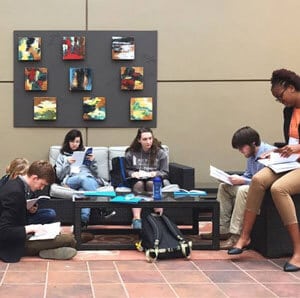 One conference highlight was the "City as Text" activity. City as Text encourages structured exploration and critical inquiry of urban environments. In Asheville, the activity allowed participants to experience the conference theme by immersing themselves in the city's diversity.
"My favorite part of the trip was the 'City as Text' tour," said Carr. "Being able to freely walk around the town introduced us to so many wonderful and unique establishments that we would not have been able to see on our own."
Students like Meads discovered neighborhoods that reflect the community's rich past and equally rich — and sometimes surprising — present while enjoying the surrounding mountains and natural beauty of the region.
"My biggest takeaway from this conference was that as honors students, we should strive to be in a learning community where all knowledge is welcome," Meads said. "The biggest lesson I learned is to always be prepared to deal with obstacles and adversity. Always be quick on your feet."
The Southern Regional Honors Council, part of the National Collegiate Honors Council and comprised of 105 member institutions, promotes and advances Honors programs and colleges in the southeastern United States.
For more information on this conference or the AUM University Honors Program, email [email protected] or call 334-244-3357.
(Editor's note: The #WhyWeLearn series focuses on the lives that students build at AUM.)