Warhawk Weekly 5–9: Honors students explore diversity; Simmons essay at press
Warhawk Weekly 5–9: Honors students explore diversity; Simmons essay at press
#WhyWeLearn
Honors students explore diversity
Learning at AUM provides students with opportunities to explore the world around them and to embrace its diversity. With this objective in mind, eight AUM University Honors Program students and Dr. Matthew Jordan, Honors Program director, recently attended the annual conference of the Southern Regional Honors Council (SRHC) in Asheville, N.C.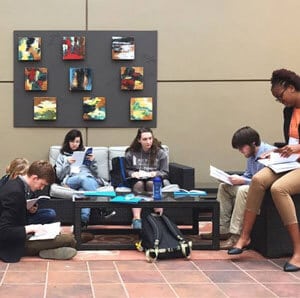 Simmons' essays at the press in Leiden, the Netherlands
Seven essays written by the Most Reverend Dr. Michael Bland Simmons, distinguished research professor in the Department of History, World Languages & Cultures, have gone through the final editorial process and will be published later this year in the multi-volume Brill Encyclopedia of Early Christianity, Brill Academic Press, Leiden, the Netherlands; and Boston, Massachusetts. Many prestigious scholars from around the world including the United States, Canada, Europe, Africa, Asia and Latin America have contributed to the encyclopedia, which offers new and innovative scholarship on a vast range of subjects.
The General Editors include Dame Averil Cameron, Keeble College, University of Oxford, UK; Paul van Geest, Professor of Augustinian Studies at the Theological Faculty of Vrije Universiteit, Amsterdam and at the Faculty of Catholic Theology of Tilburg University; and Bert Jan Lietaert Peerbolte, Professor of New Testament, Theological Faculty of Vrije Universiteit, Amsterdam. The seven essays by Simmons are Arnobius of Sicca; Diocletian, Roman Emperor; Porphyry of Tyre; Caesar Augustus, Roman Emperor; Julian the Apostate, Roman Emperor; Philosophical Opposition to Early Christianity; and Persecutions of the Christians by the Roman Empire (A.D. 64-324).
Summer 2017 dining hours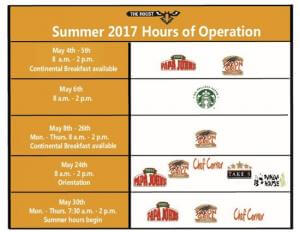 AUM-SPLC community involvement
Earlier this semester the AUM-SPLC on Campus Club sponsored a free tour of the SPLC Civil Rights Memorial Center downtown Montgomery. The Center is located just around the corner from the church where Dr. Martin Luther King, Jr. served as a pastor during the bus boycotts. Participants toured the exhibit about Civil Rights Movement martyrs, watched a documentary about the history of the Civil Rights Movement and added their names to the Wall of Tolerance, before visiting the outdoor memorial designed by Maya Lin.
During the same week, Dr. Pia Knigge, faculty advisor of AUM-SPLC on Campus Club, and Dr. Yulanda Tyre, associate dean of students, completed the Campus Bystander Intervention Trainer workshop sponsored by SPLC on Campus. There they also had the opportunity to connect with representatives from other SPLC on Campus Clubs in Alabama.
For the 2017 fall semester, Tyre and Knigge intend to schedule a workshop for AUM students who want to learn more about intervention strategies when encountering harassment motivated by racial, ethnic or religious prejudice, homophobia, and sexism.
For more information on AUM's SPLC on Campus Club, please contact Dr. Pia Knigge at [email protected] or visit the club's Facebook page.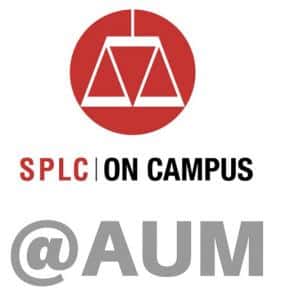 Happenings in the AUM library
It's been a busy spring semester in the library!
Cataloging Librarian Amanda Scott was awarded tenure and a promotion to Librarian II in March.
Library Dean Phill Johnson, Head of Public Services Jessica Hayes and Teaching & Outreach Librarian Samantha McNeilly recently had a book chapter accepted for publication. Their chapter "Getting Things to POP: How Collaboration, Umbrellas, and Popcorn Machines Changed the Relevancy of the Auburn University Montgomery Library" will be featured in Expanding Library Relevancy: Innovation to Meet Changing Needs to be published by McFarland and edited by Vera Gubnitskaia and Carol Smallwood.
On April 18–21, the Alabama Library Association (ALLA) held their statewide 2017 Convention here in Montgomery at the Renaissance Hotel & Spa. Four librarians from the AUM Library played key roles in organizing and planning the four-day event. Jessica Hayes, head of public services, served as the 2017 Convention Planning Chair, and Teaching & Outreach Librarian Samantha McNeilly served as Convention Vice Chair, Volunteer Coordinator, and Convention Hospitality Sub-Committee Co-Chair. Tim Bailey, head of library technology & systems, was instrumental as Convention Hospitality Sub-Committee Co-Chair in organizing banquet and catering services during the myriad of events during the convention. Library Dean Phill Johnson organized on-site registration and addressed the various issues that arose during the convention. Librarians Rickey Best and Karen Williams served as volunteers during the convention as well.  Thanks in part to the tireless work of Auburn University Montgomery librarians, the Alabama Library Association held one of its best conventions in recent history.
Women Lead Society program, induction
The AUM Women Lead Society held its year-end program and new member induction on April 7, 2017. The program highlighted the successful year of providing mentorship and leadership to the inaugural cohort of women students. Throughout the year, the young women were led through a series of skill building sessions, which included networking strategies, professional etiquette workshops, community engagement lectures and service learning projects. The culminating program showcased their skills via a presentation developed by the women, and Dr. Annice Yarber-Allen tasked the women to remain committed to developing and demonstrating leadership characteristics which include commitment, loyalty, integrity, passion, self-awareness, open-mindedness, persistence and accountability. Many family members of AWLS women were in attendance and were on the program where they addressed their loved ones significant growth in leadership and confidence.
Four new members were inducted: Chyna Woods, Biology; Princess Robinson, Biology/Pre-Health; Raven Tolbert, Entrepreneurship; and Tahissa Toussaint, Business.
The cohort will resume in the fall of 2017. Its focus remains on mentoring and growing women leaders through graduation. This project is committed to developing skills necessary for women students to successfully complete an undergraduate degree and compete in the job marketplace. AWLS connects the experience, expertise and resources to advance the common good in our AUM community while focusing efforts on the building blocks of a better academic and post-academic life. AWLS is dedicated to creating lasting change with measurable improvements for college women.
The AWLS steering committee includes Rhea Ingram, dean of the College of Business; Janice Lyn, vice chancellor for student affairs; C. Nichole Thompson, assistant vice chancellor for student affairs; Kimberly Johnson, associate dean for student engagement and success; Amanda Rodriguez, international student program manager; Megan Hughes, senior manager for marketing & communications; and Denise Davis-Maye, professor of sociology.
Inquiries regarding AWLS should be directed to C. Nichole Thompson, assistant vice chancellor for student affairs, at [email protected] or 334-244-3106.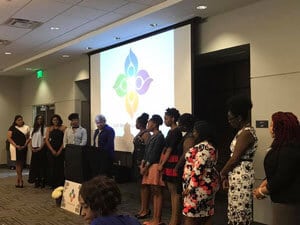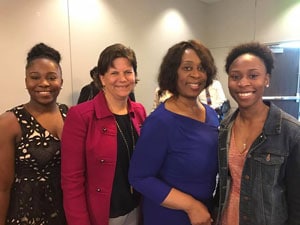 THAT Literary Review available
The second issue of THAT Literary Review, an AUM affiliated literary journal, is now available as a free PDF online. Print copies are also available at $10 per copy.
The journal is the work of AUM faculty Dr. Blake Gerard. Dr. Joyce Kelley, and Dr. Seth Reno – as well as Huntingdon College's Jim Hilgartner – with able editorial assistance by graduate students Kim Leifer, Deric Sallas and Matthew S. Shoemaker, and layout and web management by graphic design students Blake Atkins and Jennifer LyAnne Peacock.
Confront THAT, a whirlwind of poetry, prose, and visuals to entertain and amaze. Be prepared for the mysterious and the wonderful.
Tang publishes paper
Dr. Zongli Tang, professor in the department of sociology, anthropology and geography, has published a paper in the journal of China's Population Sciences. This paper analyzes the new trend of peasant workers to cities. Findings of this research have been widely reported by major Chinese media in the mainland and overseas, including People's Daily and Xingdao Daily. The Chinese government has paid high attentions to the issues and policy suggestions raised in this research.
Clubs and Orgs – Get Visibility
Each semester the Office of Orientation and Transitions puts on the Weeks of Welcome — better known as WOW. During these weeks, clubs and organizations have the opportunity to host an event on campus from sponsoring a business breakfast to putting on an activity for all of our Warhawks.
Weeks of Welcome will last throughout the first few weeks of the new semester. If you are interested in having an event at Fall 2017 WOW, please fill out the online application. Fall 2017 WOW events are due by July 1, 2017.
Additionally, this summer, the Club and Organization Fair will be held during WOW events rather than during Orientation and Transition sessions. The Club and Organization Fair will have two dates:
August 22 | 11:30 a.m.–1 p.m.
August 30 | 5:30 p.m.–7 p.m.