Warhawk Weekly 9–4: Kalu publishes new book; Russell quoted in article
Warhawk Weekly 9–4: Kalu publishes new book; Russell quoted in article
NEWS
Kalu publishes new book, article
Russell quoted in article
Pearson honored for contributions to theatre
AUM offers BTW use of facilities and resources
AUM, Organization for Tropical Studies partner to offer tropical study abroad to students worldwide
EVENTS
SPLC voter registration drive
Association of Latino American Students meeting
Mark Castro gives guest lecture
Dance Break Bingo
From Our Community to Yours: MANE
NEWS
Kalu publishes new book, article
Dr. Kalu N. Kalu, Distinguished Research Professor of Political Science & National Security Policy in the Department of Political Science & Public Administration, has published a new book and article.
His new book, Political Culture, Change, and Security Policy in Nigeria is available for purchase through Routledge, and his article, "The Impact of ICT-Diffusion on Government Effectiveness: What Role for Cultural Factors" was published in the International Journal of Organization Theory & Behavior, 2018.
Kalu also has an upcoming book that will be published through Rowman & Littlefield Publishers in 2019 titled A Functional Theory of Government, Law, and Institutions.
Russell quoted in article
Dr. Angela Russell, Assistant Professor in the Department of Kinesiology, was quoted in an article related to using body weight in exercise for adults over 50.
Russell was quoted saying that "body-weight exercises often mimic the multidimensional movements of daily activities, such as walking up stairs, shopping or gardening."
Pearson honored for contributions to theatre
Katie Pearson was chosen as the 2018 recipient for the Marian Gallaway Award for contributions to theatre in Alabama.
Pearson's valuable, statewide theatre contributions include inspiring leadership, dedicated service, and a wide range of creative contributions as an exceptionally talented artist, administrator, manager, actress, designer, technician, director, and playwright for multiple educational, community, and regional theatres.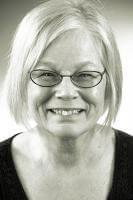 AUM, Organization for Tropical Studies partner to offer tropical study abroad to students worldwide
Auburn University at Montgomery and the Organization for Tropical Studies have officially partnered to provide students with semester-long study abroad programs in Costa Rica and South Africa. AUM will offer five programs in collaboration with OTS. AUM is well aligned with OTS's mission to use field-based education for undergraduate students to inspire and prepare the next generation of change agents, critical thinkers, scientists and practitioners on their paths to discovery and global leadership.
You can read more on the new partnership in the AUM Pressroom.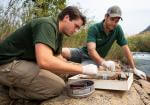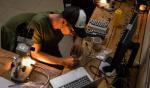 EVENTS
SPLC voter registration drive
The AUM-SPLC on Campus Club is hosting a voter registration drive. All students, faculty and staff are invited to register if they are (a) not currently registered, (b) registered but have not voted in the past two elections or (c) if they have changed their place of residence since the last election.
AUM-SPLC on Campus promotes tolerance of diversity on campus grounded in the belief that students can make a difference in securing equal justice and opportunity. The club is part of the nationwide SPLC on Campus Initiative, a non-profit organization built on our nation's legacy of student activism. SPLC on Campus challenges a wide array of intolerance including racism, sexism, and homophobia on college campuses and speaks out against sexual assault. SPLC on Campus confronts policies that advantage some at the expense of others.
AUM-SPLC on Campus is a student-led club but accepts AUM faculty and staff as ex-officio members. For more information, please email the faculty advisor, Dr. Pia Knigge, the club president, Felix Toussaint, or visit the club's Facebook page, AUM Chapter ­­­– SPLC on Campus.
Wed., Sep. 5 | Noon–1 p.m. | Goodwyn Hall Breezeway
Association of Latino American Students meeting
The Association of Latino American Students will be having their first fall semester meeting.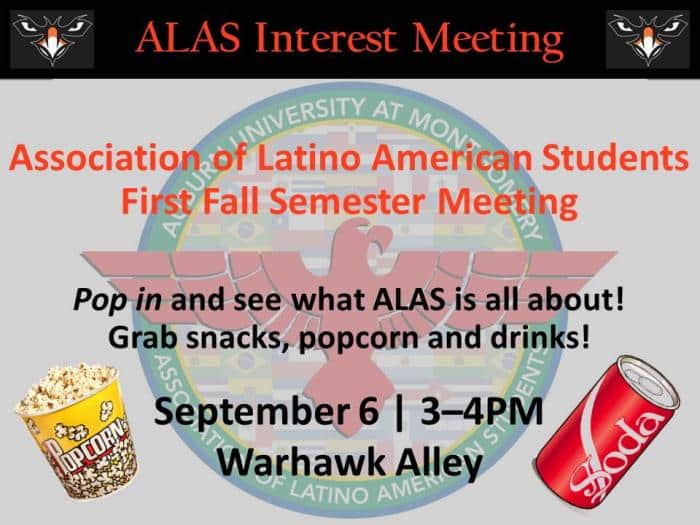 Thu., Sep. 6 | 3–4 p.m. | Warhawk Alley
Mark Castro gives guest lecture
Dr. Mark A. Castro, Independent Curator of Latin American Art, will be giving the lecture Inspired Invention: Compositional Strategies in Cristóbal de Villalpando's Antigua Series. The lecture examines a series of paintings depicting the life of St. Francis made around 1691 for a Franciscan Convent in Antigua, Guatemala by Mexican Baroque artist Cristóbal de Villalpondo.
Dr. Castro holds a Ph.D. in Art History from Bryn Mawr College and is an art historian who specializes in Spanish, Portuguese, and Latin American art. Most recently, as a Consulting Curator of Latin American art at the Philadelphia Museum of Art, Castro curated exhibitions on Spanish, Spanish Colonial, and Latin American art.
Thu., Sep. 6 | 6:30–7:30 p.m. | Library Tower, 10th floor West
Dance Break Bingo
The semester is officially underway, and you're probably ready to relax with friends! Dance Break Bingo is your opportunity to play Bingo, dance, and enjoy some late-summer sunshine!
Tue., Sep. 18| 7 p.m. | Lawn beside Plum Place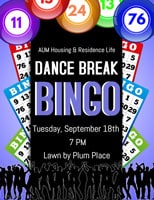 From Our Community to Yours: MANE
With semester in full swing, Housing and Residence Life is ready to fall back into serving the community!
Are you passionate about animals, children, or veterans? Then, please join Housing at the Montgomery Area Nontraditional Equestrians (MANE), which is a charity in the River Region that uses horses to provide therapy and healing for people with physical and mental disabilities.
Make sure to wear closed-toe shoes and clothes you don't mind getting dirty. Arrive promptly at 10:15 a.m.; the bus will depart at 10:30 a.m.
Fri., Sep. 28 | 10:30 a.m. | Meet in The Nest