Warhawk Weekly 6–12: Study Abroad proposals; Alumni Directory Project
Warhawk Weekly 6–12: Study Abroad proposals; Alumni Directory Project
NEWS
Faculty: Send in Study Abroad proposals
Alumni Association launches Alumni Directory Project
Enroll in Fall Payment Plans
Summer hours for Library, Warhawk Shop
EVENTS
From Our Community to Yours: Montgomery Food Bank
Alumni Night at ASF
NEWS
Faculty: Send in Study Abroad proposals
Do you want to turn your class into an unforgettable experience? Are you interested in creating and leading a Study Abroad course for spring or summer 2019?
Study Abroad is now accepting faculty-led program proposals for 2019! Faculty can find the 2019 Faculty-Led, Short-Term Study Abroad Handbook on AUM's Study Abroad website.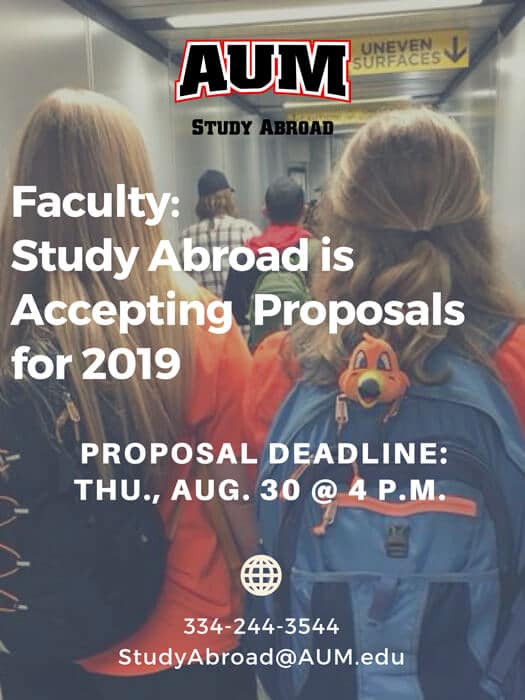 For more information, please email Yiyun (YY) Liu or call 334-244-3544.
Deadline: Thu., Aug. 30 by 4 p.m.
Alumni Association launches Alumni Directory Project
The AUM Alumni Association has partnered with Publishing Concepts (PCI) to publish a new, updated AUM alumni directory. PCI will communicate with alumni through postcards, emails and phone calls to verify and update contact information. The success of this project depends on alumni participation, and we encourage you to help make this new directory as complete and accurate as possible.
PCI is a trusted partner of the AUM Alumni Association. To verify and update your alumni record, please contact the PCI customer service desk at 1-866-561-5222. If you have other questions, please email the Office of Alumni Affairs or call 334-244-3557.
Enroll in Fall Payment Plans
There will be four payment plans available for the fall.
For more information, visit AUM Student Accounts online or call 334-244-3286.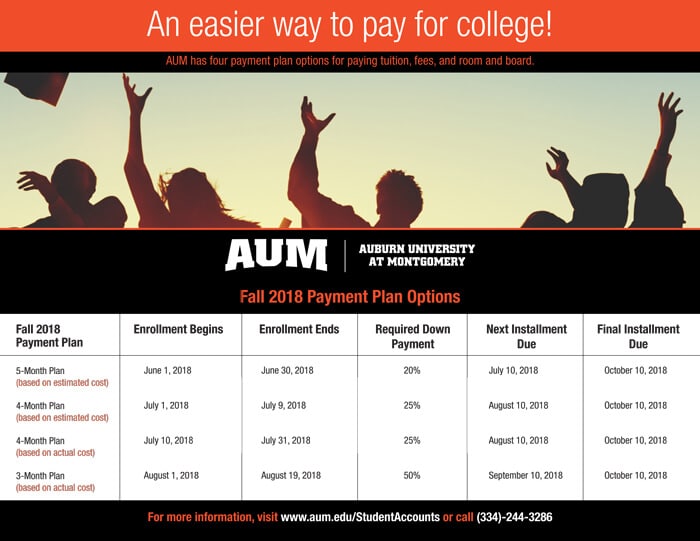 Summer hours for Library, Warhawk Shop
Library
Monday – Thursday | 7:30 a.m.–9:45 p.m.
Friday | 7:30 a.m.­–4:45 p.m.
Saturday | Noon–5:45 p.m.
Sunday | 1 p.m.–8:45 p.m.
Warhawk Shop
Monday – Friday | 7:45 a.m.–5 p.m.
Saturday – Sunday | Closed
EVENTS
From Our Community to Yours: Montgomery Food Bank
Summer is a great time to show some love to those in your community! Join Housing and Residence Life as they go to the Montgomery Food Bank and help those suffering from food instability in the River Region. Lunch and transportation is provided; sign up in the Housing office.
Fri., Jun. 15 | 9:30 a.m. | Meet in The Nest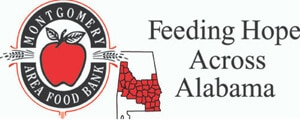 Alumni Night at ASF
Please join us for a night out featuring the Alabama Shakespeare Festival production of Annie. A limited number of tickets are available to AUM alumni and their guests.
No one can resist the optimism of Annie, a little orphan girl who refuses to give up hope. The delightful cast of this feel-good musical will get toes tapping with memorable song-and-dance numbers, such as "It's the Hard Knock Life," "Easy Street," and "Tomorrow."
You can reserve your tickets online, but please do so by June 21. If you have other questions, please email the Office of Alumni Affairs or call 334-244-3557.
Thu., Jul. 12 | 7:30 p.m. | Alabama Shakespeare Festival