Warhawk Weekly 6–19: Bio-Boot Camp; Send Study Abroad proposals
Warhawk Weekly 6–19: Bio-Boot Camp; Send Study Abroad proposals
NEWS
Bio-Boot Camp
Faculty: Send in Study Abroad proposals
Enroll in Fall Payment Plans
EVENTS
Alumni Night at ASF
From Our Community to Yours: Family Sunshine Center
Save the date: AUM Health & Wellness Fair
NEWS
Bio-Boot Camp
Biology and Environmental Science is hosting Bio-Boot Camp for all students to get ready to take BIOL 1010/1011.
The camp will be the week before fall classes begin (Aug. 13–17) from 9 a.m.–3 p.m. and lunch is provided. There is a $10 attendance fee, and students must sign up for the camp by registering for BIOL 0006 for fall term.
If you have any further questions or concerns, please email Chelsea Ward or call 334-244-3317.
Faculty: Send in Study Abroad proposals
Do you want to turn your class into an unforgettable experience? Are you interested in creating and leading a Study Abroad course for spring or summer 2019?
Study Abroad is now accepting faculty-led program proposals for 2019! Faculty can find the 2019 Faculty-Led, Short-Term Study Abroad Handbook on AUM's Study Abroad website.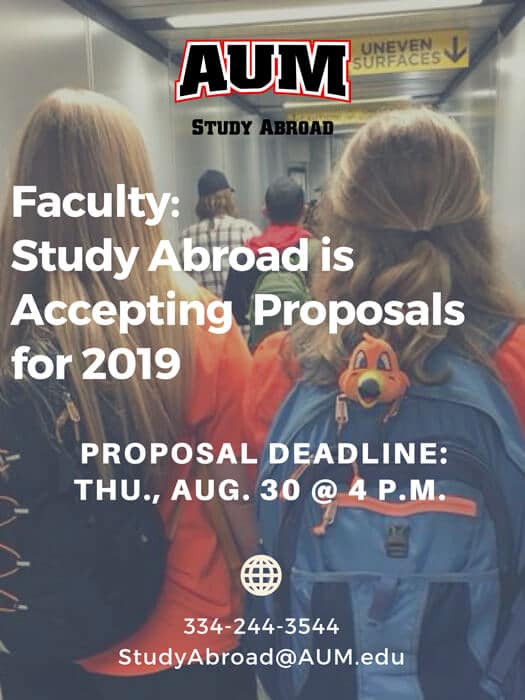 For more information, please email Yiyun (YY) Liu or call 334-244-3544.
Deadline: Thu., Aug. 30 by 4 p.m.
Enroll in Fall Payment Plans
There will be four payment plans available for the fall.
For more information, visit AUM Student Accounts online or call 334-244-3286.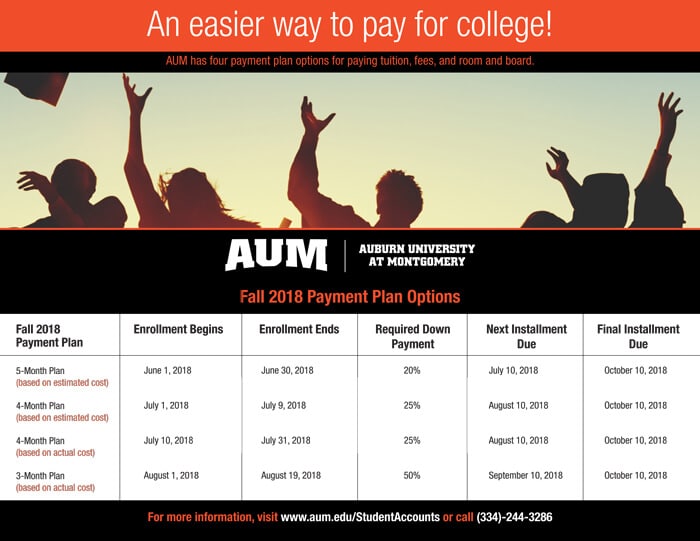 EVENTS
Alumni Night at ASF
Please join us for a night out featuring the Alabama Shakespeare Festival production of Annie. A limited number of tickets are available to AUM alumni and their guests.
No one can resist the optimism of Annie, a little orphan girl who refuses to give up hope. The delightful cast of this feel-good musical will get toes tapping with memorable song-and-dance numbers, such as "It's the Hard Knock Life," "Easy Street," and "Tomorrow."
You can reserve your tickets online, but please do so by June 21. If you have other questions, please email the Office of Alumni Affairs or call 334-244-3557.
Thu., Jul. 12 | 7:30 p.m. | Alabama Shakespeare Festival
From Our Community to Yours: Family Sunshine Center
Summer is in full swing, and Housing is ready to give back to the community! Join Housing and Residence Life for their community service effort with the Family Sunshine Center, a shelter for battered women and children in the River Region. Lunch and transportation is provided; sign up in the Housing office.
Fri., Jul. 13 | 9:30 a.m. | Meet in The Nest

Save the date: AUM Health & Wellness Fair
The Health & Wellness Fair, hosted by the Health Promotion Committee, is back for a second time! Last year's event was such a huge success that the event will be open to both students and employees this year. There will be several health and wellness focused businesses and organizations present to provide information on a spectrum of health-related issues, along with prizes and more! Mark your calendars; we'll see you there!
Thu., Oct. 18 | 11 a.m.­–1 p.m. | Taylor Center