Warhawk Weekly 5-14: AUM named a "Tree Campus"
Warhawk Weekly 5-14: AUM named a "Tree Campus"
NEWS
University earns Arbor Foundation recognition
Road, parking re-striping begins Wednesday
Congrats to new Army officers
THAT Literary Review now available online
AUM Athletics offers variety of sports camps
Sign up for AUM texts!
Filibuster has open jobs for students
Alumni Riverboat Cruise
Summer payment plans open for May and Summer
Summer ACT Test Prep
Regional Summer Academy –– STEM for high schoolers
Apply for Summer Graduation!
EVENTS
Undergraduate Student Orientation
Maymester classes end
NEWS
Arbor Day Foundation recognizes AUM
Auburn University at Montgomery has been recognized as a 2018 Tree Campus USA institution by the Arbor Day Foundation. Launched in 2008, the Tree Campus USA program honors colleges and universities nationally for their efforts to promote healthy trees and engage students, faculty and staff in conservation efforts. The Arbor Day Foundation determined that AUM meets five standards aligned with effective campus forest management, including the establishment of a tree advisory committee, a campus tree care plan, dedicated budget for a campus tree program, an Arbor Day observance and sponsorship of student service-learning projects. Read more.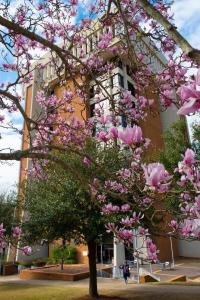 Roadway, parking re-striping begins May 15
Beginning Wed., May 15, students, employees and visitors to campus may experience minor traffic delays due to asphalt re-striping of campus roadways and parking lots. Alexander Sealcoating will begin re-striping centerlines and edge lines. Maintenance work will also take place around all crosswalks, stop bars and arrows. The areas marked in red on the accompanying map will be re-striped. All parking lots marked in red will need to remain empty of vehicles while re-striping takes place.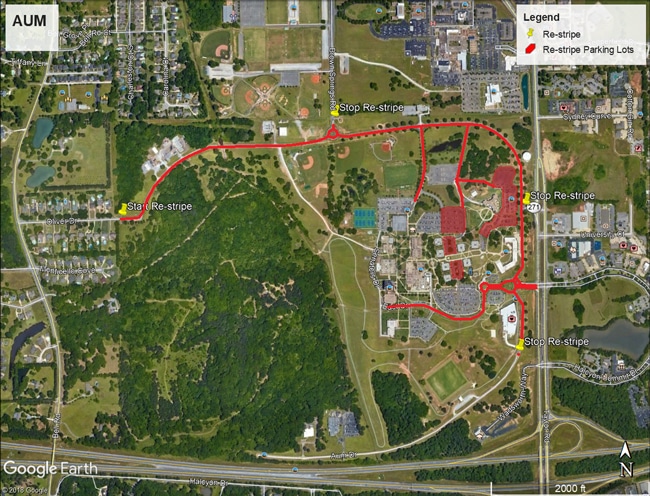 Congrats to new Army officers
AUM Army ROTC would like to introduce its newest Army Officers: 2nd Lieutenant Benjamin Barnett, 2nd Lieutenant Patrick Belcher, 2nd Lieutenant Brittany Butler, 2nd Lieutenant Chase Ingram, 2nd Lieutenant Locas Kindell, 2nd Lieutenant Justin Lunsford, 2nd Lieutenant Kali Rose, 2nd Lieutenant Curtis Segler and 2nd Lieutenant Karolina Tohill.
THAT Literary Review now available online
The fourth issue of THAT Literary Review, an annual journal assembled by Auburn University at Montgomery and Huntingdon College students, alumni and faculty, is now available online at thatliteraryreview.com and Amazon.com. The journal includes poetry, prose and artwork from around the world.
AUM Athletics offers sports camps
AUM Athletics will offer summer camps for volleyball, boy's basketball and softball. AUM's youth volleyball camp for students in grades 2-8 begins will run from June 3-7. There will also be all-skills camps, as well as a variety of specialized camps, for players in grades 9-12. Learn more about the volleyball camps hat https://www.flaviasiqueiravolleyballcamps.com/.
Coach Cheaney's Basketball Academy will feature boy's basketball camps for students in grades 1-11 June 3-6 and July 29-August1, as well as an Elite Camp on June 8 for players in grades 9-12. Learn more at https://www.coachcheaneybasketballcamp.com/.
The Eric Newell Softball Camps will feature prospect camps for players in grades 7-12 May 26 and 29, June 13, 17 and 25, and July 2, 3 and 23. Learn more at: https://www.ericnewellsoftballcamps.com/.
Sign up for AUM texts!
You're a busy Warhawk –– we know! Now you can get info on campus events, important dates and deadlines and more texted right to your phone.

Filibuster seeking editor-in-chief, graphic designer for 2020
Filibuster, AUM's student-run literary and arts magazine, is looking for a new editor-in-chief and graphic designer for its 2020 issue. The positions begin in the fall 2019 semester and continue into the spring 2020 term. Students will receive a small scholarship as part of their position.
To apply, candidates need to submit both a one-page letter of intent that describes their vision for the magazine and a one-page resume that describes their qualifications for serving the position.
Experience with Adobe In-Design is required for the graphic design position. Experience with In-Design is preferred, but not required for the editor position. All candidates must be enrolled as a full or part-time student during the year to serve in the position, and he or she must maintain a 2.0 grade point average. Applicants should also have completed ENGL 1010 and ENGL 1020.
Candidates can send their required documents as attached Microsoft Word files to Filibuster's academic advisor, Dr. Robert Klevay. The deadline to apply for the position is May 31.
Alumni Riverboat Cruise
Come down to the river and re-live history, while enjoying a relaxing cruise on Montgomery's greatest downtown attraction, the Harriott II. Docked beside the uniquely built Riverwalk Amphitheater, this elegant 19th century riverboat is center stage of Montgomery's entertainment district.
Take in panoramic views, points of interest, and the Captain's historic narration, as we cruise up the Alabama River.
The riverboat cruise is a one-hour lunch tour. Boarding begins at 11 a.m. A limited number of tickets are available to AUM alumni and their guests through May 23. Tickets are $5 and can be purchased online.
For more information, please email Serra Bilgili or call 334-244-3369.
Summer payment plans just in time for Maymester and Summer Semester
Registration is open for AUM's summer courses, and payment plans make it easier to spread the cost. Payment plans make paying for classes easier by breaking the cost into smaller payments.
2-Month Plan: 1st installment is 50% of actual charges; plan enrollment is May 14–June 3.
Haven't started your summer registrations yet? Log into MyAUM and search for summer courses. If you don't see the course you want or need, let us know at www.aum.edu/WishList.
For more information, please visit www.aum.edu/PaymentPlans or call 334-244-3286.
Get a jump on ACT Test Prep
AUM Continuing Education and Community Engagement offers ACT Test Prep courses throughout the year for those who wish to improve their ACT scores, or prepare for the exam. The next upcoming ACT Test Prep classes start in June. Classes meet from 6-8 p.m., Mondays through Thursdays.
For a complete review of all subjects, the cost is $309 or it is $119 for individual reviews of one subject. There is a $20-off discount to AUM faculty and staff; use coupon code AUDISC19.
Regional Summer Academy – STEM for high schoolers
The Greater Alabama Black Belt Regional Louis Stokes Alliance Minority STEM Summer Academy is an exciting 5-day overnight summer academy that helps rising 11th and 12th graders get ahead, experience, and learn STEM influenced English, Mathematics, and Physical Science. This academy is a great way to prepare for the ACT, as well as, get valuable time management, study skills, financial aid, and library resources.
There are only 20 slots available so apply today! The academy is free for qualifying students, with the exception of transportation to campus and home. Housing and all meals are included.
For more information and to apply for the academy, please visit www.aum.edu/regionalsummeracademy. If you have questions, please email Dr. Matt Ragland or call 334-244-3138.
Apply for Summer Graduation!
If you plan to graduate this summer, please apply online through the MyAUM portal until June 14.
If you have any questions, please email [email protected] or visit www.aum.edu/Graduation.
EVENTS
Undergraduate Student Orientation
Incoming undergraduate students can learn about AUM's academic programs, services and traditions, as well as register for classes and connect with fellow classmates.
Fri., May 17 | 8 a.m. | The Café at AUM
Maymester classes end
Courses for the 2019 Maymester end. Final exams will be held the last day of classes.
Thurs., May 23