Warhawk Weekly 4–4: Dining focus groups; High schoolers visit with COE
Warhawk Weekly 4–4: Dining focus groups; High schoolers visit with COE
Tuesday, Apr. 4 | 5 p.m. vs. Talladega College
Saturday, Apr. 8 | 1 p.m., 4 p.m. vs. Columbus State University
Students: Help improve dining at AUM
Students, the future of dining starts with you!
Campus Dining Services is hosting focus group sessions to solicit your candid opinions on the future of meal plans and the future offerings of dining services at AUM. You are personally invited to participate in one of the sessions. Your participation will be invaluable to the dining team to improve this integral part of our partnership.
Complimentary drinks and snacks will be served during all sessions. A goody bag and t-shirt will be awarded for your contribution.
High school students discover AUM Education program
Twenty-four students who have expressed an interest in becoming an educator recently visited AUM from Thompson High School in Alabaster, Ala., and met with College of Education leaders.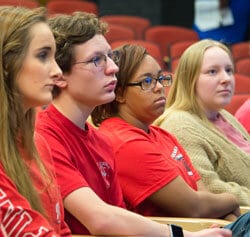 McEnerney earns CFRE designation
CFRE International has named Martie McEnerney as a Certified Fund Raising Executive (CFRE). McEnerney, Senior Development Officer for Auburn University at Montgomery, joins more than 5,500 professionals around the world who hold the CFRE designation.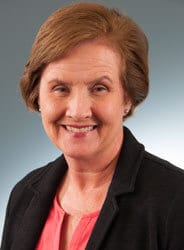 Deal named association president
Accounting Professor Keren Deal recently was tapped as president of the Government Finance Officers Association (GFOA) of Alabama for the 2017–18 year.
Deal is also the Alabama delegate representing Alabama at the state/provincial presidents meeting when she attends the annual GFOA conference in Denver, Colo., May 20–24.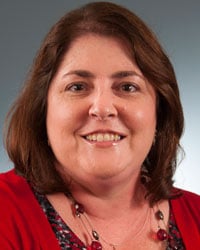 Kaufman publishes book chapter
Dr. Alexander L. Kaufman, professor of English and coordinator of the Bachelor of Interdisciplinary Studies program, recently published a book chapter on Robin Hood.
"Strange Genealogies: Robin Hood's Courtship with Jack Cade's Daughter and the Creation of a Fraudulent Text" was included in the peer-reviewed essay collection Robin Hood in Outlaw/ed Spaced: Medie, Performan, and Other New Directions (London and New York: Routledge, 2017), edited by Lesley Coote and Valerie B. Johnson.
Research for this article was made possible through AUM's School of Liberal Arts Faculty Scholarship Fund Grant.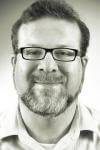 Alumni: Visit a winter wonderland in Canada
Alumni and friends are invited Nov. 4–10 to join the Auburn University at Montgomery Alumni Association on an adventure in Canada's Winter Wonderland this fall!
On this exclusive tour, travelers will find themselves immersed in a scene clipped from a holiday card in the magnificent province of Alberta.
Activities include an exhilarating snowshoe trek, an ice walk through spectacular Maligne Canyon, and a horse-drawn sleigh ride. The tour is a magical time to get to know Alberta and discover its treasures.
For more information, contact Valerie Rankin at 334-244-3557 or [email protected].
Time for Staff Service Award nominations
The AUM Staff Council is pleased to announce the Staff Service Award nomination period is open. The nomination process has been streamlined to make it easier for our AUMazing staff to be recognized for their commitment to the Core Values of Auburn University at Montgomery. These awards will be presented in three categories:
Professional staff
Support staff
Building services Staff
All AUM full-time, permanent, non-academic staff members who have been employed for one-year or more are eligible. Former recipients may only be nominated after three years have elapsed since their award. In the Professional Staff category, the eligibility applies to employees with the title of associate director or below. The nominator must be a full time AUM employee. The members of the Employee Recognition Committee are eligible to be nominated and to nominate; however, if nominated or make a nomination, they must recuse themselves from the Committee.
Submit Staff Service Award nominations here by Apr. 7. Awards will be presented Apr. 28, 2017 at the 2017 Spring Fling.
Apply for Staff Council scholarships by Apr. 14
In keeping with the AUM Staff Council's commitment to provide opportunities for personal and professional development of AUM staff, the council has established five (5) $100 scholarships for full-time AUM staff employees who are enrolled as students at Auburn University at Montgomery.
Applicants must be AUM employees who have been employed on a full-time basis at Auburn University at Montgomery for a minimum of one year prior to application.
Applicants also must be enrolled in a degree program at AUM and are required to have successfully completed 12 semester hours of coursework as an undergraduate student or 6 hours as a graduate student and have maintained a grade point average of 2.5 or higher on a 4.0 scale.
Scholarship awards are not automatically renewed, and applications must be submitted annually.
The completed application is due Friday, Apr. 14, 2017.
Poetry Month
Poetry reading and book presentation on The Myth of Water with Jeanie Thompson
7 p.m. | April 10 | The Cellar, Booker T. Washington Magnet High School
Reading by local poets, including Barbara Wiedemann. If you are interested in reading your poetry, contact Dr. Michel Aaij at [email protected].
7 p.m. | April 17 | KRUonMtMeigs
Poetry reading by Gary Dop
7 p.m. | April 24 | Library Tower, 10th floor West
For information, contact Dr. Aaij at [email protected] and visit the Poetry Month page.
Open house for VAL live demonstration
AUM's College of Education is leading the implementation of an innovative new tool that will immensely increase the value we offer students and their future clients and employers. The application potential spans several professional fields, so students and faculty from all colleges on campus are invited to attend the demonstration.
Tuesday, April 4 | 1–2 p.m. | Virtual Avatar Lab (VAL), Education Building, Room 100
Violence prevention week
Counseling and Health Promotion Services (CHPS), Housing and Residence Life, and AUM Peer Advocates have teamed up in observance of Violence Prevention Week (April 3-6). Our aim is to raise awareness and educate the AUM campus community on effective strategies to prevent and reduce violence. This is a time for students, faculty, and staff to learn more about domestic and dating violence, sexual assault, and cyberbullying. Each day of the week will highlight a specific type of violence and how it can be prevented.
Apr. 4: #NOTONMYCAMPUS: End the Silence. Join the Movement. Sponsored by Housing and Residence Life. Visit us on the Housing Pedway from noon–1 p.m.
Apr. 5: Cyberbullying Prevention: What You Can Do. Sponsored by AUM Peer Advocates. Visit us at the Taylor Center lobby (across from the AUMazing Bean) from noon–1 p.m.
Apr. 6: End the Violence: Education is the Key to Prevention. Sponsored by CHPS, Housing and Residence Life, and AUM Peer Advocates. Melissa M. McConaha, Auburn University's coordinator of student programs in Health Promotion and Wellness Services, will give an interactive presentation to students, faculty and staff. McConaha's presentation will focus on creating a healthier campus community as it relates to violence awareness and prevention. Join us in Goodwyn Hall 109 from 11 a.m.–1 p.m.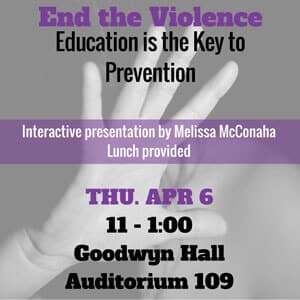 Varma to speak at Staff Council Get-Together
Join AUM colleagues and friends as well as Dr. Mrinal Varma, provost and senior vice chancellor, at the Staff Council's Get-Together.
Tuesday, April 4 | 2 p.m. | Taylor Center 221
Other April Staff Council reminders and events:
Don't Forget: Administrative Professionals Day | Apr. 26
Spring Fling | Apr. 28 | Noon–2 p.m.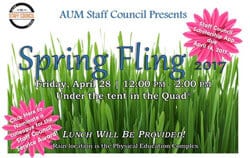 AU/AUM Colloquium
Dr. Ulrich Albrecht will speak on "Torsion-Freeness for Non-Commutative Rings."
Friday, April 7 | 4 p.m. | Goodwyn Hall 201 | Refreshments served at 3:30 p.m.
Experts to debate justness of religious liberty laws
Eva Walton Kendrick, Alabama state manager for the Human Rights Campaign, and Adam J. MacLeod, associate professor at Faulkner University, Jones School of Law, will dialogue April 4 in a civil debate on the resolution "'Religious liberty' laws constitute unjust discrimination." Kendrick will defend the affirmative position, and MacLeod will defend the negative position.
Kendrick holds a Master of Arts in Southern Studies from the Center for the Study of Southern Culture at the University of Mississippi and a Bachelor of Arts in Southern Studies from Mercer University in Macon, Ga. Her research interests include twentieth-century social history, religious history and social movements. Kendrick joined the staff of the Human Rights Campaign, the largest civil rights organization working to achieve equality for lesbian, gay, bisexual, transgender and queer Americans, in 2014. In her current role, Kendrick leads the state staff in their work to achieve full legal equality for LGBTQ Alabamians, while changing institutions — and hearts and minds — through engagement with corporate and healthcare partners, faith outreach and community development. Kendrick lives in Birmingham, Ala., with her wife, Kathryn Kendrick.
MacLeod is a Thomas Edison Fellow in the Center for the Protection of Intellectual Property at George Mason University, a lecturer in the Witherspoon Institute's graduate seminar on the Moral Foundations of Law and a former visiting fellow in the James Madison Program in American Ideals and Institutions at Princeton University. He is author of Property and Practical Reason (Cambridge University Press 2015), co-editor of Foundations of Law (Carolina Academic Press 2017) and has authored articles, essays, and book reviews in peer-reviewed journals and law reviews in the U.S., U.K. and Australia. He contributes to the online journals Public Discourse and Library of Law & Liberty. He previously served as law clerk for state and federal judges in Massachusetts and Colorado, as special deputy attorney general of Alabama and as a lawyer in Boston. He holds degrees from Gordon College and the University of Notre Dame Law School. He lives with his wife and daughters in Montgomery.
The debate is sponsored by the University Honors Program at Auburn University at Montgomery, and will be moderated by Matthew Jordan, the director of the program. There will be time for questions and answers at the conclusion of the debate.
Tuesday, April 4 | 7 p.m. | Taylor Center 222–223 | Free and open to the public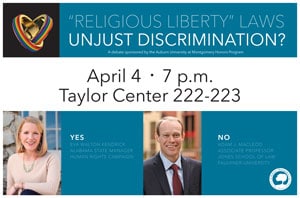 Resident Appreciation Day
Housing and Residence Life loves its residents! As we bring another academic year to a close, residents are invited to get together to celebrate, dance and eat fresh, grilled hamburgers with your Housing family!
Tuesday, April 11 | 4 p.m. | Warhawk Hall grilling station | Housing residents only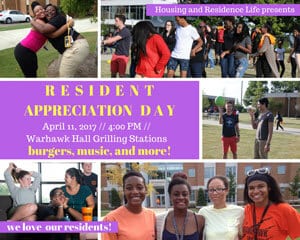 Hap Arnold Lecture Series
The Hap Arnold Lecture Series is an annual event presented by Auburn University at Montgomery and the U.S. Air Force Air War College. A panel of Air War College students (senior military leaders) will share their personal and professional stories with the audience and answer questions in an open forum.
All faculty, staff and students are invited to attend. Student leaders, Military Science/ROTC and students studying or who have an interest in political science and public administration may find this particularly interesting.
Wednesday, April 12 | 5:30 p.m. | Taylor Center 221–222 | Free and open to the public | Register here.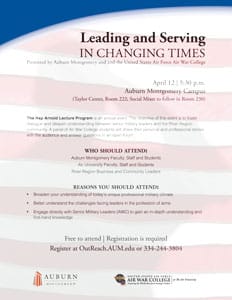 Piano professors battle continues
The College of Arts and Sciences presents a "battle" between Alabama and Auburn piano professors.
Jeremy Samolesky, Auburn University
Wednesday, April 12 | 6:30 p.m. | Goodwyn Hall 109
For more information, visit the Promenade Concert Series webpage.
Theatre AUM presents 'The Flick'
Theatre AUM presents the 2014 Pulitzer Prize winning play, The Flick by Annie Baker.
Set in a run-down movie theater that still operates a 35-millimeter film projector, The Flick follows the lives of three underpaid employees, their every-day struggles and heartaches. The Flick is sharp, witty and insightful, a "heart-rending cry for authenticity in a fast-changing world."
The Flick opens April 13 and runs Thursday thru Saturday, April 13, 14, 15, 20, 21, 22 and Sunday, April 23. Show times are 7:30 p.m. Thursday thru Saturday and 2 p.m. for the Sunday matinee.
Tickets are $10 general admission, $5 senior citizen, student and military. AUM students, faculty, staff and alumni are free with ID.
Thursday, April 13 | 7:30 p.m. | Theatre AUM
Student Alumni End of Year Party
The Student Alumni Association will host its annual End of Year Party on April 19! All students are invited to take a study break and join the fun at a cookout and knocker ball game!
Wednesday, April 19 | 11:30 a.m.–1 p.m. | Behind the Library Tower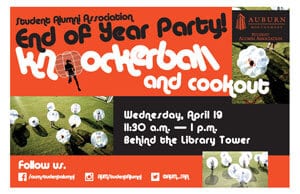 2017 Admin Professionals Conference
OutReach at Auburn University at Montgomery will host the 2017 Administrative Professionals Conference on April 25 at Saint James United Methodist Church. This one-day conference will provide administrative professionals training to enhance expertise, boost productivity, and position themselves as valuable resources for their businesses.
AUM staff can register to attend for the discounted rate of $109. This conference typically sells out quick, so call 244-3804 and register now!
Tuesday, April 25 | 8:30 a.m.–4:30 p.m. | Saint James United Methodist Church | Register here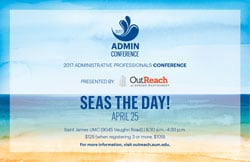 Alpha Gamma Delta hosts Lip Jam
Alpha Gamma Delta is gearing up for its 3rd annual Lip Jam. The lip sync and dance competition has a theme each year that assists participants with music selections, dances and outfits. This year's theme is "Night at the Movies."
Any faculty, staff or student combination can form teams. A minimum of 5 is needed to form a team. To get registration fee and application information, please email [email protected].
Friday, April 21 | 7–9 p.m. | AUM Athletics Complex
Advancement Ambassador student recruitment under way
As official hostesses and hosts of the AUM Office of Advancement, the Advancement Ambassadors promote pride in the University and serve with dedication and responsibility. Advancement Ambassadors represent the student body, administration, faculty and staff to persons both inside and outside the University at special events including luncheons, dinners, alumni gatherings, and receptions. They receive valuable training, and have the opportunity to meet not only University leadership, but community leaders as well.
Applications are due April 14. For more information, contact the Office of Advancement at [email protected].
Workforce for the Future forum
The Department of Sociology, Anthropology and Geography in AUM's College of Public Policy and Justice is partnering with the Substance Abuse and Mental Health Administration (SAMHSA), the Association for Addiction Professionals (NAADAC), and the Alabama Department of Mental Health to host a Workforce for the Future Forum to encourage college students to enter into the addiction and mental health workforce.
Monday, April 17 | 8:30 a.m.–4:30 p.m. | Library Tower, 10th floor | Lunch and refreshments will be served