Thompson High students discover career options in AUM College of Education
AUM Office of Strategic Communications and Marketing | Apr. 4, 2017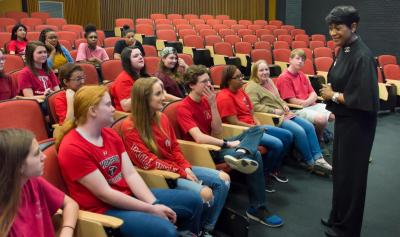 Twenty-four youths who expressed an interest in becoming an educator recently visited Auburn University at Montgomery from Thompson High School in Alabaster, Ala.
The visit marked the second consecutive year that students from Thompson have visited AUM's College of Education to learn more about programs leading to a teaching degree.
"Heartfelt questions and family experiences emerged from these students that allowed us to gain insight into their reasons for stepping into a challenging career of teaching our nation's future leaders," said Dr. Gil Duenas, associate professor of Curriculum, Instruction and Technology.
Following welcomes from Dr. Sheila Austin, dean of the College of Education, and Dr. Kellie Shumack, department head and professor of Curriculum, Instruction and Technology, the Thompson High students visited the COE's Early Learning Center; observed a sample lesson on music while in small groups; met COE faculty members; enjoyed lunch at the Roost, AUM's dining facility; and took a walking tour of the campus.
"We are proud to have opened our university campus to these 24 inquisitive young minds — potentially members of a future freshman class at AUM," Duenas said.